Biscoff Billionaire Bars
Posted on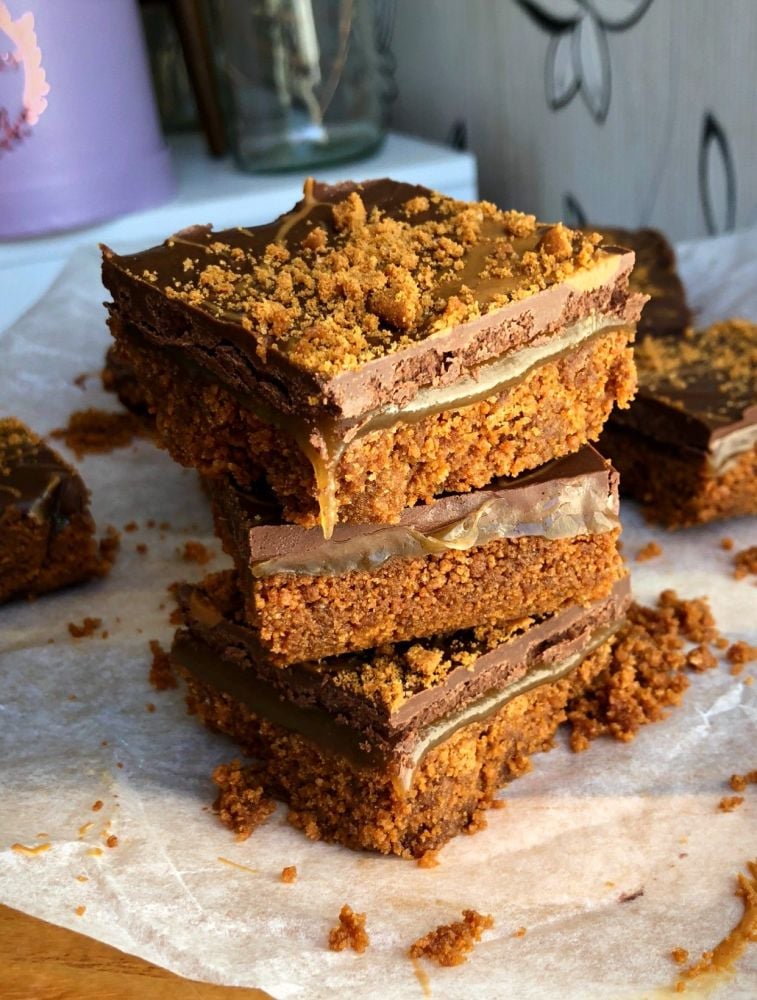 Biscoff Billionaire Bars
I'm so excited to share this with you. I found the idea when endlessly scrolling through pinterest. I found a similar recipe that wasn't vegan, and I knew I needed to veganize it!
It's so rich, so luxurious and looks so impressive. This is an amazing show stopper for a barbeque or party, and recently received a full thumbs up of approval from a family dinner.
If you didn't alread know, biscoff is completely safe for vegans. The biscuits, the smooth spread and the crunchy spread. I absolutely love it and every time i tell myself i need to stop making biscoff recipes, I seem to make another. Do I have soe kind of biscoff related problem that needs an intervention? Probably.
While the biscuits make a perfect spread vessel to just keep scooping it our the jar, If you want to join me on the biscoff recipe side of life, I've got loads of great recipes you can use it in:
These billionaire bars take a little while to make, there's no avoiding that. It's so worth it though, and you'll have to fight with yourself not to be going back to the fridge for more!
When you're slicing your bars. Use a hot knife and wipe between each slice to keep your edges neat and tidy.
Make sure you let us know in the comments below how yours turned out and if you did anything differently. Also remember to tag us in your foodie makes on instagram!
---
Recipe
Yield: 1 9x9 inch pan
Total Time: 1 hour 30 minutes
Ingredients:
For the Base:
500g biscoff biscuits

180g vegan margarine
Vegan Caramel:
3/8 cup / 75g brown sugar

3/8 cup / 75g granulated sugar

1/2 cup /100g vegan margarine

2.5 cups / 600ml almond milk
Biscoff Topping:
250g Vegan Chocolate

200g Biscoff Spread

Extra Biscuit Crumbs to Decorate
Method:
Line a 9x9 inch pan with parchment. Blend your biscuits up to umbs using a food processor. Melt your vegan margarine and mix together. Press your biscuit mix into your pan, keeping it as even as you can. Pop this into the fridge while you make your caramel.

For your caramel, heat the butter, sugar and almond milk together in a saucepan, stirring constantly to stop it from burning to the bottom. Bring your mix to the boil and reduce to a simmer, keep stirring at a simmer until your mixture goes nice and thick, this can take anywhere from 30 minutes to an hour. It will feel like it's never going to thicken, but persevere! It'll be so worth it in the end.

Once your caramel is really nice and thick, pour it over your biscuit base and leave to cool completely.

Melt your chocolate gently in the microwave, heating for 20 seconds at a time, making sure your chocolate doesn't get too hot or burn! Once melted, whisk your biscoff spread in and pour over your caramel layer. Place in the fridge to set, remove, slice and then store in the fridge in an airtight container.
---
What did you think of this recipe? Did you do anything differently? We'd love to hear from you in the comments below. Don't forget that you can share all your foodie makes with us using the hashtag #HBivore.
Follow us on Facebook and like us on Instagram to keep up to date with our latest recipes, news and content. You can also use the form below to receive all our news straight to your inbox each week.
livepages::jquery(); ?>