Vegan Biscoff Bars
Posted on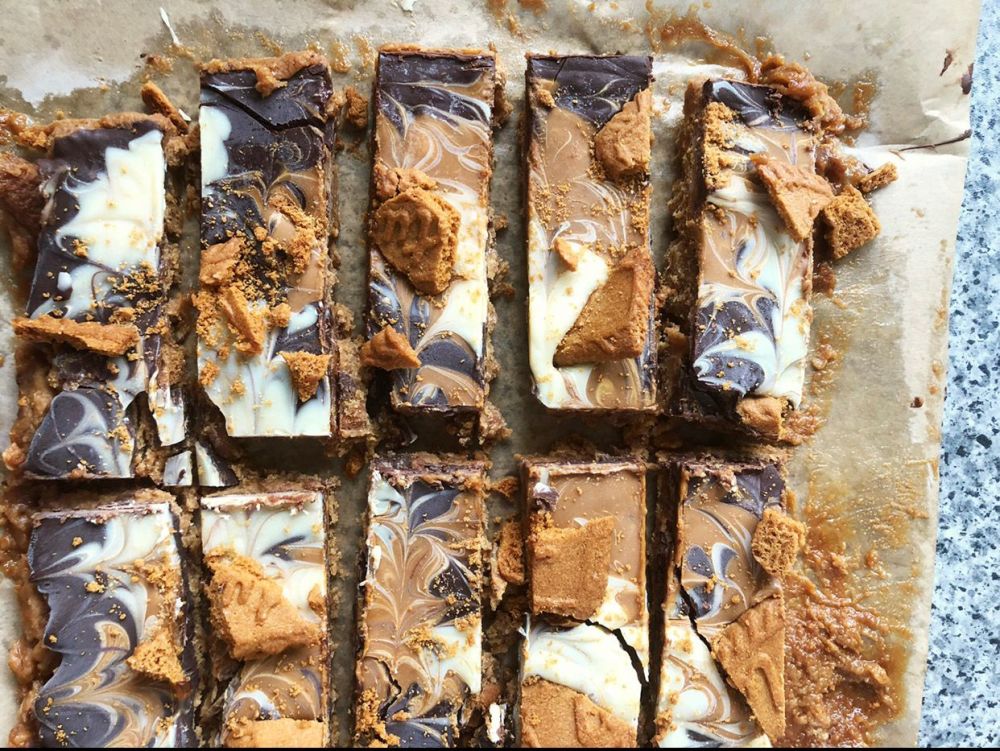 Biscoff Bars
Jump to Recipe>>
This will not help your diet… this does not contain any of your 5 a day… but this recipe is absolutely delicious and is going to impress EVERYONE !
These bars are perfect for birthdays, dinner parties, or just about anything. I like to make a batch of these from time to time to take into work or a family event, just to remind everyone that vegan food is not only just as good, but even better than any alternative.
if you want, you can swap the biscoff biscuits out for any other vegan brand of biscuit, i just find biscoff to be the ultimate choice.
If you're struggling to find biscoff biscuits, i wholeheartedly recommend trying your local poundland or other pound shop! I've always been able to find them in there, and it's a much better price than in the supermarkets. I also find that Poundland has them in big packs rather than a multipack of 2x biscuits, so it saves on a lot of packaging too.
The biscoff spread can be found in most supermarkets, generally in the same aisle as the chocolate spread and jams. If you're looking for alternative ways to use up the rest of your jar, you could try out our Lotus Biscoff Cheezecake recipe, but we also won't judge you for eating it out of the jar with a spoon.
You can decorate these bad boys with anything you like, I chose to use some extra biscuits, a bit of melted free from white chocolate and some spread, but any route you want to go down will be great. If you're pushed for ingredients, you don't have to top them with anything, just a nice coating of chocolate will do!
Make sure you cut these with a hot knife when it's set in the fridge, as you can see from the crumbly cracked edges, I was irresponsibly and impatient and didn't do this.
When you've made these, be sure to leave a comment down below telling us how it went, and tag us in your Her-Bivore creations on instagram too!
---
Recipe
Yield: 12 bars
Total Time: 30 minutes
Ingredients:
180g margarine, melted

300g icing sugar

500g biscoff biscuits, crushed up fine + extra for decorating

50g biscoff spread

200g Bournville chocolate (or any other vegan chocolate)

Vegan decorations (I used additional biscuits, melted free from white chocolate and some biscoff spread)
Method:
In a large bowl, place your icing sugar and your 150g of crushed biscoff biscuits and mix well. Then add your wet ingredients into the dry and combine well.

Add your melted margarine and mix well, then stir in your biscoff spread. Sometimes I find this step easier to do with my hands!

Press the mix into a lined 9 x 9 baking tray and place in the fridge to chill for 30 minutes

Gently melt your bournville chocolate either over a bain marie, or using the microwave and heating for 10-20 seconds at a time and then mixing well (you don't want your chocolate to get too hot or it won't set properly!)

Pour your melted bournville over the top and spread evenly on the tray. Add some blobs of melted biscoff and melted vegan white chocolate or other tasty decorations and use a cocktail stick to gently merge together on the surface and create patterns. Top with anything else you like!

Place in the fridge till fully set, then cut with a hot knife.
---
What did you think of this recipe? Did you do anything differently? We'd love to hear from you in the comments below. Don't forget that you can share all your foodie makes with us using the hashtag #HBivore.
Follow us on Facebook and like us on Instagram to keep up to date with our latest recipes, news and content. You can also use the form below to receive all our news and free recipes straight to your inbox!
livepages::jquery(); ?>