Lotus Biscoff Vegan Cheezecake
Posted on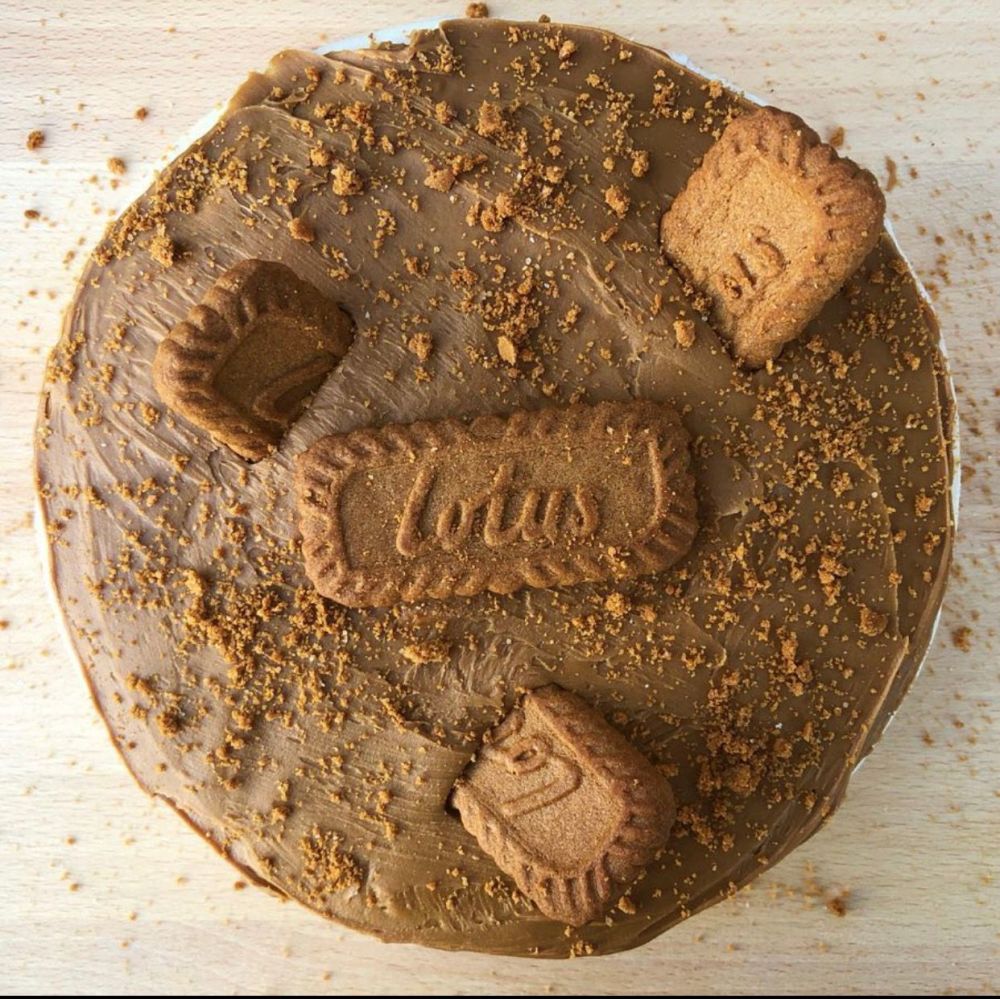 It's taken a long time to be able to bring you this recipe, but it's finally here, well overdue! We made a cheezecake.
Not just any old cheezecake either; it's a Lotus Biscoff Cheezecake, because if you're going to bother, you may as well go all in!
This tasted absolutely amazing and thanks to Amy's housemates, it was gone before I could even get round to second helpings. It's fine… I'll get over it.
A couple of notes before you begin, because although this looks tasty:
I started making this midday on Saturday and it was ready to eat midday on Sunday

My wallet was a heck of a lot lighter after picking up the ingredients.

You get quite a cashew and coconut flavour, so if you don't like these flavours, this probably isn't for you.
It's definitely only a special occasion kind of pudding but it's guaranteed to be a hit. We were going to count ordering pizza as our excuse for a special occasion, but it disappeared before we had chance...
So if you have a whole load of patience and money to burn, here's the recipe:
---
Recipe
Yield: 8 portions
Total Time: 1 Day
Ingredients:
For the base:
10 Lotus biscuits

10 pitted dates

1 cup desiccated coconut
For the cheezecake:
14oz (400g) whole cashew nuts

1 cup coconut oil

¾ cup maple syrup

¼ cup lemon juice

½ cup water

1tsp vanilla
For the topping
½ tub Lotus Biscoff spread

4 Lotus biscuits to decorate
Method:
Empty your cashews into a bowl and cover with boiling water. Leave for 7-8 hours.

To make the base, put your ingredients into a blender and blitz them until they start to clump together. Line the base of a spring-form pan with baking parchment and grease the edges with dairy-free spread. Press your mixture firmly into the bottom with the back of a spoon to level it out evenly. Place in the freezer to firm.

Once your cashews are fully soaked, put your cheezecake ingredients together in a blender and blitz until smooth. Take your base out from the freezer and slowly pour your mixture in. Smooth the surface with a spoon or spatula and place again in the freezer for another 7-8 hours, I left mine overnight.

When you are ready, pop open your spring-form pan and carefully take out your cheezecake.

Gently warm your Biscoff spread in a bowl in the microwave until it reaches a gooey consistency, this will only take about 10 seconds, you don't want it getting hot. Evenly spread over the top of your cheezecake.

You can then crumble more biscuits over the top however you choose. Make sure it is fully defrosted before you start to tuck in!
---
There you have it. It's funny because this recipe is actually really simple - It just takes so long to actually make when you consider all the waiting times!
Biscoff is only one of the many options you can choose to make a cheezecake with. You could have caramel, fudge, fruit, matcha… the list goes on. If you're feeling brave, why not try a variation! We'd love to see what you make. Don't forget, you can share all your foodie makes with us on the hashtag #HBivore
Follow us on Facebook and like us on Instagram to keep up to date with our latest recipes, news and content. You can also use the form below to receive all our news straight to your inbox each week.
livepages::jquery(); ?>