Mac 'n' Cheese - No Cashews!
Posted on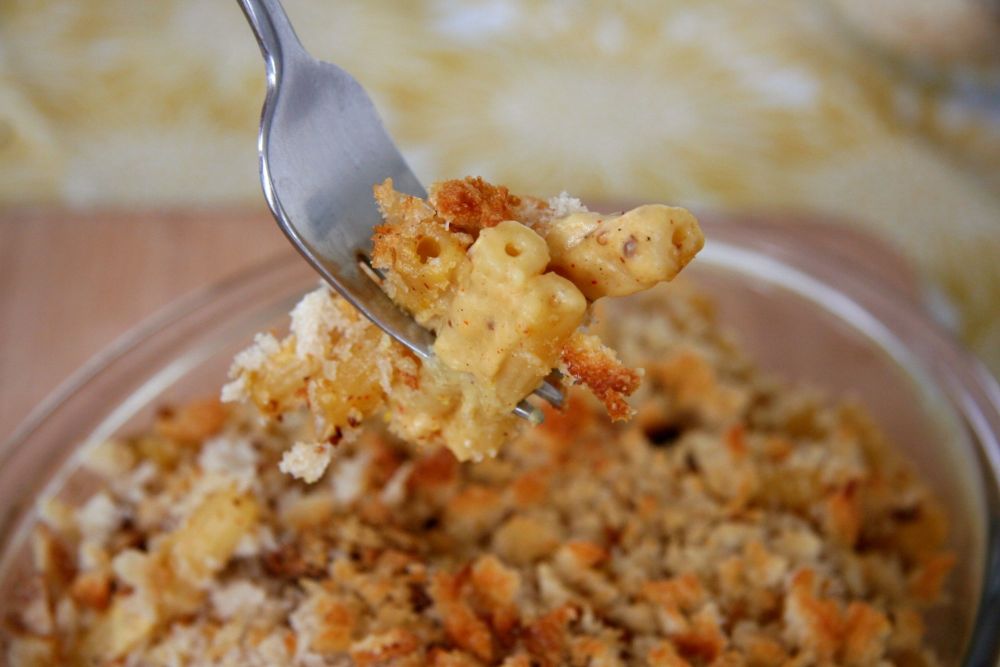 Mac 'n' Cheese - No Cashews!
Mac 'n' cheese, the long-standing comfort food across nations. Comparable to a blanket, open fire & a Harry Potter marathon - or maybe that's just me. Regardless, mac 'n' cheese is one of the most popular dishes that spring to mind when you think of foods that taste like home.
There are a few things a mac 'n' cheese needs to be in order to fit my home comfort criteria:
Creamy

Rich

Cheesy

Gooey

Filling (for both body & soul)
This mac 'n' cheese ticks all the boxes.
Traditionally you'll want to use macaroni pasta (also known as elbow pasta), but for some reason every time I got to make a mac 'n' cheese recipe, I never have any in the cupboards, so like with all things in the kitchen, a little improvisation was in order.
The bread crumbs are a nice addition I originally saw on Pinterest, vegan cheese isnt known for its beauty and ability to melt freely on the top of a dish, so breadcrumbs make a nice change and I find a bit more aesthetically pleasing.
I had a sourdough around that was a few days old and it made the absolute perfect breadcrumb addition to the mac 'n' cheese, adding a subtle crunch to go with the thick, gooey cheesy sauce. You can use any bread you have around, but if it's fresh, I advise gently toasting under a grill for a few minutes on each side so you really get that bread crumb crunch.
What cheese you use is completely up to you, I used the Violife grated, but any grated vegan cheese will do, some melt at slightly higher temperatures or take a little longer to melt than others so don't be disheartened if yours takes a little while, a bit of perseverance and a whisk and you'll have a smooth creamy sauce in no time.
As with all mac 'n' cheese, one of the highlights is just how quick and easy it is to make, and this recipe is no different, as a basic rundown:
Cook & drain your pasta.

Whisk together the bits for your cheese sauce, allowing it to come to the boil and thicken.

Stir your pasta into your cheese sauce & pop it into an oven proof dish.

Top with breadcrumbs, drizzle with a little melted butter & bake for 15-20 minutes.
If you want some added vegetables, stirring in some cooked broccoli and peas makes a fantastic addition. You can also top with more grated cheese if you like, but I find the breadcrumbs on top add enough.
The full in-depth recipe is below, and I have no doubt you'll love this recipe as much as I do, but if you try anything different, let me know in the comments below!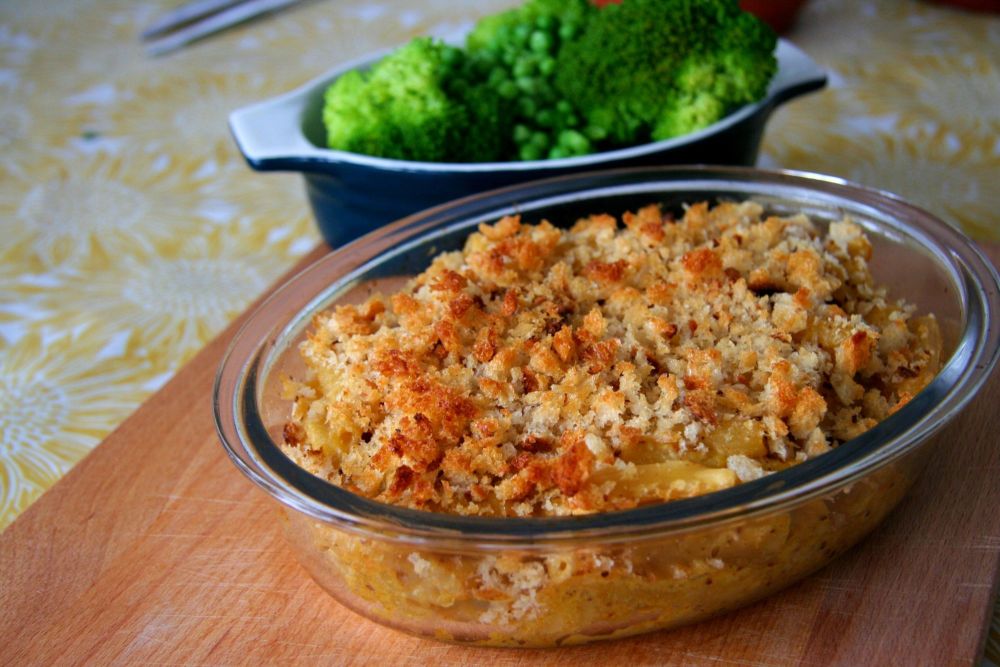 ---
Recipe
Yield: 4 portions
Total Time: 1 hour 20 minutes
Ingredients:
For the Cheese Sauce:
2 tbsp margarine

4 tbsp plain flour

2 cups / 500ml non-dairy milk (I used soya)

½ cup / 30g nutritional yeast

80g grated vegan cheese

1 tsp onion powder

1 tsp paprika

1 tsp garlic powder

1 tsp wholegrain mustard
For the Pasta:
250g dried macaroni pasta
For the Breadcrumbs:
2 slices thick-cut sourdough

1 tbsp vegan margarine, melted
Method:
Cook your pasta as per instructions on the packet, drain and set to one side. At this time, preheat your oven to 200c.

In the meantime, place your margarine in a pan on a medium heat, once melted add your plain flour and whisk until it all comes together.

Pour in your non-dairy milk and whisk until all the lumps are removed.

Add your nutritional yeast, grated cheese, onion powder, paprika, garlic powder and wholegrain mustard and whisk until combined. You may need to give your cheese a while to come up to temperature and melt. Make sure to keep whisking regularly to avoid your sauce catching on the bottom of your pan, as it comes to the boil it will thicken.

Once thickened and combined, remove from the heat, fold in your pasta and transfer to a large ovenproof dish.

Tear up your sourdough and using a food processor, process until it becomes coarse breadcrumbs. Sprinkle a thick layer of breadcrumbs over your dish of mac 'n' cheese and then drizzle over your melted margarine.

Place in your preheated oven and bake for 15-20 minutes or until your breadcrumbs are golden brown.
---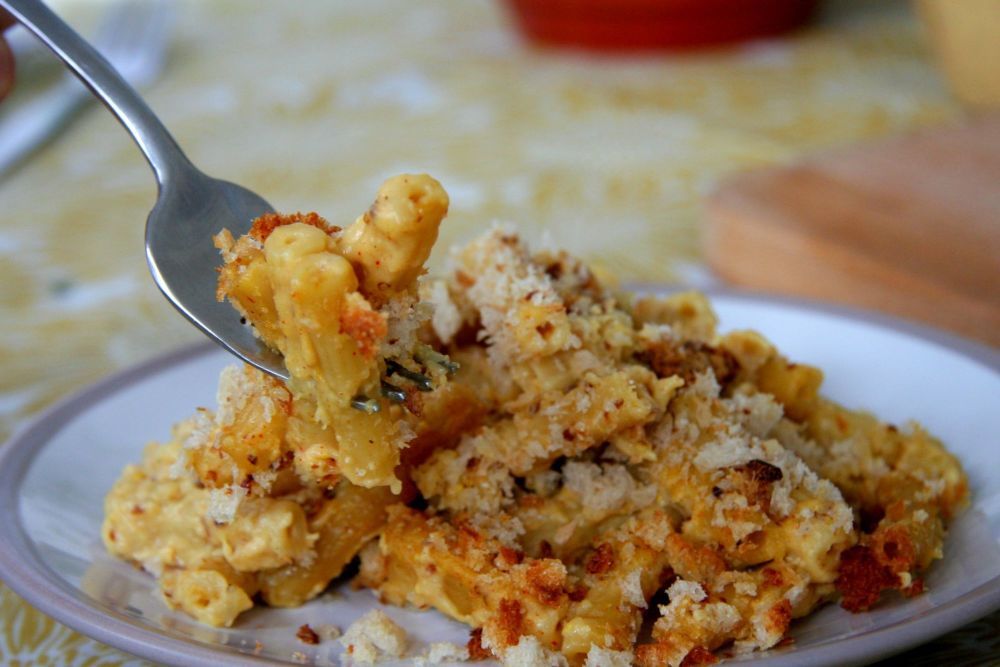 What did you think of this recipe? Did you do anything differently? We'd love to hear from you in the comments below. Don't forget that you can share all your foodie makes with us using the hashtag #HBivore.

Follow us on Facebook and like us on Instagram to keep up to date with our latest recipes, news and content. You can also use the form below to receive all our news and free recipes straight to your inbox!
livepages::jquery(); ?>