American Style Fluffy Pancakes
Posted on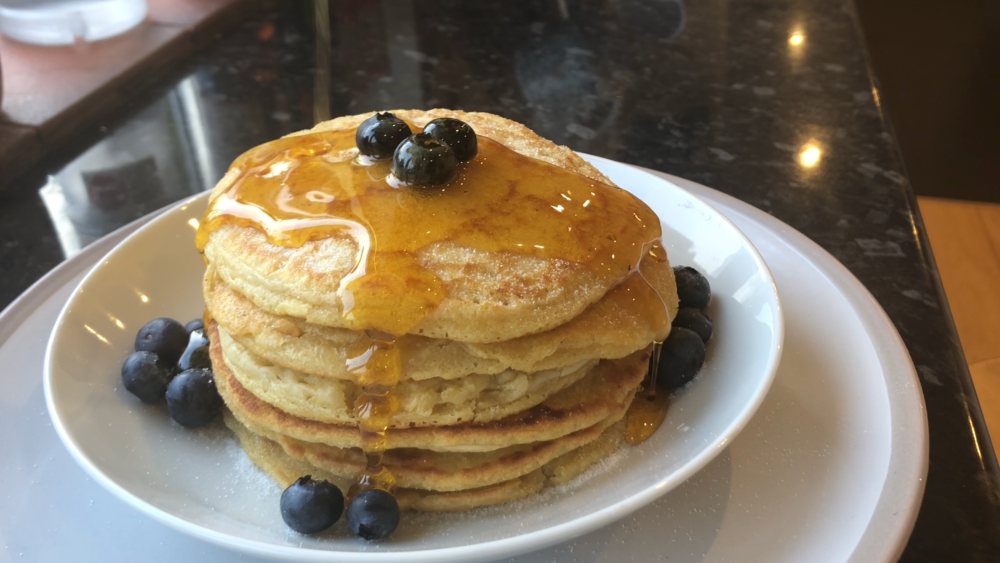 American Style Fluffy Pancakes
Pancakes was always something that I struggled with making, finally I realised it was my impatience to flip them too early that was holding me back, and thus was born the 3 minute rule. Your pancake should need about 3 minutes on each side at a moderate temperature to be correctly cooked and not end up as a mushy pile in the pan like mine used to. Make sure you look out for the bubbles showing through to know when it's ready to flip!
If your pancakes look like they're burning under the 3 minute rule, you're temperature may be too high, which can cause the outside to burn while the inside is still not fully cooked, which will mean when you try to flip them the top will go running all over the pan.
This recipe is pretty much foolproof, and uses simple ingredients you've probably got sitting around in your house right now. I topped mine with syrup and blueberries but the beauty of pancakes is that you're free to enjoy them however you'd like!
Other popular options are chocolate sauce, strawberries, biscoff spread, vegan butter, lemon and sugar, or you can even venture into savoury topping options such as Vivera bacon style pieces!
We hope you'll love these pancakes as much as we do, and I definitely have them a bit more than I should… but I just can't resist when delicious pancakes are so quick and easy to make!
---
Recipe
Yield: 6 pancakes
Total Time: 30 minutes B
Ingredients:
1 cup / 120g plain flour

1 tsp baking powder

3 tbsp caster sugar

1 cup / 250ml plant milk

2 tsp vanilla extract

2 tbsp vegan margarine, melted
Fruit and syrup to serve (optional)
Method:
In a bowl, mix together your flour, baking powder and sugar.

Whisk in your wet ingredients until just combined, a few lumps are fine.

Heat a non stick pan on a medium heat and add a teaspoon of vegan margarine, then add ¼ cup of batter, leaving to cook for about 3 minutes until bubbles start to show through, then flip and cook for another 3 minutes on the other side.

Repeat step 3 until all your batter is used up. Serve with your favourite pancake accompaniments!
---
What did you think of this recipe? Did you do anything differently? We'd love to hear from you in the comments below. Don't forget that you can share all your foodie makes with us using the hashtag #HBivore.
Follow us on Facebook and like us on Instagram to keep up to date with our latest recipes, news and content. You can also use the form below to receive all our news straight to your inbox each week.
livepages::jquery(); ?>