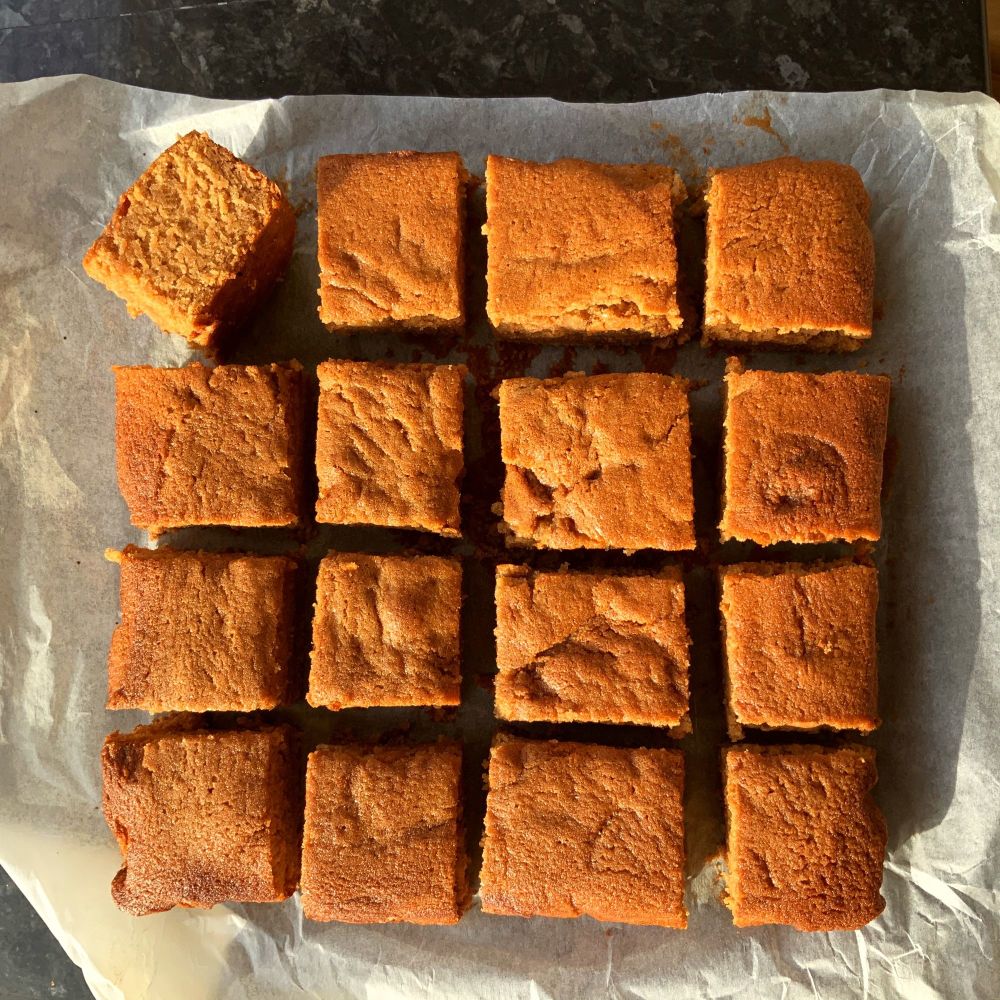 Ginger Cake
Ginger cake is one we used to make at work a lot, that version was not vegan, given that it was the most traditional british style restaurant going. You'll be glad to hear that in the time I was working there, between 2018 and 2019 (then i left) I noticed a HUGE boom in the number of vegan customers we were getting in for lunches, functions, weddings and afternoon teas! This was of course where I was in my element, making sure every vegan customer had just as much delicious choice as anyone else.
One of the most rewarding things was when the customer would make an effort to come to the kitchen to personally thank me, or one time I even got a cute handwritten note on a napkin. Anyway, back to the ginger cake.
Veganising this one was interesting, as ginger cake has some extra additions you don't find in many other sponges, such as the syrup, so I wasn't too sure how a change of ingredient, and therefore consistency, might plact the final consistency and flavour! Luckily for us, it turned out amazing.
A lot of traditional ginger cake recipes also use black treacle, but I didn't have any in the cupboard and I tried this recipe whilst on lockdown due to coronavirus, so I simply didn't use it! I also thought it would reduce the amount of ingredients, and it still gave a deliciously rich, syrupy ginger sponge anyway, so really it's less effort or a great result!
This was part of my baking extravaganza which has somehow kept me sane in these crazy times of social distancing and lockdown, so I would really recommend baking a delicious 9 x 9 tray of sanity for yourself if you find yourself in a situation where you need some bake-therapy.
Another thing to note: when you pour the batter into the baking tray, don't worry, it's supposed to be that runny! That'll all firm up and sponge-up into delicious light ginger cake in the 35-40 minutes in the oven.
Some people also like to top their ginger cake with drizzles of icing. I've never been a huge fan of this, and instead i like to just enjoy mine on its own, or warmed with some alpro custard (which I could eat [drink?] by the carton if I had the chance). If you wanted to add some icing on top, by all means go ahead! Make sure you let me know in the comments below, and tag us in your tasty Her-Bivore makes on instagram too!
---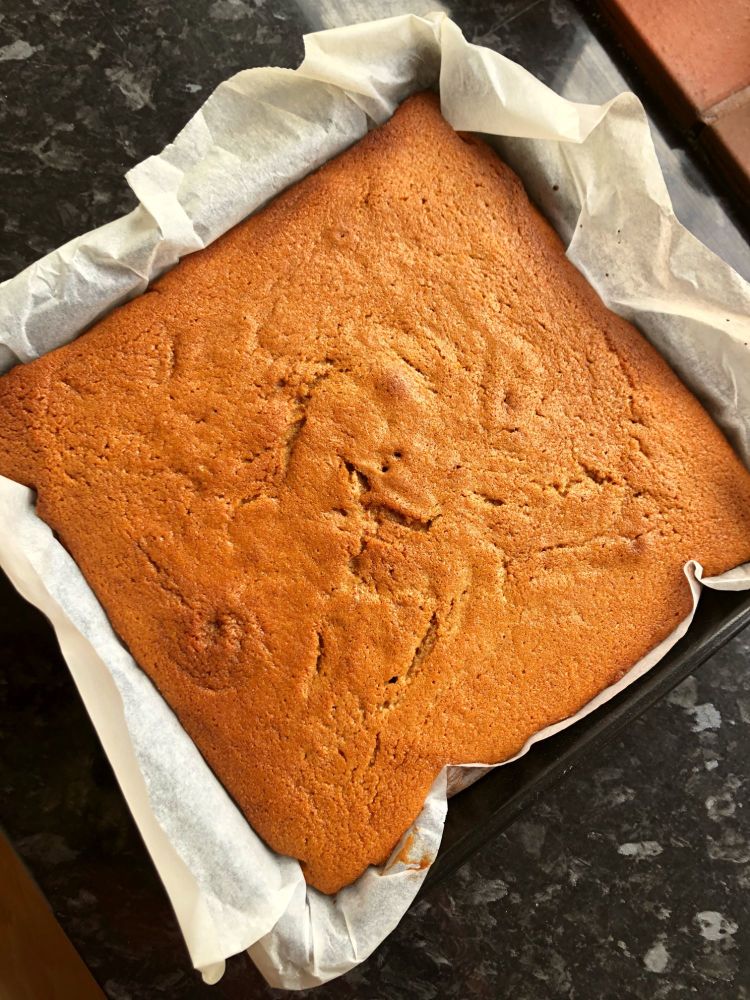 Recipe
Yield: 16
Total Time: 60 minutes
Ingredients:
¾ cup / 200g vegan margarine

1 cup / 200g soft dark brown sugar

cup / 275g golden syrup

3 cups / 360g self raising flour

2 tbsp ground ginger

2 tsp cinnamon

¼ tsp salt

1 cup /240ml dairy-free milk
Method:
Preheat the oven to 180c and line a 9 x 9 inch baking tin.

In a bowl with an electric mixer, whisk together your margarine and sugar, then add in your golden syrup.

In a separate bowl, sieve your flour, ginger, salt and cinnamon.

Adding 4-5 tablespoons at a time, gradually add your flour mix into your wet mix, whisking until just combined.

Finally, using a spatula or spoon, mix in your non-dairy milk.

Pour your cake batter into your prepared tin, and bake for around 40 minutes, unti a cocktail stick/skewer/knife/cake tester comes out clean!

Once cooled slightly, transfer onto a cooling rack.
---
What did you think of this recipe? Did you do anything differently? We'd love to hear from you in the comments below. Don't forget that you can share all your foodie makes with us using the hashtag #HBivore.
Follow us on Facebook and like us on Instagram to keep up to date with our latest recipes, news and content. You can also use the form below to receive all our news straight to your inbox each week.