Biscoff Loaf Cake
Posted on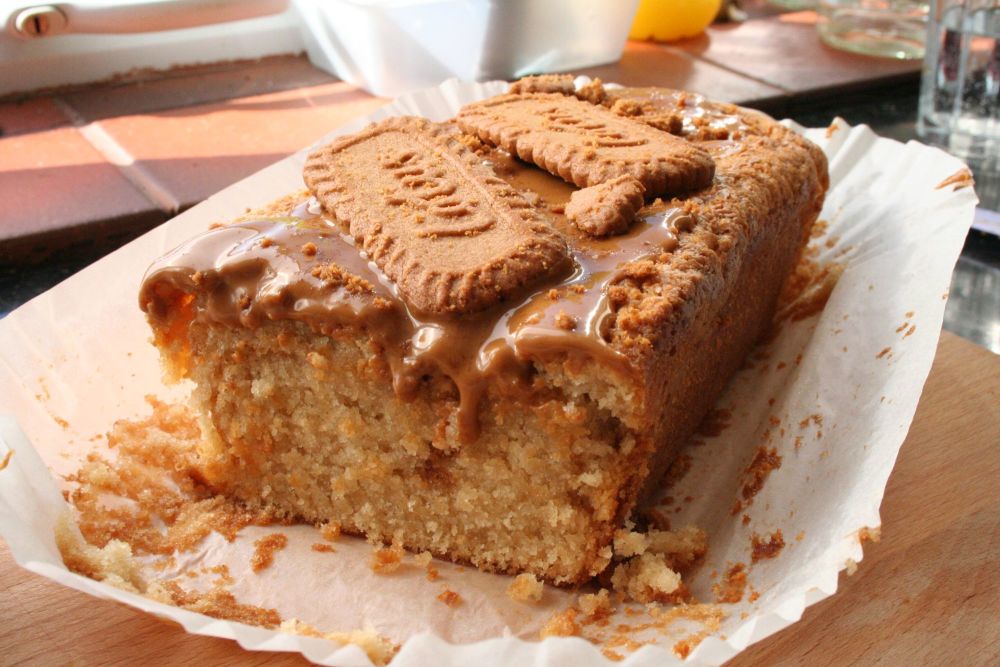 Biscoff Loaf Cake
Sometimes I think my recipes go a little biscoff-mad, but then I remember how delicious those little accidentally vegan cookies of joy are, and the fact that there's literally a biscuit flavoured vegan spread, and i quickly remember just why i do so many biscoff-themed recipes.
You can use biscoff in vegan cheesecakes, bars topped with chocolate, or just about anything you can imagine.
If you're looking for other ideas of how to use up the rest of your jar of biscoff, it goes great on toast or as a topping for pancakes and waffles!
Back to the recipe at hand though; it's a pretty easy one to follow, with no weird sounding ingredients. If you're new to the curdled vegan milk idea though, that can sound pretty gross. The actual name for it is vegan buttermilk, and it helps your cake come together and rise. It's so easy to make, you just have to add a bit of lemon juice to your vegan milk, watch it curdle into a gross looking consistency and then bake it into a delicious cake.
Another thing to note is when you're adding the biscoff spread inside the cake for a marbled effect. Make sure you spread it around enough so that it's slightly mixed in. Any chunks of biscoff spread won't bake on their own and they might leave a little saucy pocket inside your sponge. While a pocket of biscoff spread might sound delicious (and i'm sure it is) it'll probably make your cake messy and fall apart when you try to cut it.
Aside from that, this recipe really is a 'how you like it' recipe. If you didn't want the biscoff flavour (although i'm not sure how you got here if you don't) then you can just leave it out and have this as a plain vanilla sponge.
You can also add any other decorations you like on the top, I was torn between whether to add some vegan chocolate chips on top, but I thought I'd give myself a little break from chocolate for once!
Make sure you let us know in the comments below how yours turned out and if you did anything differently. Also remember to tag us in your foodie makes on instagram!
---
Recipe
Yield: 2
Total Time: 40 minutes
Ingredients:
½ cup / 112g vegan margarine

1 cup / 200g caster sugar

1 tsp vanilla extract

2 cups / 250g plain flour

2 tsp baking powder

Pinch of salt

1 cup / 240ml of soy milk (almond or oat works too)

1 tbsp lemon juice

2 tbsp biscoff spread + extra for topping (optional)

Biscuits to decorate (optional)
Method:
Line a 9x5 loaf tin with parchment or a paper case, and preheat your oven to 180c

Cream together your margarine and sugar using an electric whisk. Add in your vanilla extract and mix.

In a separate jug or bowl, measure out your soy milk and then add your lemon juice, give it a stir and then leave it to curdle for a couple of minutes.

In the meantime, mix together your plain flour and baking powder and then add these to your mixing bowl.

Add your curdled milk mix to your other ingredients and allow to mix until just combined.

Pop 2 tbsp of your biscoff spread into a small bowl or ramekin, and microwave for about 20 seconds until runny.

Transfer half your mix into the loaf tin, the drizzle half your melted biscoff over and use a cocktail stick to drag it through the mix, this will create a nice marbled effect! Then add the rest of your cake mix, and repeat the step, adding the second half of your melted biscoff.

Bake for 40-50 minutes, or until a cocktail stick inserted into the middle comes out clean (remember if you hit any biscoff spread, this might make your cocktail stick look dirty, despite the cake being cooked!).

Remove from the oven and let cool for 10 minutes before transferring to a wire cooling rack and allowing to cool completely.

Once cooled, you can enjoy it as it is or you can spread some extra biscoff spread on the top and decorate however you like with biscuits!
---
What did you think of this recipe? Did you do anything differently? We'd love to hear from you in the comments below. Don't forget that you can share all your foodie makes with us using the hashtag #HBivore.
Follow us on Facebook and like us on Instagram to keep up to date with our latest recipes, news and content. You can also use the form below to receive all our news straight to your inbox each week.