Tofu Peanut Curry
Posted on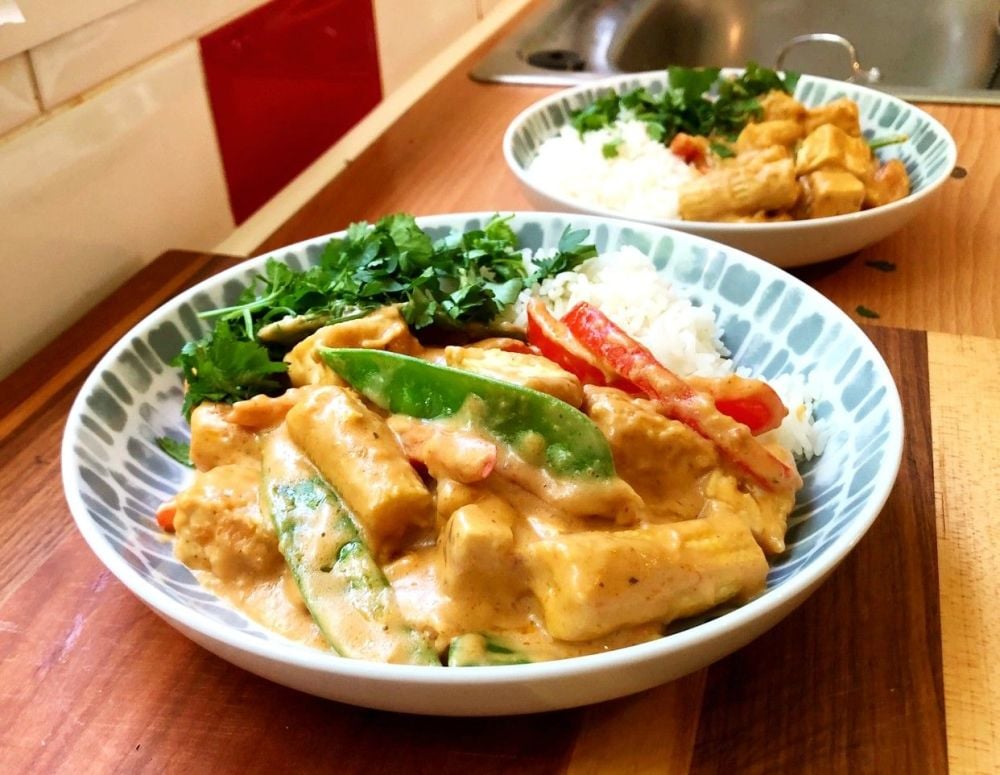 Tofu Peanut Curry
Another curry recipe! I don't think I'll ever get bored of how many options curry has. I don't know when or where I've eaten peanut curry before, but somehow i just started insanely craving it the other day.
I wanted this to be everything I had imagined so I knew it had to be perfect. Tofu and veggies seemed like the perfect way to when deciding on a pairing for this. Tossing the tofu means you can get it really nice and crispy in the pan, so this is something I would always recommend when you're frying off tofu.
I chose mange tout and baby corn as I wanted this curry to be colourful and have a nice crunch to it too. If you wanted to swap them out for some other veggies that's fine too, I think tenderstem broccoli or asparagus would go brilliantly too!
Make sure you let us know in the comments below how yours turned out and if you did anything differently. Also remember to tag us in your foodie makes on instagram!
---
Recipe
Yield: 3-4 portions
Total Time: 45 minutes
Ingredients:
1 block tofu (400g)

2 tbsp corn flour

2 tbsp olive oil

1 400g tin coconut milk

4 tbsp peanut butter

1 tbsp red curry paste

1 tbsp fresh ginger, peeled & grated

1 tbsp soy sauce

1 red pepper, sliced

70g baby corn

70g mange tout or super snap peas
To serve:
90g uncooked rice per person

fresh coriander
Method:
Press your tofu by draining all the liquid, wrapping in a clean kitchen cloth and placing a plate and a couple of heavy tins on top to squeeze the moisture out. Leave for about 15 minutes.

Cut your tofu into cubes and place into a large bowl. Add your cornflour and toss until evenly covered. Heat up your oil in a large skillet and fry off your tofu until browned and crispy on all sides.

At this point if you're serving your curry with rice you'll want to start cooking it!

Add in your coconut milk, peanut butter, curry paste, ginger, soy sauce, and lime juice. Heat on a medium heat until all your ingredients come together to make a delicious sauce.

Add in your sliced pepper, baby corn and mange tout and allow to gently simmer until your veggies are cooked.

Serve with a slice of lime and a sprinkling of fresh coriander if you wish!
---
What did you think of this recipe? Did you do anything differently? We'd love to hear from you in the comments below. Don't forget that you can share all your foodie makes with us using the hashtag #HBivore.
Follow us on Facebook and like us on Instagram to keep up to date with our latest recipes, news and content. You can also use the form below to receive all our news straight to your inbox each week.
livepages::jquery(); ?>