Courgette Fritters
Posted on

Courgette Fritters
The other day I was having such a mental vegan food block, not even just for writing, all of a sudden I couldn't remember what vegans eat!
After 3 years vegan I'd started to get into that rut of just eating the same things over and over again, a problem I had before vegan and something I still struggle with now. Food is exciting, it's adventurous, and sometimes I just need a kick up the back side to remember that.
I was scrolling pinterest endlessly looking for some inspiration when I came across corn fritters, something we used to serve at the restaurant I used to work at and that I hadn't eaten in years. Knowing I had some courgettes in the fridge that we're being abandoned and forgotten about, I thought courgette fritters would be a good way to go!
Courgettes are quite a wet vegetable, which can make them difficult to use in a recipe like this as they can just make the fritters fall apart because they're too wet. Thanks to a tip I learned from Antoni (one of the fab 5 from Queer Eye), all you need to do is sprinkle lightly with salt, give it a mix and wait for the salt to draw the moisture out of the courgette. This also works great for aubergine when you want to get it really crispy when frying.
I generally just serve these on their own with a big dollop of vegan mayo or vegan sour cream, but they would go great with a salad or couscous.
I made mine using a large frying pan so I only had to do two lots, but if you're using a smaller pan or you're worried about your fritters getting cold you can pop your oven on about 100c and place them on a tray in the oven when cooked to keep them hot until you're ready to serve.
Make sure you let us know in the comments below how yours turned out and if you did anything differently. Also remember to tag us in your foodie makes on instagram!
---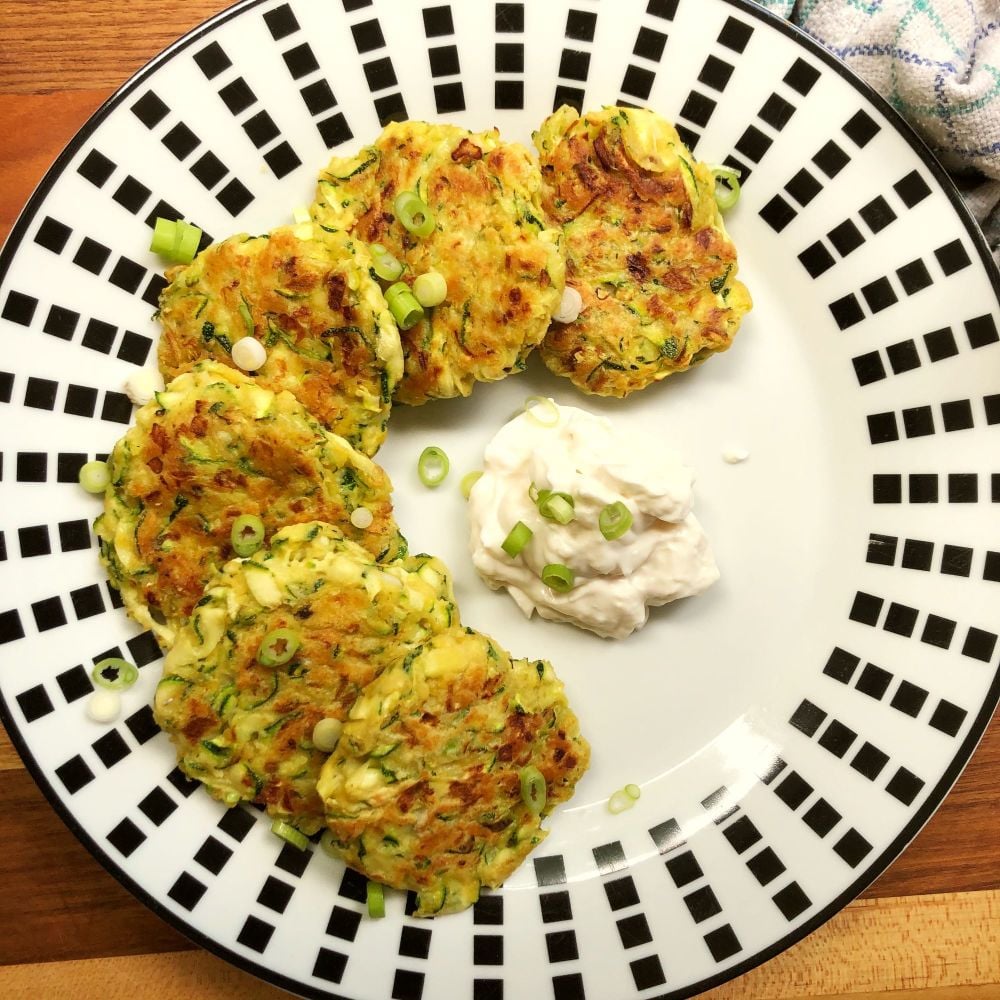 Recipe
Yield: 10 fritters
Total Time: 30 minutes
Ingredients:
3 ½ cups / 500g courgettes

2 tsp salt

½ cup / 30g nutritional yeast

1 cup / 125g plain flour

1tsp baking powder

½ tsp garlic granules

2 spring onions, finely chopped (+ extra for decorating)

¼ cup / 55g vegan margarine, melted

2 tbsp olive oil (for frying)
Method:
Grate your courgette using the thick side of the grater that's traditionally used for cheese. Place it into a bowl and mix in your salt (this will remove any extra moisture). Leave for 10 minutes.

Using your hands, move the grated courgette into a fresh bowl, squeezing any extra water out as you go. Add in your flour, nutritional yeast, flour, baking powder, garlic, spring onions and melted margarine. Mix well until it all comes together.

Heat up your oil in a large frying pan and using a heaped tbsp of mixture per fritter, place it into the pan and gently push down into a fritter shape using a spoon or spatula.

Allow to cook for a few minutes on a low to medium heat and then flip using a spatula. Repeat with until all your mix has been used up!

Serve in a stack with some extra spring onion or chives sprinkled over the top.
---
What did you think of this recipe? Did you do anything differently? We'd love to hear from you in the comments below. Don't forget that you can share all your foodie makes with us using the hashtag #HBivore.
Follow us on Facebook and like us on Instagram to keep up to date with our latest recipes, news and content. You can also use the form below to receive all our news straight to your inbox each week.