Chingri Malai Chickpea Curry
Posted on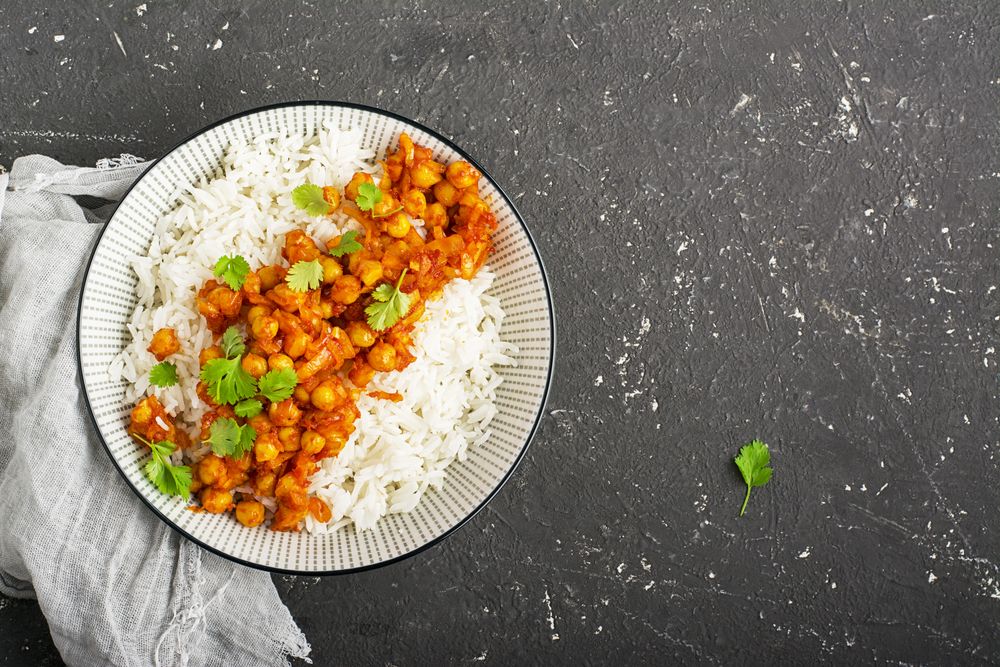 Curry night was always a Friday night tradition in my house. My step-father has a huge passion for Indian food and as a result, his curries are exceptional. However, he's not a vegan… and he doesn't plan to be any time soon.
He does make the occasional vegan curry for Amy and I. But it's not every Friday now! This left me in a bit of a predicament. Because I didn't know how to make curry like my step-dad could make curry.
I have finally cracked it and I want to share it with you. Let me know what you think!
Recipe
Serves 2
Prep time: 20 minutes
Cook time: 20 minutes
Ingredients
1 Inch square piece of fresh ginger
5 Cloves of garlic
3 White Onions
100ml + 1 tbsp Vegetable Oil
1 Tin of chickpeas
A generous handful of pak choi
1 Tbsp ground tumeric
1 Tbsp salt
3 Kaffir lime leaves (You could serve with a segment of lime if you prefer)
2 Tbsp ground cumin
200ml (7fl oz) Thick coconut milk
1 Tsp sugar
2 Tbsp of vegan butter.
Method
Start off by blitzing your onions and 100ml of your oil in a food processor and transfer into a bowl. Then blend up your ginger and garlic and set aside as well.


Drain your chickpeas (You can keep the aquafaba for our mousse recipe) and put them in a bowl. Season them with turmeric and salt.


Put the rest of your oil in a frying pan. Fry off your chickpeas and pak choi. When the pak choi starts to wilt, mix in your onion paste. Keep on a medium heat for about 5 minutes.


Mix together your ginger and garlic paste with your cumin, turmeric and 150ml of water then chuck it into your frying pan. Reduce it to a low heat and simmer for another 5 minutes.


Mix in your coconut milk, butter and sugar. Keep it on the simmer for another 3 minutes. You can adjust the flavouring with salt as your require. Then serve!
Do You Rate?
I served this curry with steamed rice, papadoms and an excessive amount of naan bread. What did you serve yours with? I'd love to know what you thought of my recipe!
Not what you fancy for dinner tonight? You can find the rest of our recipes (well, the vast majority are Amy's recipes!) on our mains page.