Sweet Potato and Spinach Curry
Posted on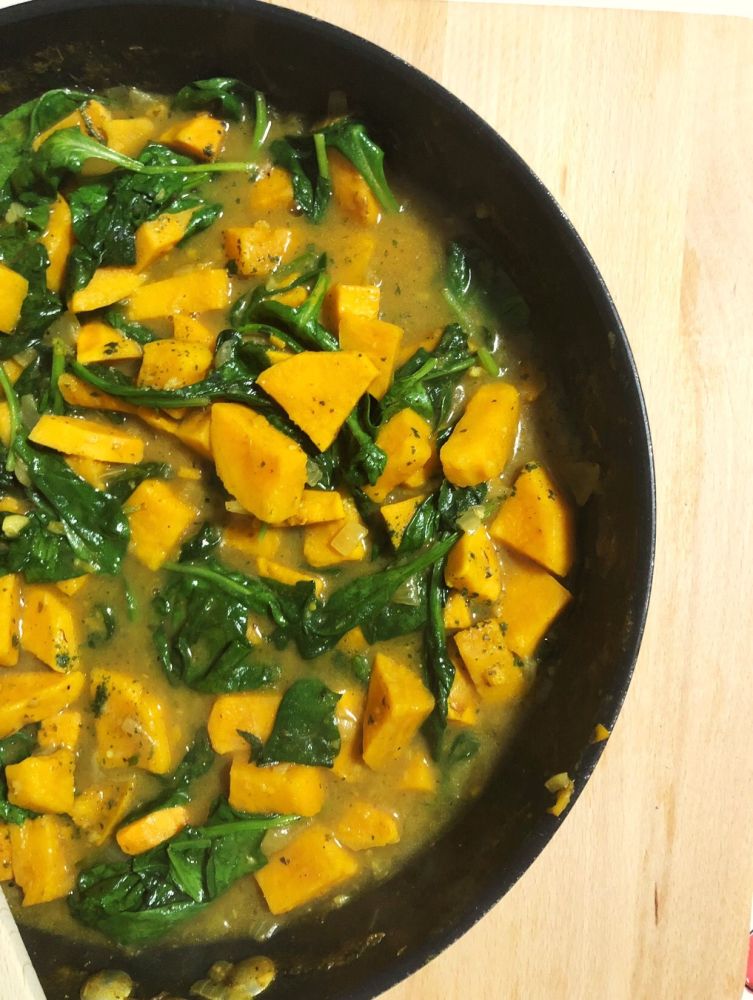 Sweet Potato and Spinach Curry
Let's get one thing straight, i absolutely love sweet potato. I love it baked, mashed, as fries or wedges, if there is a way to eat sweet potato, chances are I love it. Unfortunately, Him-Bivore (Jack) absolutely despises it, and the only way i can get away with using it is by hiding it in his favourite food… curry!
So this one is the culmination of years of compromise between us both and has always been a go-to when I'm feeling sweet potato, this is one we use so much that i can't understand why i haven't shared it with you all sooner!
The spinach adds some great colour, flavour depth and is great for packing in some more vitamins and protein (bet pop-eye would approve of this one!)
This recipe genuinely couldn't be any easier. It's only got 4 easy steps and is sure to make everyone think you spent way more time in the kitchen than you did.
---
Recipe
Yield: 4 servings
Total Time: 30M
Ingredients:
1 tbsp olive oil

3 large sweet potatoes, peeled and cut into 3cm cubes

1 large white onion, diced

2 garlic cloves, crushed

1 tsp ground cumin

1 tsp turmeric

1 fresh red chilli

1 x 400ml can reduced fat coconut milk

250ml vegetable stock

150g baby spinach

1 tsp dried ginger or 1 inch piece peeled and grated

Rice to serve (optional)

Fresh coriander (optional)
Method:
Heat 1 tbsp of olive oil in a large pan, fry off your onion, garlic and spices for a few minutes until the onion is softened.

Add your coconut milk, veg stock and sweet potato and then bring to the boil on a high heat. Reduce the heat to a simmer and allow to cook until the sweet potato is soft, this will take about 10 minutes, but you can test it by gently stabbing a large piece with a knife.

If you're serving with rice, this is the time you'll want to pop that on, just cook as per instructions on the packet.

Add in your spinach and gently stir into the curry, once this is wilted you're all ready to go, serve topped with chopped coriander and any accompaniments you like!
---
You can substitute the sweet potato for regular potatoes if you prefer, and it also cooks great with pak choy or other similar leafy greens. I always like to keep my curries fairly mild by picking a chilli with gentle flavours, but you can crank up the heat with this one by adding in some extra chilli powder or fresh chopped chillies.
How did it go? We love to hear your feedback, so make sure to let us know in the comments below how you got on and whether you made any changes!
We'd love to see what you come up with! Remember that you can share your foodie makes with us using the hashtag #HBivore.
Follow us on Facebook and like us on Instagram to keep up to date with our latest recipes, news and content. You can also use the form below to receive all our news straight to your inbox each week.
livepages::jquery(); ?>