Vegan Tofu Thai Green Curry Recipe
Posted on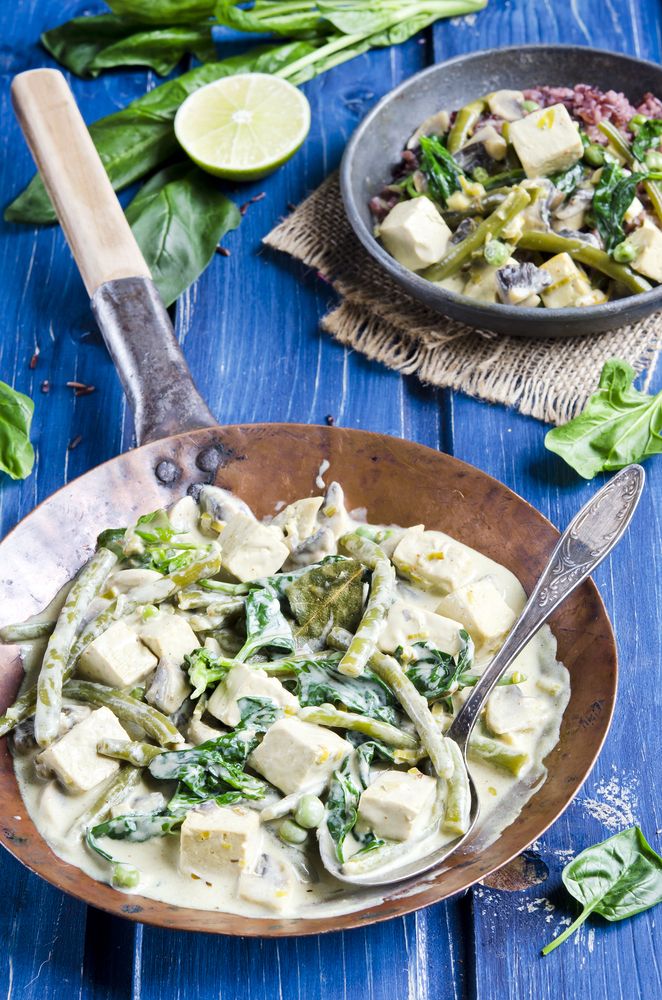 If you follow my recipes, you may already have figured out that I have a penchant for zesty, Eastern flavours. It's on my to do list to perhaps try and make a more earthy flavoured curry at some point. However, A Thai Green Curry recipe was naturally the next step and I'm pretty damn proud of it.
The main difficulty when converting this recipe was that, traditionally, Thai Green Curry is made with a fish or shrimp paste. So how does a vegan get that sea flavour in a recipe? I substituted the paste for a tablespoon of dried seaweed which added some awesome flavour and some bonus nutrition.
As it's cooking, you may think it's looking a bit busy in the wok. There are a lot of ingredients that go into this dish. The pay off is a highly nutritional and flavour-packed curry that I really hope you'll enjoy.
---
Recipe
Total Time: 30 minutes
Yield: 4 portions
Ingredients:
4 medium onions

3 cloves of garlic

2 birds eye chillis

1 lime

1cm2 piece of ginger

1 tablespoon of dried seaweed

3 tablespoons of lemon juice

1 400ml tin of coconut milk

1 lemongrass stalk

2 handfuls of pak choi

1 small bag of green beans

1 tablespoon of cumin seeds

4 shredded kaffir lime leaves

1 block of firm tofu
Method
Roughly chop your onions, garlic, chillies and ginger and chuck it in a blender. You can adjust the amount of chillies based on your preference but we found it wasn't too hot. Add to that the zest of your lime, your lemon juice and the dried seaweed and blitz until it forms a paste.

Drain your tofu and dice it up into medium sized chunks. Using a clean, dry, tea towel, press down on them gently to remove as much moisture as possible, this will allow them to absorb the flavouring better. Place them into a bowl with 1 tbsp oil and some salt, pepper and a teaspoon of cumin and mix until evenly coated.

Place your tofu into a large wok and fry until crispy, but not burnt. When your tofu looks like it's golden, crispy and delicious, add in your tin of coconut milk and reduce to medium heat. Give it a good stir and wait for the coconut milk to simmer.

When it's simmering, add your blended mix of the garlic, chillies etc and give that a good stir too. Bring it to a simmer again and allow to reduce down slightly.

Add in your green beans and pak choi and leave it to simmer for around 10 minutes.

Finally add in your lemongrass by pulling pieces apart, kaffir lime leaves and cumin seeds and stir it through for another 5 minutes.

Serve with some freshly cooked rice and garnish with coriander.
---

How did it go? Let us know! Share your foodie makes with us in instagram with #HBivore.
Follow us on Facebook and like us on Instagram to keep up to date with our latest recipes, news and content!