Sweet potato and Carrot Soup
Posted on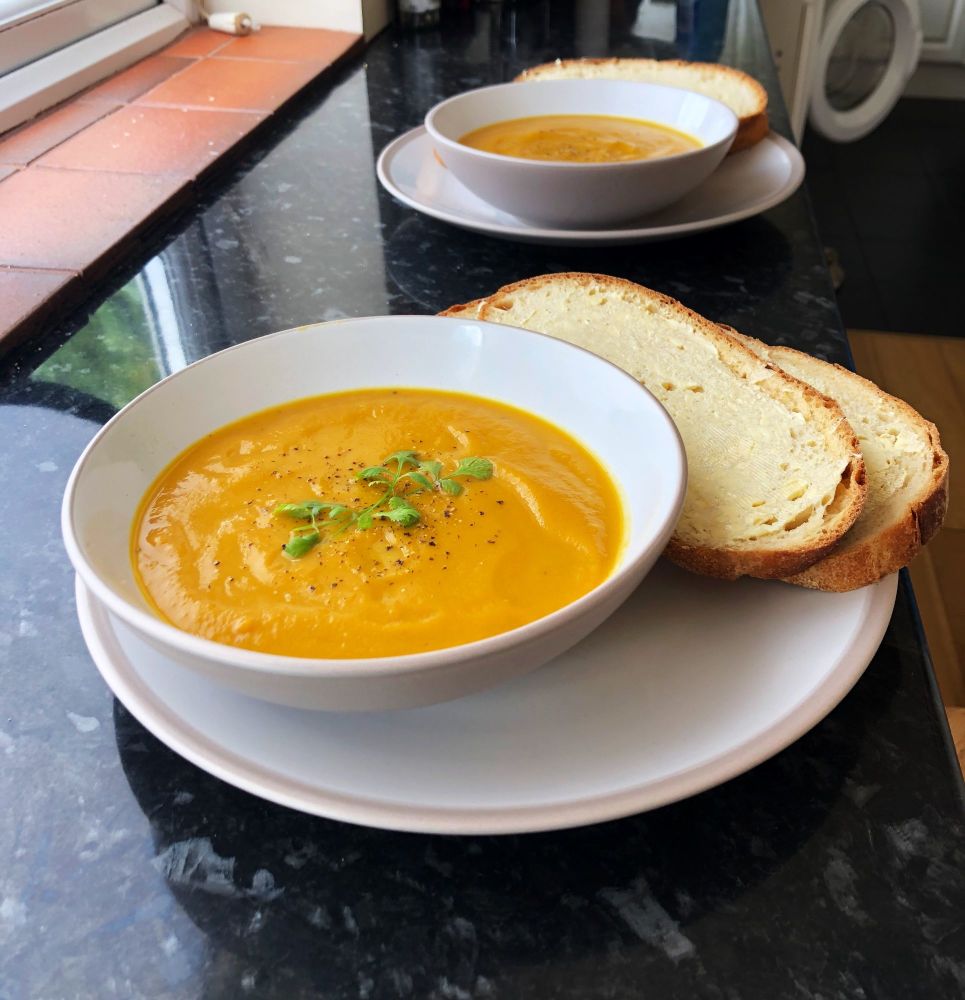 Sweet Potato and Carrot Soup
I recently did my click and collect order with Tesco's, and only when I got some did I realise I'd ordered twice as many sweet potatoes than I meant to!
I love sweet potatoes though, so really i just saw this as a bit of an excuse to eat them more. Sweet potatoes are a seriously underrated vegetable. They can make mash, chips, fries, wedges, they can be roasted, made into pizza crust, brownies, used in cake recipes, or even just be used in a soup!
If you want to check out some other soup recipes before you truly make up your mind, we have plenty to choose from:
If you have your heart sweet on sweet potato and carrot though, you've come to the right place. This recipe is simple yet packed full of nutrition and flavour. The gorgeous depth in the colour makes this a striking dish, perfect for a light meal or paired with some thick cut chunky sourdough for something altogether wholesome.
If you get to the end of the recipe and you think your soup is a little too thick, simply water it down slightly with some freshly boiled water from the kettle.
---
Recipe
Yield: 4 portions
Total Time: 30 minutes
Ingredients:
2 large white onions, peeled and roughly chopped

2 tbsp olive oil

4 cloves garlic, crushed or minced

600g sweet potatoes, peeled and roughly chopped

400g carrots, peeled and roughly chopped

1.2L vegetable stock
Method:
In a large pan over a medium heat, fry off your onion until soft and translucent. Add in your garlic and allow to cook for a further 2 minutes.

Add in your sweet potato, carrot and vegetable stock, you want the liquid to be covering the vegetables by about 1 inch, if you need slightly more or less vegetable stock that's fine!

Bring to the boil and reduce to a simmer, cover and allow to cook for 25-30 minutes, until your sweet potato and carrot are cooked and soft.

Using a stick blender, blend your soup until smooth. Season to taste with salt and pepper divide into bowls and then serve with fresh bread.
---
What did you think of this recipe? Did you do anything differently? We'd love to hear from you in the comments below. Don't forget that you can share all your foodie makes with us using the hashtag #HBivore.
Follow us on Facebook and like us on Instagram to keep up to date with our latest recipes, news and content. You can also use the form below to receive all our news straight to your inbox each week.
livepages::jquery(); ?>