Leek and Potato Soup
Posted on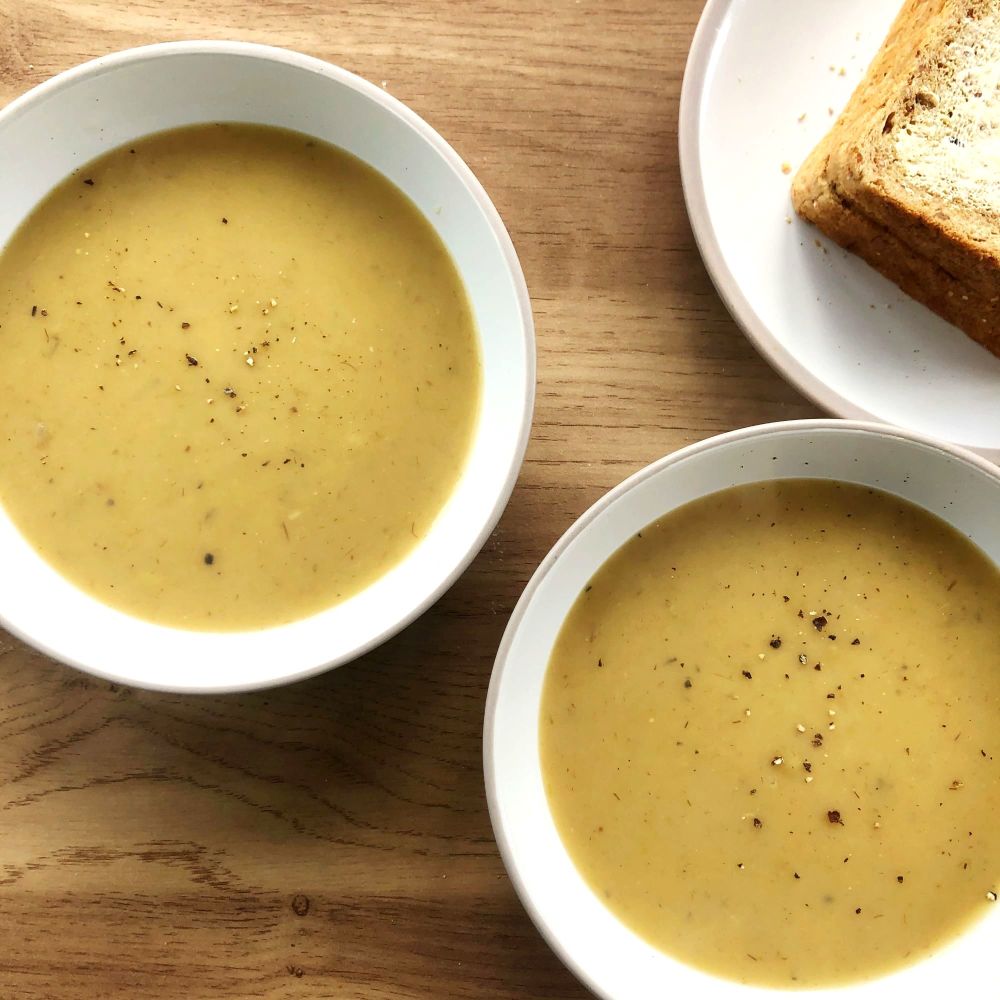 Leek and Potato Soup
Soup is a pretty major must have in most households. It's quick, easy, versatile, freezable and travel friendly. Soup plays a massive role in keeping my morale up when I'm on an ambulance shift. If it's the middle of winter, minus degrees outside and I'm on a night shift, soup (and coffee) keep me going.
It's so easy to take anywhere, you just need a travel thermos and a little cup, then you can have as much or as little at a time as you want.
Soups are also great because there's literally unlimited options as to how you can flavour them. Think of all the different vegetables you can think of, and that's probably how many soups you can make (not to mention for each one of those you can add a bit of curry powder and then have a 'curried' spicy version of the soup).
Leek and potato soup holds a special place in my heart though, it's just so warming and homely. It's so nutritious and while many people see soups as a light meal, pair this bad boy with some thick cut sourdough and you'll be so full you need a nap.
This recipe is so easy, with just a handful of ingredients.
I bought my stick blender for less than £10 from Asda, and so far it's lasted for years (touch wood). If you haven't got a stick blender, any form of blender or food processor will do the same job.
Leek and potato is one of those soups I love to have completely smooth, but that doesn't mean to say that you have to do the same. If you're a chunky soup kind of person, feel free to blend the soup slightly less and have some delicious chunks in yours.
Another tip I've learned over the years is that you should always season your soup after you've blended it. You'll have a lot more control over the flavour, and you'll be able to get a true feel for the taste as you go.
Make sure you let us know in the comments below how yours turned out and if you did anything differently. Also remember to tag us in your foodie makes on instagram!
---
Recipe
Yield: 2
Total Time: 40 minutes
Ingredients:
2 tbsp vegan margarine


3 cloves garlic, crushed

1 medium white onion, chopped
2 large leeks, chopped

5 medium potatoes, peeled and chopped into small chunks

1 good quality veg stock pot
Method:
Melt your butter in a large pan over a low heat, then turn up to a medium heat and add onion and garlic. Cook until gently caramelised, about 10 minutes.During this time keep scraping the bottom of the pan with your spoon to keep all the flavour moving around.

Add your potatoes, leeks and stock then cover with boiling water from the kettle until all your soup mix is covered, bring back to the boil and then turn down to a simmer and cook for a further 20-30 minutes, or until your potatoes are nice and soft.

Use a stick blender to blend your soup till smooth, you may want to add a little more hot water if you prefer your soup thinner.

Season to taste and serve!
---
What did you think of this recipe? Did you do anything differently? We'd love to hear from you in the comments below. Don't forget that you can share all your foodie makes with us using the hashtag #HBivore.
Follow us on Facebook and like us on Instagram to keep up to date with our latest recipes, news and content. You can also use the form below to receive all our news straight to your inbox each week.