Mushroom, Lentil and Cranberry En Croûte
Posted on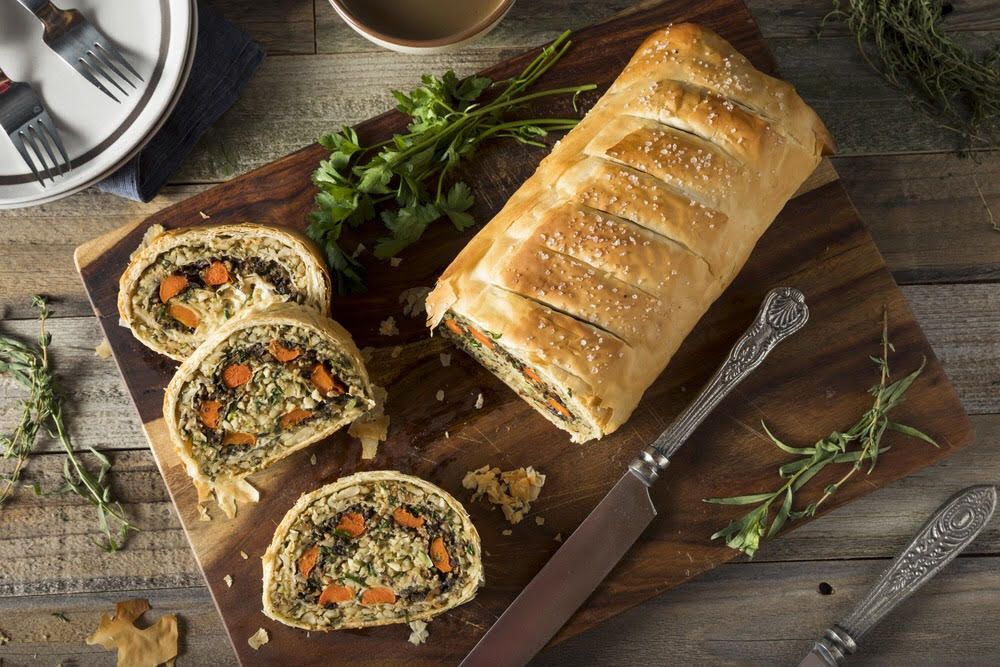 Mushroom, Lentil and Cranberry En Croûte
Every Christmas many of us face the annual dilemma of finding the right main course to take pride of place on our dining room table. This is the perfect holiday recipe. Whatever you're using this for, be it Christmas, Thanksgiving or any other holiday, it's sure to impress.
En croûte refers to anything that is enclosed in pastry, and this recipe is packed full of all the right flavours. Bringing together the traditional christmassy taste of cranberries, along with the deliciously satisfying lentils and mushrooms, you can avoid the boring choice of a plate full of roasted vegetables.
If you're looking for the perfect accompanyment for your dinner, try our best ever roast potatoes!
Happy Holidays!
---
Recipe
Yield: 4 portions
Total Time: 40M
Ingredients:
1 red onion, diced

3 garlic cloves, minced

1 tbsp olive oil

150g put lentils

150g fresh cranberries

3 stalks fresh rosemary, chopped

A few sprigs fresh thyme, stems removed, chopped

1tsp ground nutmeg

1 tsp cinnamon

150ml vegan red wine (check Barnivore if you're not sure)

200ml veg stock

100g fresh spinach

100g mushrooms, chopped

50g pistachios

50g walnuts

500g puff pastry (shortcrust will also work great too!)
Method:
Fry off your onions, mushrooms and garlic in 1 tbsp oil for a couple of minutes, then add in your lentils, cranberries, rosemary, thyme, nutmeg, cinnamon, red wine and veg stock then bring to the boil.

Lower to a simmer, cover and allow to cook for about 30 minutes, until your lentils are almost cooked.Make sure to stir regularly and if your mix is getting a little dry you may need to add a little water.

Stir in your fresh spinach, pistachios and walnuts then turn off the heat and place to one side.

Roll out your puff pastry to about the thickness of a £1 coin, you want it to be rectangular and big enough to enclose all of your filling. If you move your pastry onto a lined tray at this point, it'll save trying to move the whole thing later!

Once your mix has cooled, place it on top of your pastry in one very thick line along the middle, making sure you've left about 2-3 inches of empty pastry on all sides. Fold the two longer sides over into the middle, and then fold the top and bottom in too.

You now want to flip the whole thing over by placing another tray lined with baking parchment on the top, and then flipping all together.

Gently run a knife over the top in lines to create lines, being careful not to cut through the pastry, and then gently brush with oil to help brown.

Bake in the oven for about 40 minutes, until golden brown.
---
This if the perfect dish to pair with our best ever roast potatoes and serve as that full blown roast dinner I know you've been craving!
I can't wait to see how yours turned out! Don't forget that you can share all your foodie makes with us using the hashtag #HBivore and the favourites will be reposted!
What did you think of this recipe? Did you do anything differently? We'd love to hear from you in the comments below.
Follow us on Facebook and like us on Instagram to keep up to date with our latest recipes, news and content. You can also use the form below to receive all our news straight to your inbox each week.
livepages::jquery(); ?>