Thai Noodle Soup
Posted on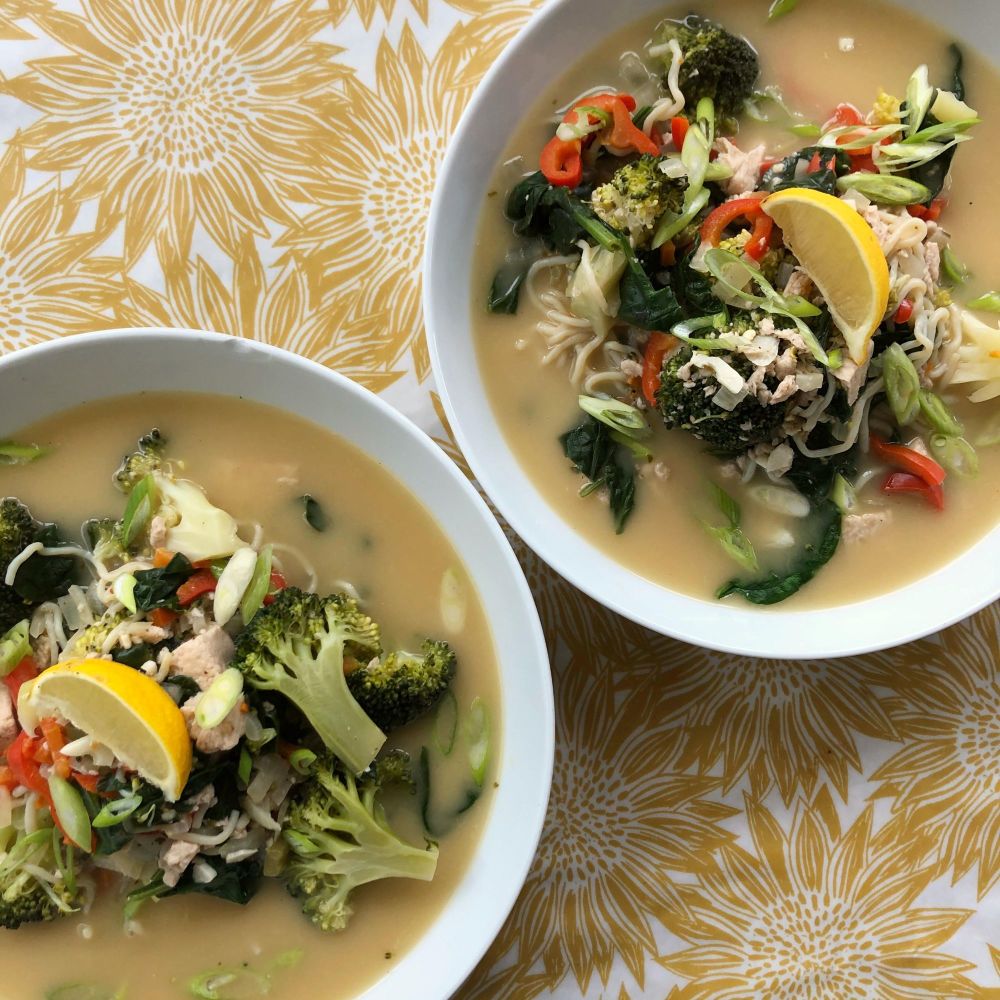 Thai Noodle Soup
If you're looking for something warming, filling, packed full of nutrients and calorie friendly, then this is the recipe for you.
The warming of the lightly spiced soup, with the protein packed tofu and nutrient rich veggies makes this a great all rounder recipe. I use the low calorie protein rice noodles by Bare Naked and it comes out at around 250 calories for a huge portion, that sounds like a total win to me!
I often like to use the quorn vegan chicken pieces instead of tofu in this, I love the texture they bring and the way they absorb the flavours. If I'm using the chicken pieces instead of tofu, sometimes I fry them off before adding to give a little bit of colour, but this isn't necessary if you're a little short on time and want to keep the washing up to one pan.
Whilst on the subject of washing up, can I just make a quick shout out to one pot recipes? One pot to wash for an entire meal sounds like a pretty good win to me, and if you're only making half the amount for just yourself, you can even eat it straight out the pan with a set of chopsticks and a soup spoon.
If you haven't got any spinach to hand, you can swap that out for some shredded cabbage or bok choy, which both make for a delicious and nutritious meal.ww
Make sure you let us know in the comments below how yours turned out and if you did anything differently. Also remember to tag us in your foodie makes on instagram!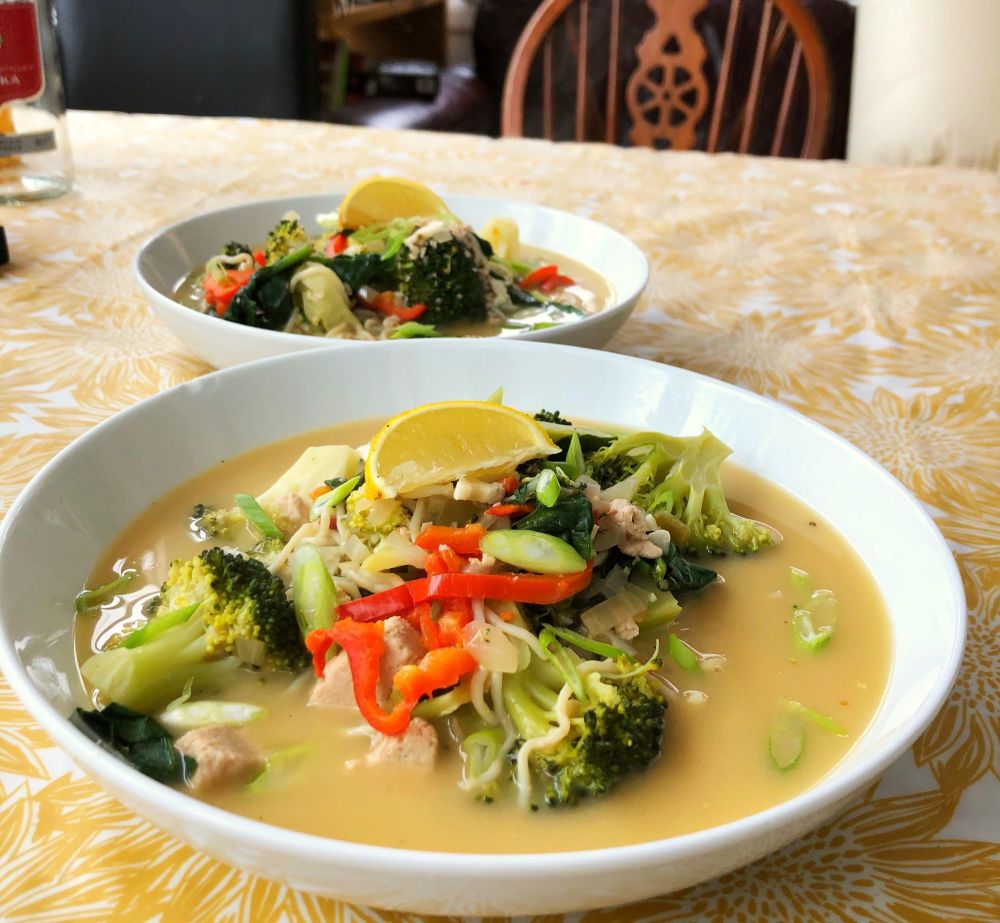 ---
Recipe
Yield: 2 portions
Total Time: 40 minutes
Ingredients:
1 tbsp oil (sesame is best)

1/2 inch ginger, peeled and grated

3 cloves garlic, minced

1 white onion, finely diced

2 tsp green thai curry paste

1/2 red bell pepper, sliced

1 1/2 cup broccoli

2 good handfuls spinach

4 cups veg stock

250g rice noodles

200g extra firm tofu or vegan chicken pieces

½ can coconut milk

Lemon wedges, to serve

Spring onion slices, to serve
Method:
Heat the oil in a large pan and gently fry off your onion, garlic and ginger on a medium heat.

Add in your thai green curry paste, followed by your pepper and broccoli and saute for a couple of minutes.

Add in all your stock and turn up to a high heat and bring to a simmer, add in your udon noodles, stir and cover for 5 minutes.

Stir through your coconut milk and add your tofu/chicken pieces and spinach, being careful not to break your tofu too much. Bring to a simmer and allow to cook for s further 5-10 minutes

Serve with a sprinkling of sliced spring onions and a wedge of lemon.
---
What did you think of this recipe? Did you do anything differently? We'd love to hear from you in the comments below. Don't forget that you can share all your foodie makes with us using the hashtag #HBivore.
Follow us on Facebook and like us on Instagram to keep up to date with our latest recipes, news and content. You can also use the form below to receive all our news straight to your inbox each week.