Vegan Jammy Dodgers
Posted on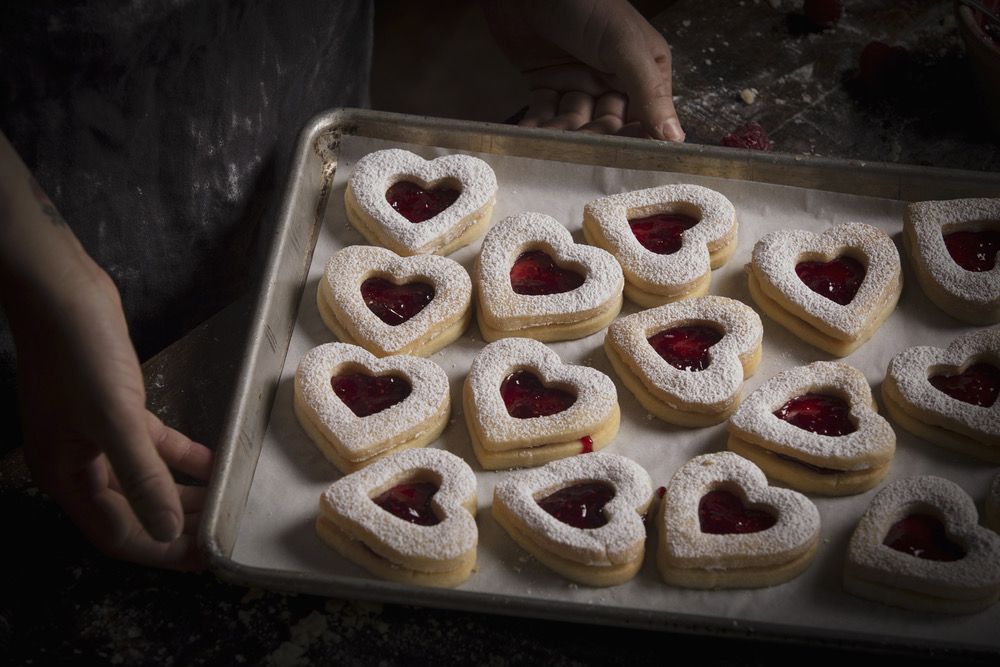 Vegan Jamie Dodgers
I was walking through the supermarket the other day, working my way through the isles I needed, skipping the biscuit aisle completely as to try to avoid those sugary temptations, when something caught my eye on the end of an isle.
The 'specials' section, with all the offers and discounted products dragged me in, and of course, staring back at me was a packet of jammie dodgers. All it took was that brief second for me to know that i just HAD to make some vegan jammie dodgers.
Jammy Dodgers actually used to be accidentally vegan, until some point in 2016 where the clearly confused company decided to add whey (milk protein) to their recipe in a bid to improve dwindling sales.
The theory is pretty basic, just a simple crumbly biscuit recipe with some rich jam sandwiched in the middle. You want to make sure you use a seedless jam otherwise your biscuits won't sit right. Also make sure you give your jam a good stir so you don't have any big lumps, you want a smooth sweet center to your delicious treats.
Of course, you'll need biscuit cutters. The traditional design uses a round cutter for the biscuit shape, and then a smaller, heart shaped cutter for the centre of half the biscuits, so when they sandwich together you get that irresistible cute little jammy heart.
If you haven't got those shapes, don't worry too much! As long as you have one bigger cutter for the biscuit shape itself and then a smaller cutter for the inside, they'll work perfectly fine. Remember though, the bigger biscuit size you choose, the less it'll make in total and the longer they'll need in the oven, and vice versa.
These exciting little biscuits are great for having around the house as a daily treat (or 5-daily treat in my case) but also make a fabulous kid-friendly recipe to keep you and your little ones busy on a rainy day.
If you're truly a biscuit connoisseur, you may be wondering how this recipe creates decadent jammy dodgers when we all know the jam is much ticker in store bought jammie dodgers. Nothing gets past your keen biscuit senses, eh?
If you're desperately after that thick jammy texture, you'll need to pop your jam into a pan first and gently reduce it down to the desired consistency.
You also don't have to use raspberry jam. The beauty of homemade is the somewhat limitless realms of customisation. You can use any type of seedless jam you have, or that you think would be delicious. There's also nothing stopping you making a batch where they each have different jams, a 'homemade variety batch' of jammy dodgers if you will.
Be sure to tell us in the comments below which cutter shapes you used, bonus points for sharing a photo on instagram and tagging us! (we might even feature you on ours!)
---
Recipe
Yield: 12 biscuits
Total Time: 20 minutes
Ingredients:
½ cup / 120g vegan margarine

½ cup / 110g caster sugar

1 ½ cups / 180g plain flour

Seedless raspberry jam
Method:
In a mixing bowl or with a whisk, cream together your margarine and sugar until combined.

Slowly add your flour bit by bit until you've added it all and the mix comes together to form a ball. If your mix is still crumbly, just keep mixing and wait, it'll come together in it's own time.

Remove the mix from the bowl and form into one ball, then place into the fridge for about 30 minutes (this helps the biscuits keep their shape as they bake).

Preheat your oven to 180c and line a large tray with baking parchment.

Roll out your mix on a lightly floured surface to about 1/2cm, thickness, then use your cutter to make as many biscuits as you can, re rolling and cutting as required until all your mix is used up. Use your smaller cutter to cut the smaller centre holes in half your biscuits.

Bake for 10-15 minutes, but watch closely! You want the biscuits to be just starting to go golden brown around the edges.

Remove from the oven, and once cooled slightly, transfer to a collign rack until completely cold.

Once cool, spoon about ½ teaspoon of jam into the centre of your whole biscuits, and then gently top with a centre shaped biscuit.
---
What did you think of this recipe? Did you do anything differently? We'd love to hear from you in the comments below. Don't forget that you can share all your foodie makes with us using the hashtag #HBivore.

Follow us on Facebook and like us on Instagram to keep up to date with our latest recipes, news and content. You can also use the form below to receive all our news straight to your inbox each week.
livepages::jquery(); ?>