Vegan Sausage Hotpot
Posted on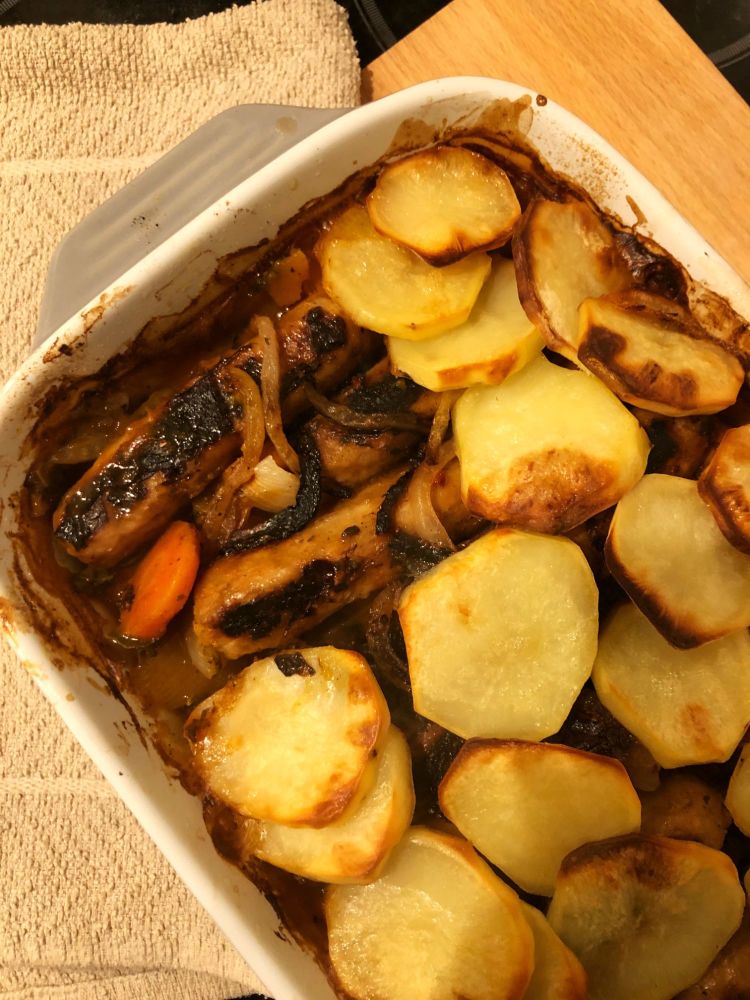 Sausage Hot Pot
This is an all time classic for when it's so cold outside you'd spend all day inside if you could. You can really use any sausage you like for this one. I love the Richmond meat free sausages or any vegan sausage with a 'skin' on it and they go great in this dish, but anything will do, so get those Linda's out the freezer and get ready for a wholesome, filling, warming meal.
If mock meats aren't your thing, then you can just leave them out and bulk up with a few more root veggies to have this as a delicious vegetable hotpot instead.
---
Recipe
Yield: 3-4 portions
Total Time: 2 hours
Ingredients:
6-8 vegan sausages (I used Richmond meat free and they worked amazing)

2 cloves garlic, crushed

1 x 400g tin chopped tomatoes

300ml veg stock

3 tbsp tomato paste

1 tsp dried mixed herbs

1 tsp dried thyme

2 carrots, chopped

½ swede, peeled and chopped

1 white onion, chopped

Salt and ground pepper

4 medium potatoes, peeled and thinly sliced

Knob of vegan margarine, melted
Method:
Preheat your oven to 180c. Fry of your sausages in a pan with 1tsp of oil (or oven cook if unsuitable for frying). Then add in your chopped tomatoes, garlic, veg stock, herbs, salt and pepper and tomato purée and cook for a further minute.

Evenly distribute your sausage mix into a large casserole dish along with your chopped carrots, swede, and onion.

Lay your sliced potatoes over the top, slightly overlapping each other. Brush gently with melted margarine, cover with a lid or foil and bake in the oven for 1 hour.

After an hour, remove the lid and place back in the oven for 25-30 minutes or until the potato has browned and crisped up. Serve on its own or with some fresh crusty bread.
---
What did you think of this recipe? Did you do anything differently? We'd love to hear from you in the comments below. Don't forget that you can share all your foodie makes with us using the hashtag #HBivore.

Follow us on Facebook and like us on Instagram to keep up to date with our latest recipes, news and content. You can also use the form below to receive all our news and free recipes straight to your inbox!
livepages::jquery(); ?>