Chick'n Pot Pie
Posted on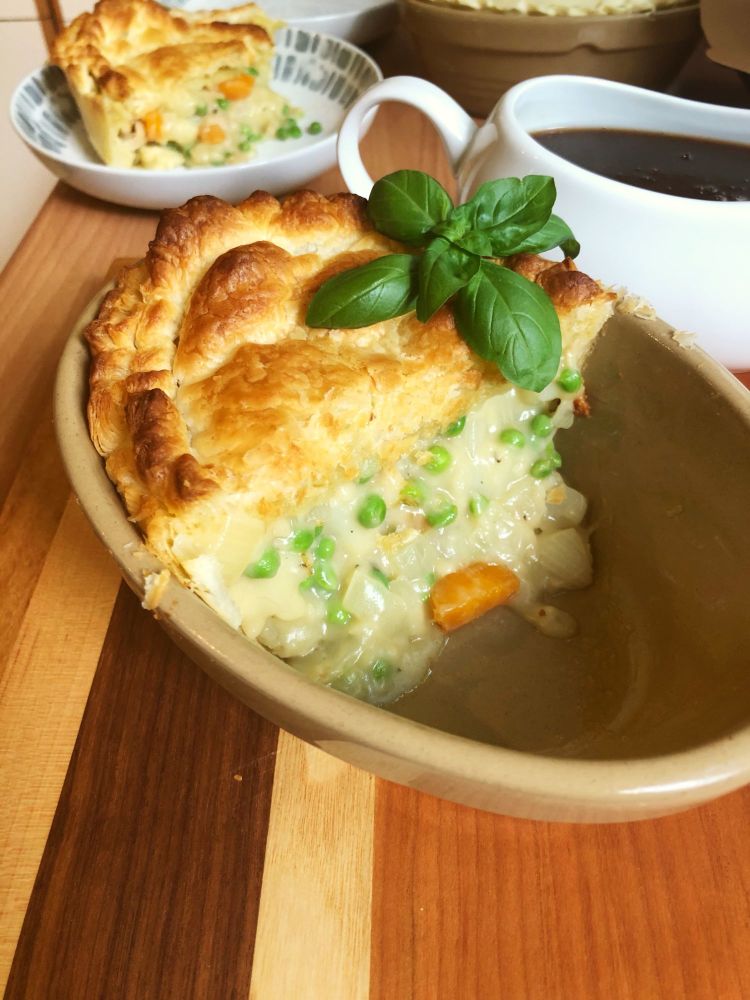 Chick'n Pot Pie
This is one of the old time classics that I absolutely love. It always goes down great with the whole family and really brings a great vegan twist on the traditional home comfort the dish.
I know not everyone is into mock meats, so if vegan chick'n pieces aren't your thing, you can leave them out and just add a bit more of the vegetables instead and you won't even feel like it's missing a thing.
I cheated and used shop bought pastry to save on some time and make this recipe more accessible to everyone, but if I'm honest, I always prefer homemade pastry. If you wanted to make your own, that's fine too, and make sure to let us know in the comments below how it went!
I was only making for two, so I made two smaller pies so we could share one and I froze the other fully assembled in the dish but unbaked so it made a nice quick, easy weekday dinner! I simply baked at a lower heat for about an hour, make sure you probe the middle to ensure it's fully defrosted and piping hot before serving!
---
Recipe
Yield: 4 portions
Total Time: 1 hour 20 minutes
Ingredients:
1 cup peeled, diced potatoes

1 cup peeled, sliced carrots

½ cup vegan margarine

160g vegan chick'n pieces (I used The Vegetarian Butcher What The Cluck from Waitrose)

1 white onion, medium diced

1 small leek, sliced

½ cup plain flour

½ tsp salt

½ tsp cracked black pepper

½ tsp dried thyme

1 ½ cups veg stock

¾ cup soy milk

½ cup frozen peas

½ cup frozen sweetcorn

2 packs Jus Rol puff pastry sheets
Method:
Preheat your oven to 200c. Place your potatoes and carrots into a large pan and cover with water. Place on a high heat and bring to the boil, then reduce to a simmer and cover for 8-10 minutes, drain and then place to one side for now.

Place your margarine in a large skillet over a high heat, then fry off your onions, leeks and chick'n pieces for a couple of minutes. Then reduce the heat and sift in your flour and salt and pepper and cook off for another 2 minutes. Slowly add in your veg stock and soy milk, stirring constantly.

As your mix comes up to a simmer it'll thicken, this is when you can stir in your peas, sweetcorn, and potato and carrot mix. Then remove from the heat and your pie mix is ready to go!

Lay one sheet of puff pastry in the bottom of your pie dish so it covers the bottom and the sides, and also runs over the sides slightly. Fill with your mix, then run a layer of vegan margarine over the edge of the pastry that covers the rim of your dish to help seal, and then lay your second piece of pastry over the top. Trim, seal and flute the edges, then use some melted margarine as your would an 'egg wash' if you want to give your pastry a nice golden brown finish, then simply use a small sharp knife to make a few small holes in the middle of the pie and bake for 30-35 minutes in the middle of the oven. Leave to stand for 10 minutes before serving.
---
What did you think of this recipe? Did you do anything differently? We'd love to hear from you in the comments below. Don't forget that you can share all your foodie makes with us using the hashtag #HBivore.

Follow us on Facebook and like us on Instagram to keep up to date with our latest recipes, news and content. You can also use the form below to receive all our news and free recipes straight to your inbox!
livepages::jquery(); ?>