Vegan Savoury French Toast
Posted on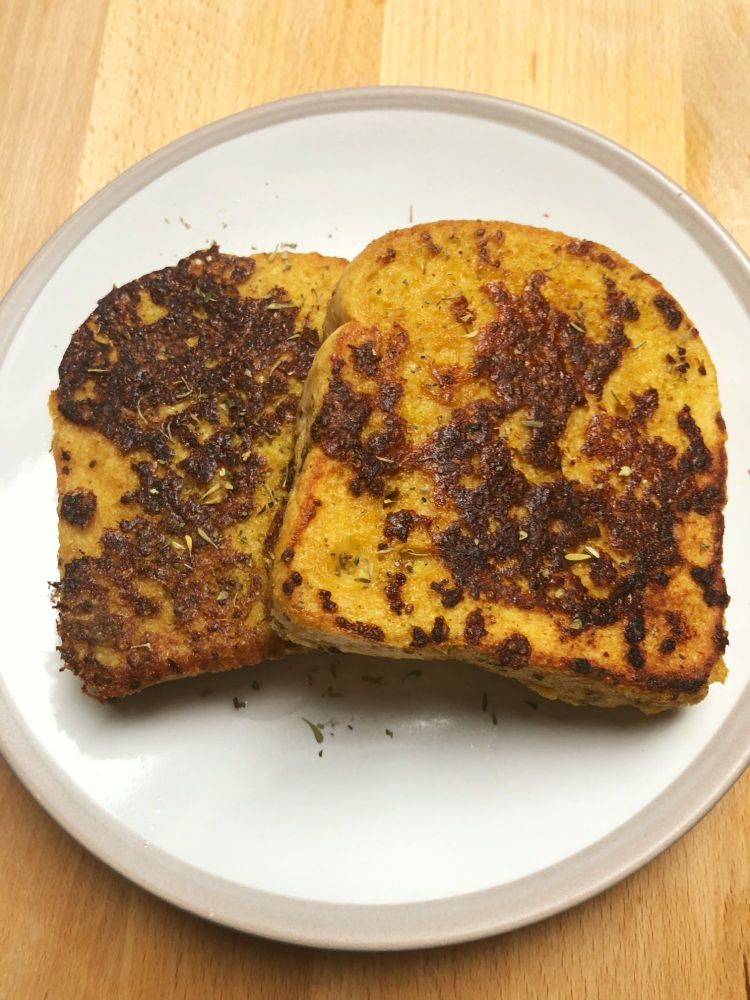 Savoury French Toast
I'm going to be honest, until I went to share this recipe with you all, I had absolutely no idea that SWEET french toast was a thing. I'd grown up thinking that French toast was a savoury egg breakfast dish and has no idea that traditionally it was a sweet breakfast dish instead, so you can imagine my confusion when I started doing a bit of research and everyone was covering theirs in syrups and fruits.
I can't wait to start exploring the world of sweet French toast, but for now here's a delicious vegan savoury French toast. You can serve yours with some grilled cherry tomatoes, fried mushrooms and onions or as part of a full english if you really want to, dress it up or keep it simple, it'll make a delicious breakfast either way!
Any spare batter can be kept in an airtight container in the fridge for the following day, just be sure to give it a good whisk before use.
---
Recipe
Yield: 8 slices
Total Time: 30M
Ingredients:
For the Batter:
1 cup / 250ml soy or almond milk

4 tbsp nutritional yeast

½ tsp garlic powder

½ tsp onion powder

¼ tsp turmeric

½ tsp dried mixed herbs

½ tsp salt

½ tsp cracked black pepper

2 tbsp corn flour

2 chia eggs - 1 chia egg = 2 tsp chia seeds mixed with 2 tbsp warm water mixed and left to one side for 2 minutes
Others:
8 slices thick cut crusty white bread or sourdough

Oil or vegan margarine for frying
Method:
In a deep dish, combine all your batter ingredients and whisk well, leave your batter your about 5 minutes to rest. If you're slicing your own bread, this is a great time to do this. You can also start heating your oiled non stick pan at this point, you'll want it nice and hot for when you place your bread in.

Dip your bread into the batter one slice at a time, dipping each side briefly so it's fully submerged, then place straight into the pan. I use a large pan and do 2-3 slices at a time, depending on the size of my bread. After a couple of minutes, lift your bread slightly with a spatula so it doesn't stick, if it's nicely browned you can flip it now, but don't be afraid to leave it for longer.

Once both slides are nicely browned and crispy, simply serve on it's own, or with whatever accompaniments or condiments you'd like, my favourites are ketchup, hot sauce, spinach, mushrooms, tomatoes or baked beans.
---
Breakfast can be so easily overlooked, but it doesn't need to be! We love breakfast here at HerBivore and couldn't imagine getting through the morning without it, so we're always coming up with new innovative ways to recreative our favourite classics in a delicious cruelty free way!
What did you think of this recipe? Did you do anything differently? We'd love to hear from you in the comments below. Don't forget that you can share all your foodie makes with us using the hashtag #HBivore.
Follow us on Facebook and like us on Instagram to keep up to date with our latest recipes, news and content. You can also use the form below to receive all our news straight to your inbox each week.
livepages::jquery(); ?>