Cauliflower Rice Recipe
Posted on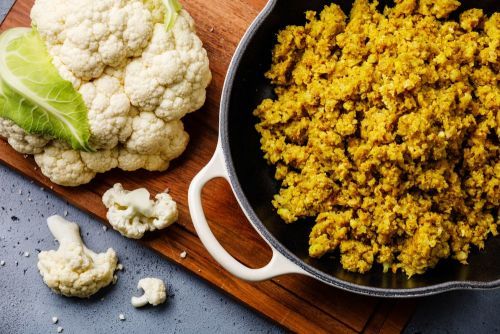 Golden Cauliflower Rice
Low carb, paleo, vegan (of course) and one of your five a day. If you haven't tried cauliflower rice, then now is your chance. We colour ours by using a little bit of turmeric, simply because i love the aesthetic (turmeric is known to have many health benefits too though!), but if you wanted to leave yours plain it is just as delicious and works perfectly.
This recipe is based around using a food processor, but if you haven't got one, you can still make cauliflower rice. Simply grate your cauliflower using the larger hole side of a box grater (the side you'd use for your vegan cheese), you basically just want to aim for little pieces of grain like cauliflower.
Just a few years ago, cauliflower was seen as a boring vegetable, often overlooked for more intense flavours. Nowadays though, a cauliflower can be anything it dreams of, from pizza to rice!
This is a great way to make those heavy rice dishes a bit lighter, as well as being a lower calorie option and sneaking in one of your five-a-day.
Cauliflower rice is perfect for stir fries or fried rice, but you can also leave this to cool and use it in salads or as a delicious alternative to rice salad at bbq's or parties.
---
Recipe
Yield: 4 portions
Total Time: 30 minutes
Ingredients:
1 large cauliflower, cut into florets (you can use the stem too!)

1 tbsp olive oil

½ tsp turmeric

½ tsp garlic powder

1 tsp onion powder

Pinch salt
Method:
Working in as many batches as you need, place your florets into a food processor (being careful not to overfill) and blitz in pulses until they form small rice sized pieces.

Heat your oil in a large pan on a medium heat, then add in all your ingredients, including your cauliflower rice.

Stir continuously and cook for 3-5 minutes, being careful not to overcook otherwise your rice will be mushy.

Serve immediately or allow to cool and then keep for up to 3 days in an airtight container in the fridge!
---
What did you think of this recipe? Did you do anything differently? We'd love to hear from you in the comments below. Don't forget that you can share all your foodie makes with us using the hashtag #HBivore.
Follow us on Facebook and like us on Instagram to keep up to date with our latest recipes, news and content. You can also use the form below to receive all our news and free recipes straight to your inbox!
livepages::jquery(); ?>