Minted Pea, Asparagus and Beetroot Tart
Posted on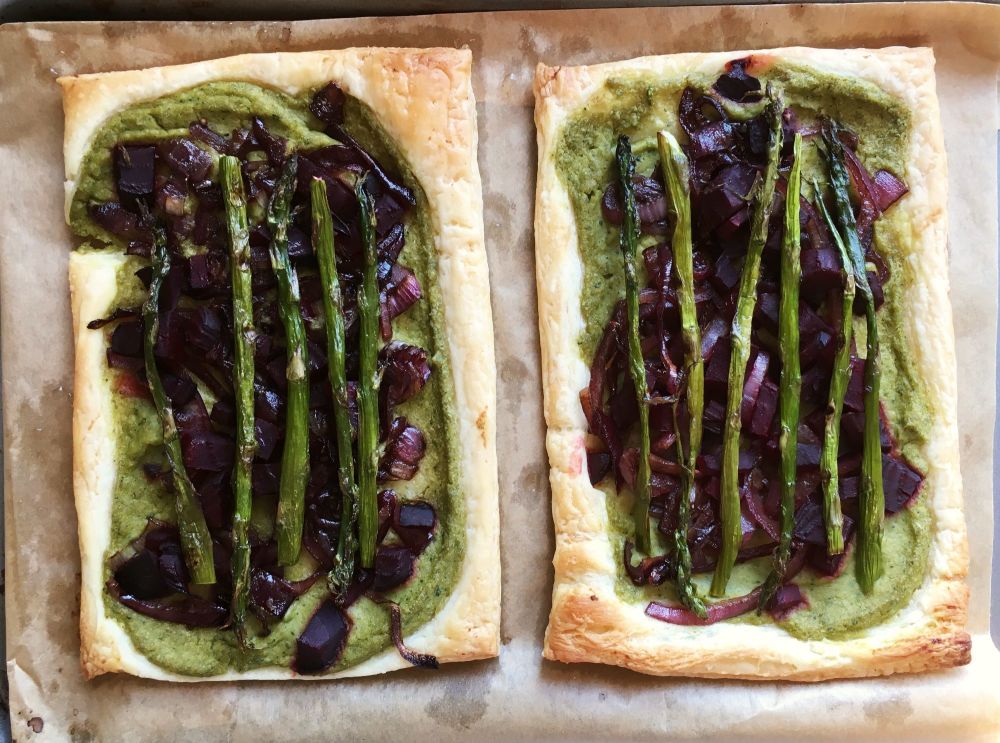 Minted Pea, Asparagus and Beetroot Tart
These are a great summer dish, the mint flavour in with the pea puree makes this dish so refreshing for a light meal on a hot day. There's caramelised onions in this one too, but adding that to the title would've been a little overkill so hopefully if you've read this far, you're now even more excited!
There's a lot of different flavours here that all compliment each other beautifully, and I can't wait to hear what you all think about it!
I have this one either on its own, or with a fresh crispy side salad.
---
Recipe
Yield: 4 tarts
Total Time: 30 minutes
Ingredients:
4 tbsp olive oil

2 large red onions, finely sliced

1 tbsp balsamic vinegar

1 tbsp brown sugar

Salt and pepper

1 tin garden peas

A good few sprigs of mint

2 tbsp water

50g beetroot, diced

1 bunch asparagus spears, halved lengthways

One sheet of ready rolled puff pastry
Method:
Preheat your oven to 180c. Place 2 tbsp of olive oil, your red onions, balsamic vinegar and brown sugar in a small pan and heat on a medium heat for about 5 minutes, until your onions have nicely caramelised, then place to one side.

In a food processor, place your drained garden peas along with your mint and 2 tbsp water, then blend until a puree is formed and place this to one side too!

Unroll your pastry and cut it into 4 even sized rectangles, placing them onto a lined baking tray at this point before you fill them will make your life much easier. Firstly you want to spread your pea puree onto each one, leaving about 2cm gap around the edge of each tart.

Next, layer up with your caramelised onions, followed by some diced beetroot and finally share your asparagus out equally.

Bake for 10-15 minutes, until the pastry is golden brown; then remove from the oven and serve!
---
What did you think of this recipe? Did you do anything differently? We'd love to hear from you in the comments below. Don't forget that you can share all your foodie makes with us using the hashtag #HBivore.
Follow us on Facebook and like us on Instagram to keep up to date with our latest recipes, news and content. You can also use the form below to receive all our news and free recipes straight to your inbox!
livepages::jquery(); ?>