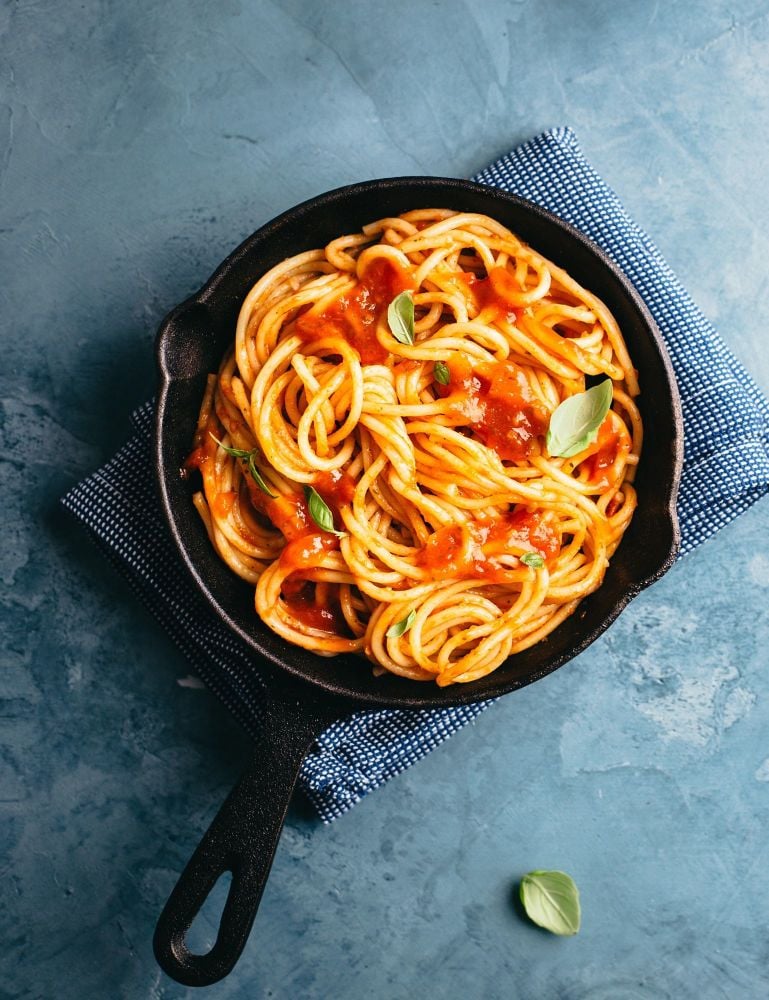 Pasta Pomodoro
Pomodoro literally translates from Itallian as 'tomato'. So that delicious tomato pasta you've been making when you're in a rush for dinner is actually a fancy itallian cuisine!
Now you can enjoy your tomato pasta in style, and while im sure you know the basics of making a pomodoro, i'm going to share my recipe with you, you can add bits in or take bits out as you please, but i find this makes for the ultimate quick and easy, delicious weekday dinner. This goes great with some halves fresh cherry tomatoes as a garnish, but im not too keen on raw tomato so I left it out.
I find with a recipe that contains all basic ingredients like this, it's so important to use high quality goods, but that said, when my university budget gets a bit tight, this recipe can be made for pennies a portion.
---
Recipe
Yield: 4 portions
Total Time: 40M
Ingredients:
1 tin whole peeled tomatoes

1 white onion, finely diced

4 garlic cloves, minced

2 tbsp olive oil or vegan margarine

½ tsp + 2 tbsp fine salt

Handful of fresh basil

10oz spaghetti
Method:
Drain the juice from your tomatoes into a small bowl and set to one side (we'll need that later!) Cut your peeled tomatoes into quarters and place them to one side too.

In the meantime, in a large saucepan, fry off your onion and garlic in your margarine, then add your peeled quartered tomatoes and allow these to soak up all the flavour for a few minutes, stirring regularly.

Add in your tomato juice and ½ tsp salt and then stir in your basil leaves and allow to simmer and thicken for about 10 minutes

Bring a large pan of water to the boil and add 2 tbsp of salt. This might seem like a lot, but this will make sure that your pasta is perfectly seasoned, and you dont be consuming all that salt! Add your spaghetti and cook as per instructions.

Once your pasta is cooked, drain and then add to your saucepan and mix through the sauce, then serve!
---
I told you it was easy! I hope you loved this as much as I do, but I bet you've been making similar dishes for years!
What did you think of this recipe? Did you do anything differently? We'd love to hear from you in the comments below. Don't forget that you can share all your foodie makes with us using the hashtag #HBivore and the favourites will be reposted!
Follow us on Facebook and like us on Instagram to keep up to date with our latest recipes, news and content. You can also use the form below to receive all our news straight to your inbox each week.
livepages::jquery(); ?>