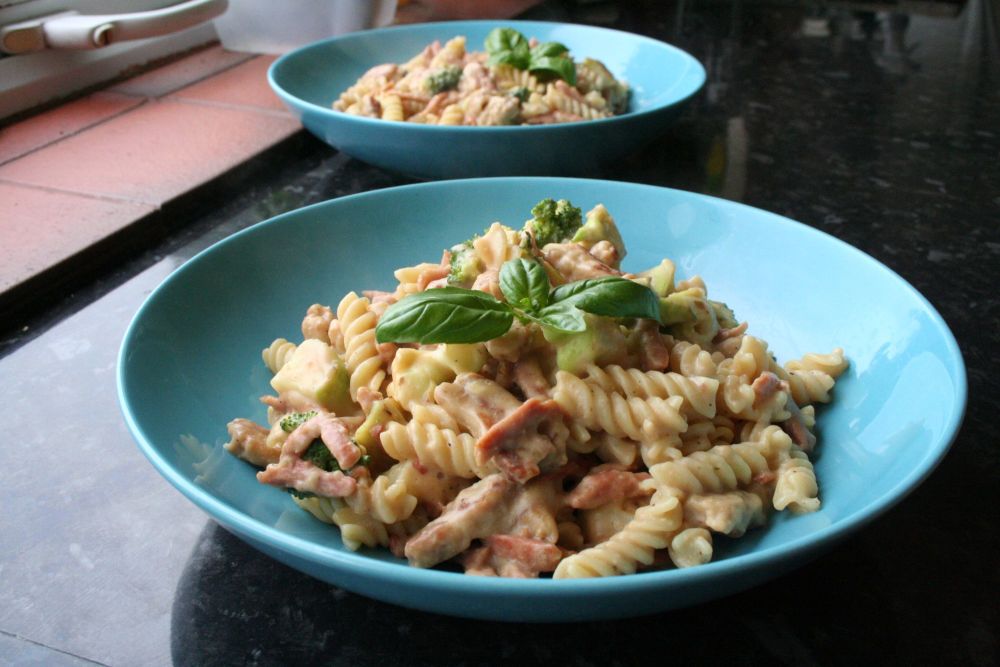 Chick'n and Ham Spaghetti Carbonara
If you're new here, you probably don't know that I live in a shared university house with 4 non-vegans, and recently one of my housemates was making carbonara.
I'd made a vegan carbonara a few times, but it was a bit of a half-arsed effort. It got me wondering just how close I could get to making a vegan carbonara that takes like a traditional meat one...
The answer: Very.
I used Vivera Bacon Pieces slices and Fry's Artisan Lightly Seasoned Vegan Chicken-Style Strips (for some added protein), but whatever equivalents you can get your hands on should work great, I also like to add some chopped up sun dried tomatoes if I have them around!
* A little edit to add that since I wrote this recipe, This Isn't brand has released lardons, these are absolutely fantastic for a real authentic feel! *
If you want to boost your veggie intake, you can always add some peas, broccoli, spinach or whatever you have around. You can also substitute the mock meats for mushrooms if you'd prefer!
If we asked Gino D'Acampo from This Morning what makes a carbonara, mine wouldn't even make it through the door. Carbonara is traditionally made with egg as one of its main ingrideients. I've used a white sauce made for the creaminess we all know and love and then added Himalayan black salt for an eggy hint. I've listed the black salt as optional as I know not everyone will have it laying around, but it's worth investing in if you're a fan of tofu scramble too!
Make sure you let us know in the comments below how yours turned out and if you did anything differently. Also remember to tag us in your foodie makes on instagram!
---
Recipe
Yield: 4 servings
Total Time: 30M
Ingredients:
2 tbsp dairy free spread

1 white onion, diced

3 garlic cloves, crushed

175g Vivera bacon pieces or 1 pack This Isn't lardons

250g vegan chicken pieces (optional)

4 tbsp plain flour

2 cups / 500ml non-dairy milk

1 tbsp Himalayan black salt (optional and also to taste)

A good few sprigs of basil

Salt and pepper
To serve:
400g (dry weight) dried spaghetti or pasta
Method:
Place your chicken pieces and bacon bits/lardons into a large saucepan and fry them off in 2 tbsp dairy free spread along with your garlic and onion.

Add your flour, gently stir in and leave to cook for about a minute, at this point you'll want to put your spaghetti on to boil as per the instructions on th back of the pack.

Add your non-dairy milk into your carbonara mix and gently stir together, reduce to a medium heat to bring to the boil, when it will begin to thicken. Add in your Himalayan black salt and gently stir through.

Once your spaghetti is cooked, simply drain and then mix it all together, or place your spaghetti on the plate first and top with carbonara! Chop up some basil and mix through with some salt and pepper just before you serve.
---
Let us know how you got on in the comments below, and any changes you made!
Follow us on Facebook and like us on Instagram to keep up to date with our latest recipes, news and content. You can also use the form below to receive all our news straight to your inbox each week.
livepages::jquery(); ?>