Barbeque Jackfruit Quesadillas
Posted on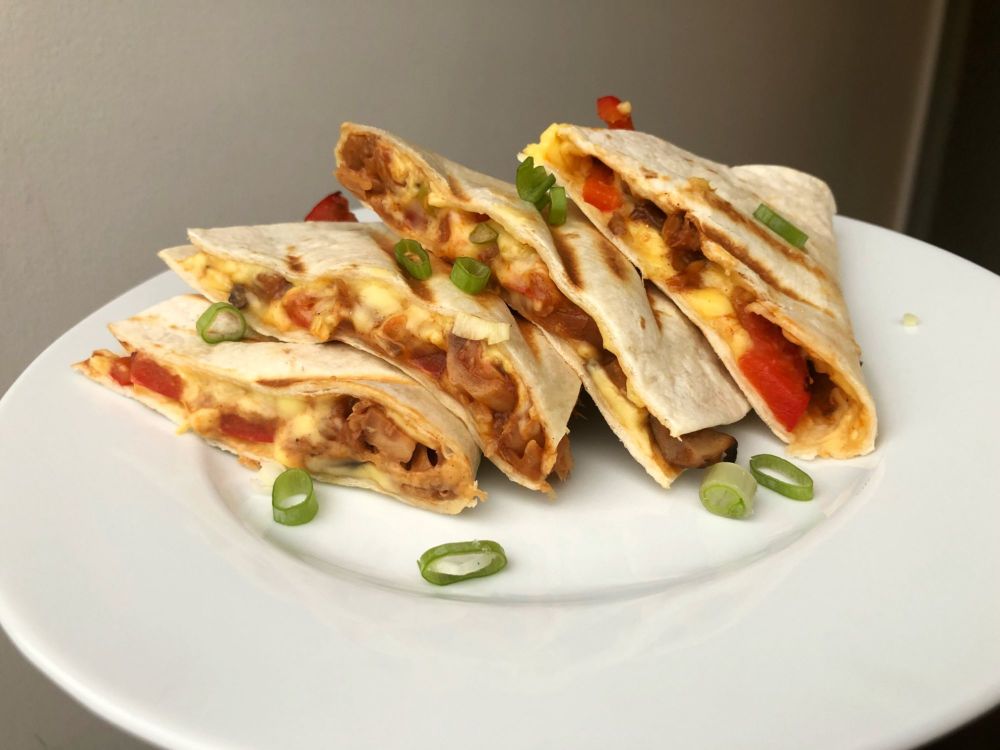 So I woke up this morning with no idea what to cook for dinner tonight.
I scrolled and scrolled for inspiration when I came across some quesadilla recipes that needed veganising. I've never had a quesadilla before. I didn't even know how to spell it until further research was done.
Regardless of my lack of knowledge when it comes to tortillas, tacos, burritos, quesadillas etc. These were so easy to make and tasted delicious.
While I was preparing these, a resident quesadilla expert came along and told me that I probably had too many ingredients for them. However, we're going to skip over that fact, accept they are delicious and assume that whatever I made falls within the spectrum of what is a quesadilla.
Here you go:
---
Recipe
Yield: 4 servings
Total Time: 30M
Ingredients:
4 Tortilla Wraps

120g barbecue sauce

1 400g tin of jackfruit

4 chestnut mushrooms

1 medium white onion

1 red bell pepper

2 spring onions

200g grated vegan cheese
Method:
Drain off your jackfruit and cut the core off the nice fleshy pieces, use two forks to 'pull' the fleshy pieces apart, removing any seeds you may find. Mix the flesh with your barbeque sauce. I used Jack Daniels BBQ sauce.

Fry off your onions in a large pan until they're browned. Then add your barbecue jackfruit mix, mushrooms and pepper. Heat through for a couple of minutes on a high heat and then remove from the stove.

Spread your cheese over 1 half of your tortilla, then add your jackfruit mix, your spring onions and then another layer of cheese on top before folding over. Repeat for all 4.

Place your quesadillas into a George Foreman grill or cook in a clean hot pan for around 5 minutes, then cut into three before serving.
---
I told you they were easy. They take no time at all and make for a fantastic dinner or snack.
You can also mix up the ingredients for whatever your preference. This would also work really well with soya mince and any combination of vegetables. If I had had some hot sauce in the cupboards, you could bet that I would have thrown that in too.
We'd love to hear what you made your quesadillas with! Be sure to share all your foodie makes with us using the hashtag #HBivore.
Follow us on Facebook and like us on Instagram to keep up to date with our latest recipes, news and content. You can also use the form below to receive all our news straight to your inbox each week.