Raspberry Bakewell Tart
Posted on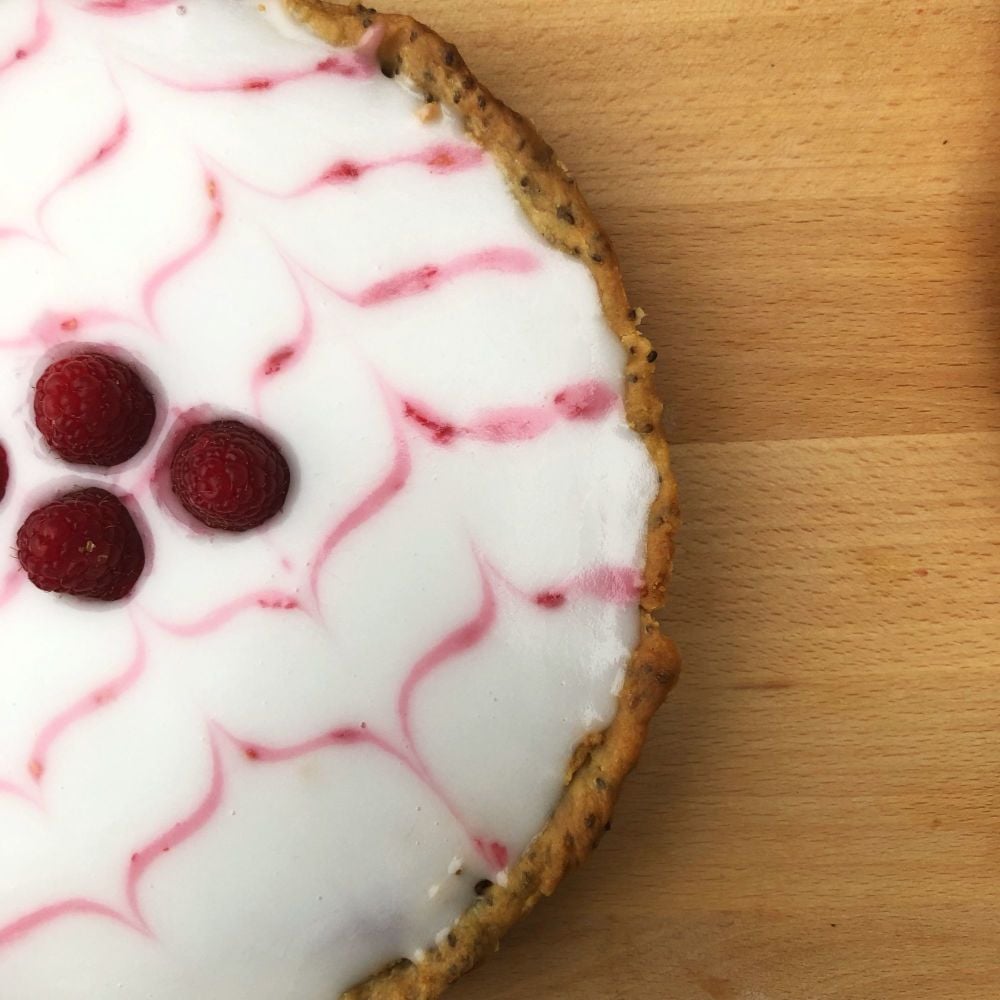 Vegan Bakewell Tarts seem pretty few and far between. The ultimate tease is going into the supermarket to find that they do a milk free, gluten-free everything free pack of bakewells, only to turn the packet over and see that they've gone and put eggs in it.
Well I say "no more" my friends. After the incessant nagging from Amy that she wants bakewells and my anger at the lack of availability… I have come up with a recipe that works.
I made mine with raspberries but of course, if you're feeling traditional, then by all means go with cherry or any other flavour you want.
This recipe is a little more difficult than some of the others I have done recently. The trick is to take your time and allow plenty of time for cooling between steps.
Without further ado:
---
Recipe
Yield: 8
Total Time: 1H 30M
Ingredients:
For the pastry:
1/2 cup / 125g plain flour

1/4 cup / 55g icing sugar

1/4 cup / 55g vegan margarine
For the frangipane:
½ cup / 125g dairy-free spread

⅓ cup / 80g golden caster sugar

¾ cup / 75g ground almonds

1tbsp plain flour

1 lemon zest

1tbsp chia seeds

3 tbsp water
For the topping:
2 cups / 300g icing sugar

6 tbsps water

5 raspberries
Method:
For the pastry, put your flour and icing sugar in a large bowl then add your butter. using your hands, rub the mix until it forms course breadcrumbs. Bring the mix together into a ball till it's all combined, if youre mix is too dry, add a tsp of water at a time until it comes together.

Clingfilm your pastry ball and place your pastry into the fridge for 10-15 minutes before you use it.

Preheat your oven on 180C and find yourself a 7.5 inch round baking tin or dish.

Lightly dust a work surface with flour and roll out your pastry mix. Lift the mix on top of your rolling pin and spread across the top of your tin. Work it into the edges of the tin and then trim off any excess.

Lightly prick the surface of the pastry with a fork all over the base (this stops it rising) and loosely cover with baking parchment. Fill with baking beans (or rice if you don't have any) and bake for 15 minutes.

In the meantime, to make your frangipane, mix together your dairy-free spread and sugar until it's light and fluffy. You'd be best using an electric mixer for this.

Add in the rest of your frangipane ingredients and mix until combined.

Spread your jam across the base of your pastry case. Leave about 1cm of space between the edges. Place 5 or 6 raspberries on top of the jam and press them down.

Spread your frangipane into your pastry case. Carefully even it out with a spatula.

Bake for a further 25-30 minutes until the frangipane looks golden. You can test to see if it's done by pushing a skewer into the center and seeing if it comes out clean. You'll need to leave it to cool completely before moving onto the icing.

Mix the icing sugar together with the water. Keep 2 tablespoons of the icing aside in a small bowl for the raspberry decoration.

Pour your icing over the tart and smooth it over using the back of a spoon to push it to the edges.

Mash up one raspberry with your remaining icing sugar until it is smooth and pink, then cut a tiny hole in the end of a piping bag and pipe your raspberry icing in straight lines across your tart about 1 inch apart. Then, gently pull a cocktail stick through your lines to create the feathered pattern.

Finish by placing 4 raspberries in the center of your tart and wait for it to completely set before cutting and serving.
---
This recipe certainly takes a lot of time and effort to get right, but it was worth it. Our craving for Bakewell was completely satisfied.
What did you think of this recipe? Did you do anything differently? We'd love to hear from you in the comments below. Don't forget that you can share all your foodie makes with us using the hashtag #HBivore.
Follow us on Facebook and like us on Instagram to keep up to date with our latest recipes, news and content. You can also use the form below to receive all our news straight to your inbox each week.
livepages::jquery(); ?>