Cranberry Blondies
Posted on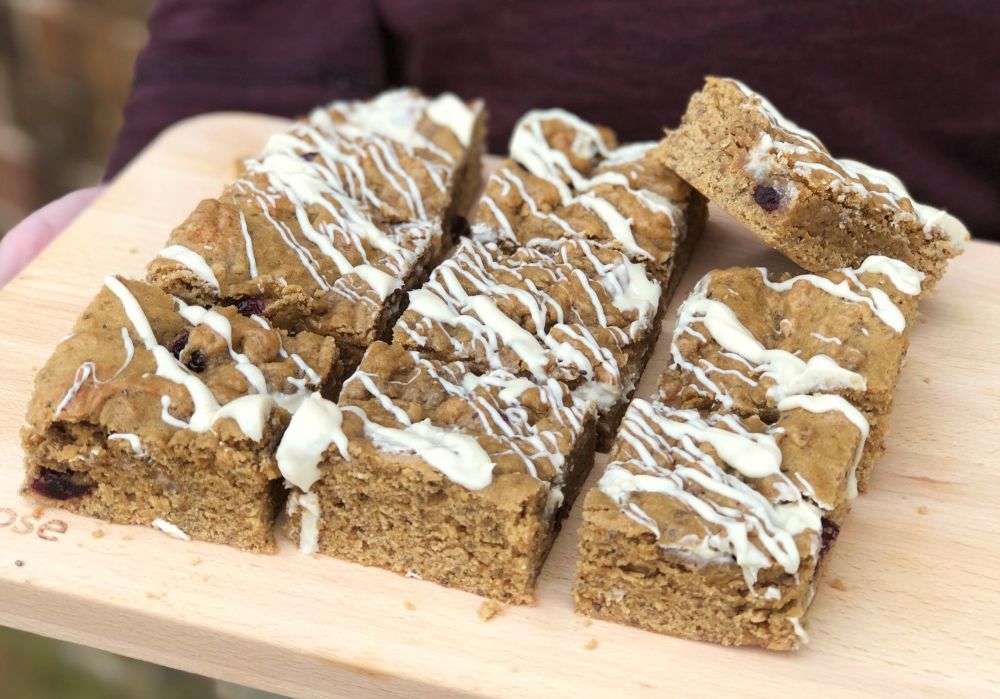 Cranberry Blondies
My first introduction to blondies was years ago when I was in secondary school, every week in our English class we would take it in turns to bring in some cake for everyone. Of course there were people who skimped out and just came in with a packet of mini rolls or something, but someone came in one week with a box of homemade blondies!
Somehow up until this point i literally had no idea that blondies existed, and i was frantically trying to work out what a 'blondie' was without looking like an idiot and having to ask. I gave up and just took a bite anyway (this was pre-vegan) and it was delicious.
I hadn't really had blondies again. I started trying to put this recipe together, but since the beginning of my trials I've eaten more blondies than I care to admit to.
These are so delicious, and I added in some cranberries for an extra flavour kick and a nice bit of colour, but if that's not up your street then feel free to leave them out or substitute for more chocolate chips.
If you want to go full blondies, then you can pick up some white chocolate chips in the 'free from' section of most supermarkets (I get mine from ASDA). This recipe does work great with vegan milk or dark chocolate chips too though, and i quite like the aesthetic you get from having the darker chocolate chips in the blondie mix.
Let me know how you got on in the comments below, and as always make sure you tag us in all your foodie makes on instagram!
---
Recipe
Yield: 12
Total Time: 45M
Ingredients:
1 cup / 300 g vegan margarine

½ cup / 120ml non dairy milk

1 cup / 200g caster sugar

2 tsp vanilla extract

2 cup / 240g plain flour

½ tsp bicarbonate of soda

1/4 tsp salt

½ cup / 60g vegan chocolate chips (milk, dark or white)

½ cup / 60g dried cranberries
Method:
Preheat your oven to 180C / 350F and line a 9" x 9" pan with baking paper.

In a large bowl, mix together your vegan margarine, non dairy milk, caster sugar and vanilla extract until smooth.

Sift in your flour, bicarbonate of soda and salt and mix well.

Fold in your chocolate chips and cranberries and then transfer your mix into your lined tin. Smooth out with a spatula or spoon and bake in the oven for about 25 minutes, or until the top looks set.

Allow to cool for about 10 minutes before transferring to a cooling rack.
---
Everyone loves brownies… but I'm definitely on #TeamBlondie. They are so gooey and delicious. White chocolate has always been my preference and when you consider how well fruit flavours compliment this recipe, it has to be a winner.
You can find our brownie recipe here. Whose team are you on? #TeamBrownie or #TeamBlondie? Let us know in the comments below.
Don't forget, you can share all your foodie makes with us on the hashtag #HBivore
Follow us on Facebook and like us on Instagram to keep up to date with our latest recipes, news and content. You can also use the form below to receive all our news straight to your inbox each week.
livepages::jquery(); ?>