Raspberry Vegan Cheesecake
Posted on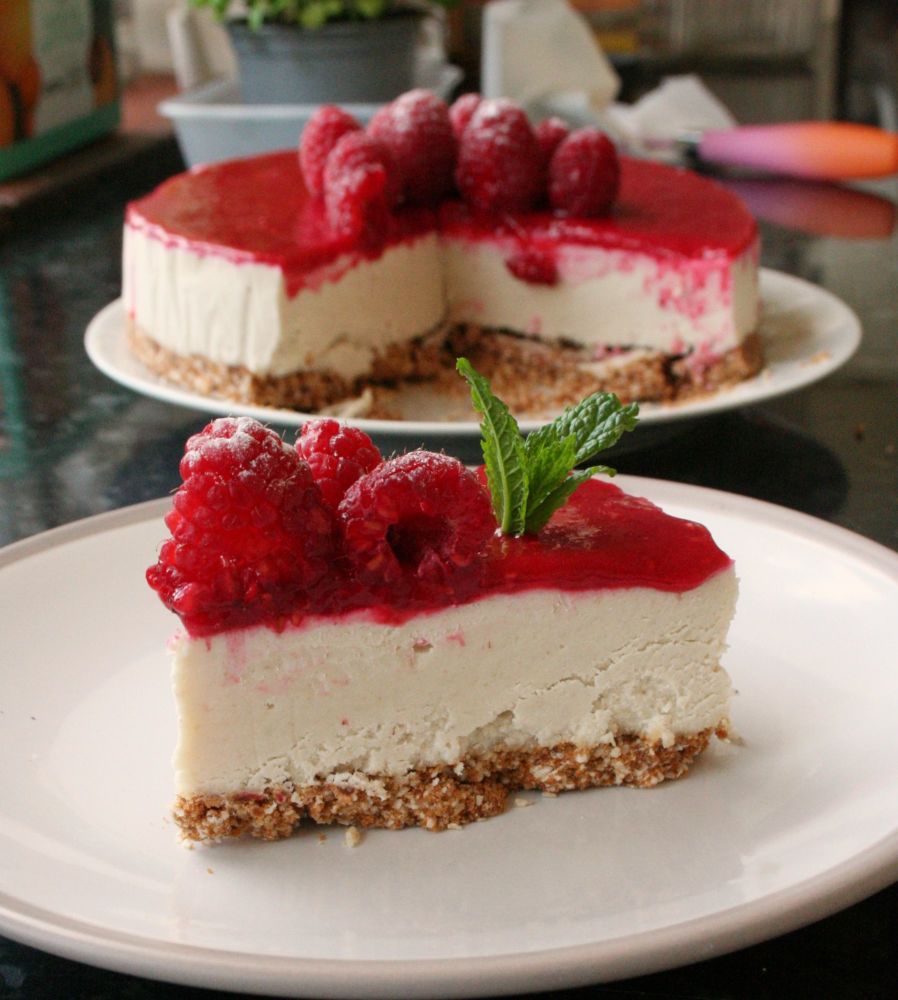 Raspberry Vegan Cheesecake
After the success of my lotus biscoff vegan cheesecake, I simply had to have another go.
Again, the cashew and coconut flavours really shine through in this recipe, so if you aren't a coconut fan then this one probably isn't for you (don't worry, I'm trying to work on a nut-free cheesecake!).
This delicious center piece tastes really creamy and stands firm for ages. It's a big personal preference as to whether you prefer a really sweet cheesecake or a less sweet version, so I've included the options for both. The icing sugar in the cheesecake mix and the amount of syrup in the raspberry sauce topping are listed as optional, so if you want a sweeter dessert, add them in!
I used a 7.5 inch springform baking pan with a loose bottom (for those who don't speak 'baking', that's a baking tin with a little contraption on the side which allows you to open it and make the tin slightly bigger so you can easily remove your cheesecake, if you can get hold of one it make things a lot easier!). You can easily use this recipe to make little individual cheesecakes if you'd prefer, and they are great for dinner parties where you want to show off!
This cheesecake (like many vegan ones) works because it sets in the freezer. Your cheesecake doesn't have to be kept in the freezer once it has set, but don't rush the freezing times otherwise your layers will leak into each other!
I find it is best to make this the day before you want to eat it, because there is just so much waiting time (but it's worth it). Take it out of the freezer the next morning, remove it from the tin, pop it on a plate and either let it defrost at room temperature for an hour, or for a few hours in the fridge before eating.
Afterwards, if there is any left, it will keep for around 3 days in the fridge.
You can decorate yours however you like, sometimes I like to use some chocolate chips, white chocolate curls or grated white chocolate, but there's something beautifully elegant about topping with fresh raspberries and a dusting of icing sugar.
Make sure you share your foodie makes with us on instagram, and let us know in the comments below what flavour cheesecakes you want to see in the future!
---
Recipe
Yield: 8-12 portions
Total Time: 1 Day (including setting times)
Ingredients:
For the base:


7.5 inch loose bottom baking pan

10 Lotus biscuits (or 5 digestive biscuits)

10 pitted dates

1 cup / 100g desiccated coconut
For the cheesecake:


2 ¾ cups / 400g whole cashew nuts

1 cup / 216g coconut oil, melted

¾ cup / 265g golden syrup

4 tbsp lemon juice

½ cup / 115ml water

1tsp vanilla

1 cup / 125g icing sugar *optional*
For the topping
150 of raspberries + extra to decorate

4 *(or 8-10)* tbsps maple syrup
Method:
Empty your cashews into a bowl and cover with boiling water, leave for an hour to soften.



To make the base, put your 'base' ingredients into a blender and blitz them until they come together. Line the base of a spring-form pan with baking parchment and grease the edges with dairy-free spread, then cut out lines of your baking parchment to line the sides too (the margarine will help them stick). Press your mixture firmly into the bottom of the pan with the back of a spoon to level it out evenly. Place in the freezer to firm for 2 hours.



Once your cashews are soaked, put all your cheesecake ingredients apart from your icing sugar together in a blender and blitz until smooth (you might need to do this in two lots). Pour into a bowl and gently mix in your icing sugar if you're using it. Take your base out from the freezer and slowly pour your mixture in. Smooth the surface with a spoon or spatula and place again in the freezer for another 7-8 hours.



Blend 150g of raspberries with 4 (of more) tablespoons of maple syrup. Take your cheesecake out of the freezer and evenly pour your mixture over the top. Place back in the freezer for another 3-4 hours, or overnight.



When you are ready, pop open your spring-form pan and carefully take out your cheesecake. Peel the baking parchment off the edges (the most satisfying step, aside from eating it).



Decorate with raspberries and dust lightly with icing sugar. Be sure to wait until it has defrosted before tucking in!
---

Congratulations if you've made it this far! This recipe definitely takes a lot of patience, but it's an amazing feeling when you release your pan and see how those layers have formed.
As I mentioned before, this recipe easily transfers to any kind of fruit you choose. I'm going to try a mango one next I hope but I'd love to see what you come up with! Be sure to share your foodie makes with us using the hashtag #HBivore.
Follow us on Facebook and like us on Instagram to keep up to date with our latest recipes, news and content. You can also use the form below to receive all our news straight to your inbox each week.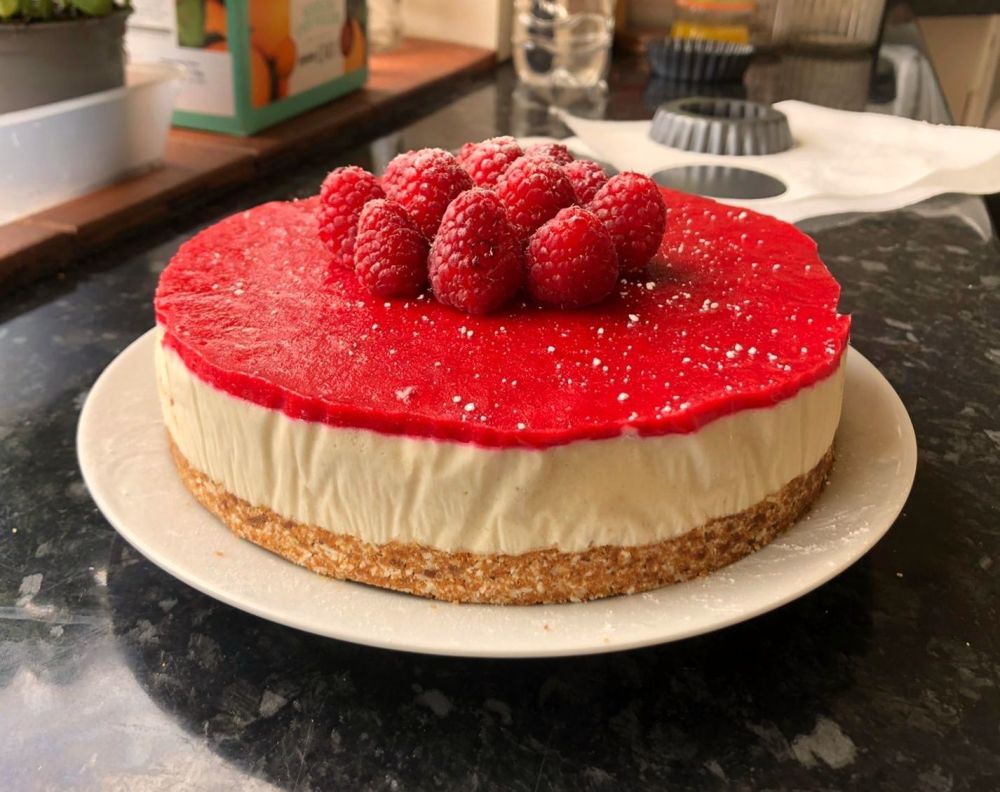 livepages::jquery(); ?>