Easy Tofu Scramble Recipe
Posted on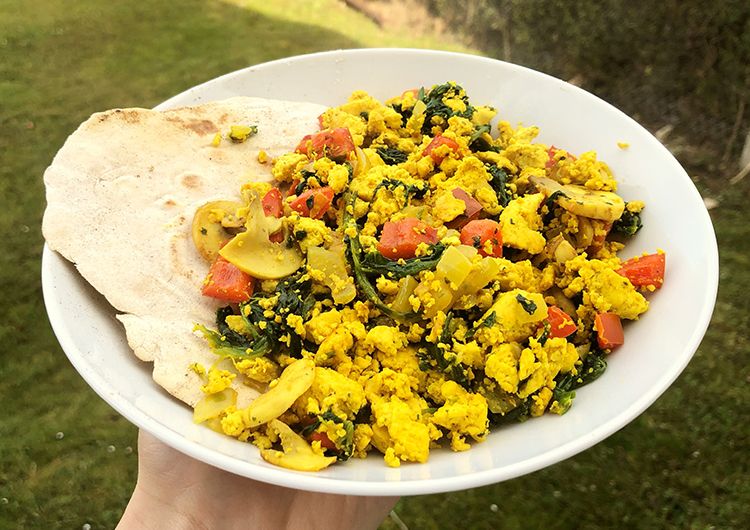 Breakfast is a meal that is often overlooked, despite being labelled as the most important meal of the day.
I often see my fellow vegans skipping breakfasts or ending up having the same foods day after day. I find coming up with vegan breakfasts a bit of a task, but creating a delicious tofu scramble recipe was a breakthrough.
Not only does tofu scramble open the door to so many breakfast options, but it's also so densely nutritious and packed full of protein.
This goes great on toast, or as part of a 'full English' breakfast with some vegan sausages, bacon, hash brows, tomatoes and beans! However you decide to eat it, you won't be disappointed
---
Recipe
Yield: 2 portions
Total Time: 20 minutes
Ingredients:
1 block firm tofu

1 tbsp vegan margarine

100g button mushrooms, sliced

1 medium, onion finely diced

1 tsp turmeric

1 clove garlic, crushed

100g spinach

Salt and pepper

½ red pepper, finely diced


Method:
Drain your tofu, and then using a fork, start at the edge and squish your tofu so it starts breaking apart into small pieces, do this for the entire block.

In a medium pan on high heat, melt your margarine and add in your sliced mushrooms and onion, followed by your tofu, pepper and spinach. Fry these off for a couple of minutes.
Add in your garlic and turmeric, the turmeric is what will give your tofu scramble its authentic colour.

Cook off for another couple of minutes, then season to taste and serve!
---
We hope this breakfast recipe has been a great start to your day. We paired our tofu scramble with another one of our quick and easy recipes. If you haven't tried our chapatis yet, you should definitely give them a go!
We'd love to see your foodie makes so be sure to share them with us on Instagram using #HBivore. There are so many different things you can try out with this recipe!
Don't forget, you can follow us on Facebook and like us on Instagram to keep up to date with our latest recipes, news and content. You can also use the form below to receive all our news straight to your inbox each week.
livepages::jquery(); ?>