Vegan Savoury Quiche
Posted on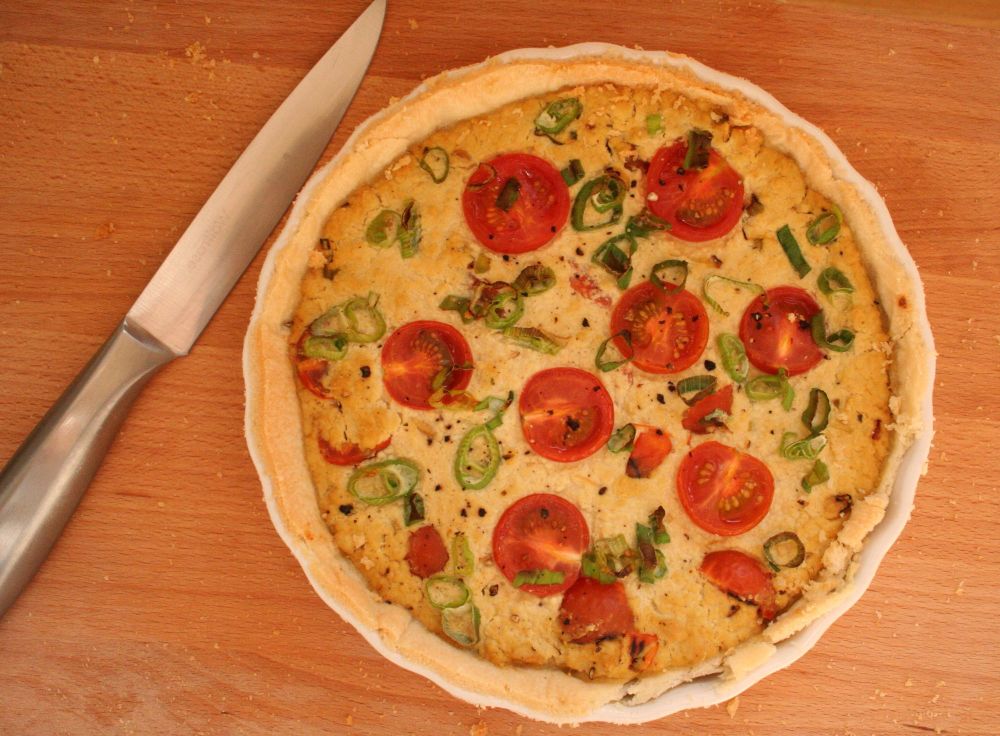 Vegan Savoury Quiche
Quiche was something I never ate much as an omni, so I can't really remember what it tasted like! All i can do is promise you that this vegan quiche is absolutely delicious, and you won't regret making it!
I love quiche as a nice light meal on a summer's day, served with a big crispy salad and maybe even some new potatoes if I'm feeling fancy.
In the recipe I've put to use a food processor for blending your tofu, but I've actually made this one with a food mixer too and it works fine! You don't get a mix quite as smooth, but if you turn your mixer up nice and high it will break up the tofu and blend it all together just fine.
I didn't specify a flavour on this blog title, because you really can just fill it with whatever you like! I want to make one with the Vivera bacon pieces… but I love a purely plant based one too! I kept things simple with tomato and spring onion, but whatever you have around would work too!
Here's some extra ideas:
Broccoli and asparagus

Quorn smoky ham style slices and vegan cheese (Applewood would be amazing!)

Bell pepper and leek

Butternut squash and kale

Tomato and basil

Spinach, mushroom and pea

Caramelised onion and courgette
You get the idea, make it however you want!
This is also a great way to boost your protein for the day, as one block of tofu has a whopping 50g of protein (based on cauldron extra firm tofu).
I used an 18cm tart dish for mine, but you can use slightly bigger, or even make individual quiches if you like!
Make sure you let me know what flavours you put together in the comments below, and as always share photos of your foodie makes with us on instagram!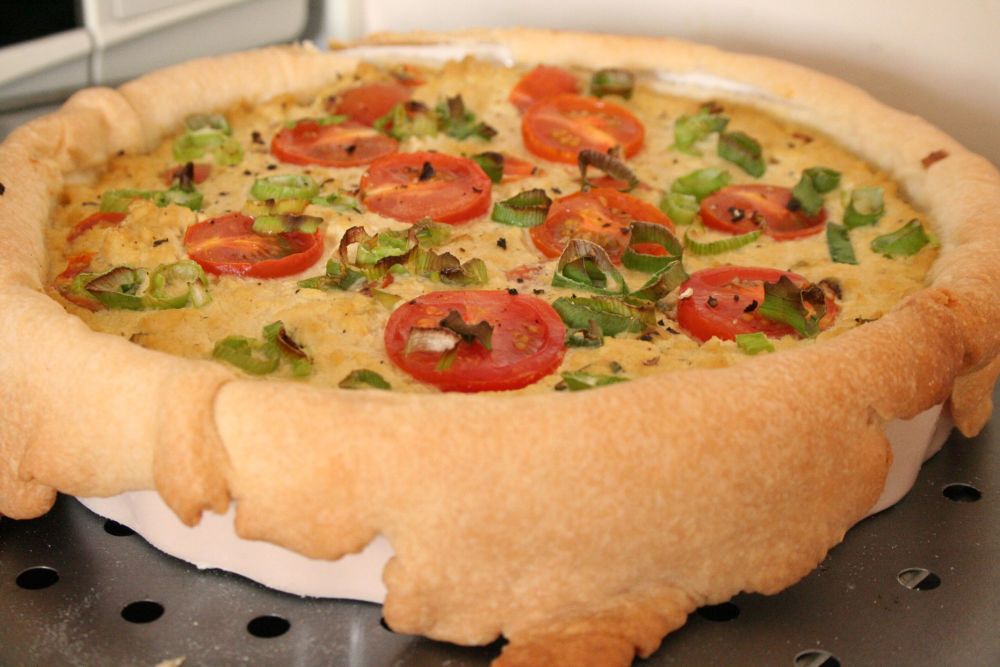 ---
Ingredients
Crust:
250g/ 2 cups plain flour

125g/ 0.5 cups vegan margarine, cold from the fridge

2 tbsp water
Filling
1 block firm tofu

2 heaped tbsp nutritional yeast

¾ cup / 180ml cup unsweetened plant milk

2 cloves garlic

Salt and pepper to taste

12 cherry tomatoes, cut into halves

3 spring onions, cut into rings


Method:
Preheat the oven to 180c. To make the crust, gently mix together your plain flour and vegan margarine on an electric mixer, then add your water a tablespoon at a time. If your mix still isn't coming together, you can add a little more water, but be careful not to make your dough soggy, you want it soft enough to work with but not so soft it'll break!

You can either use a loose bottom dish or a ceramic quiche dish. Roll out your pastry to about half a cm thick and about 2 inches bigger than your dish, then gently place into the tart dish, and use your fingers to carefully push the pastry into the sides, but be careful not to stretch it. You want to leave the extra pastry hanging over until it's all fully cooked, filled and recooked.

Take a piece of baking parchment just bigger than your dish, and scrunch it up in your hands, this will make it easier to work with. Place into your tart case and then fill with baking beans or uncooked rice (this will keep the shape of your quiche case while it cooks)

Cook for about 20 minutes, or until the pastry is cooked, then remove from the oven, place to one side to cool.

While your pastry case is cooking, fry off ¾ of your spring onion with 8 of your tomatoes (that'll be 16 halves until they're soft and browned.

Drain your tofu, and squeeze out any excess water over the sink, then in a food processor, combine your tofu, nutritional yeast, garlic, plant milk, salt and pepper until smooth.

Move your tofu mix into a large bowl, and then gently mix in your cooked spring onions and tomatoes. Once combined, tip the mixture into your tart case (you might have a little extra mix depending on your pastry size and shape) and use a spatula to even out. Top with the remaining halved cherry tomatoes and spring onions then bake for about 30-40 minutes until golden brown.

Leave to cool for a few minutes before serving. Once cooled, this quiche is great to eat cold too and will last for 3 days in the fridge!
---
We hope you loved this quiche as much as we did, and we'd love to see what you come up with! Remember that you can share your foodie makes with us using the hashtag #HBivore.
Follow us on Facebook and like us on Instagram to keep up to date with our latest recipes, news and content. You can also use the form below to receive all our news straight to your inbox each week.
livepages::jquery(); ?>