Broccoli and Cashew Ricotta Tarts
Posted on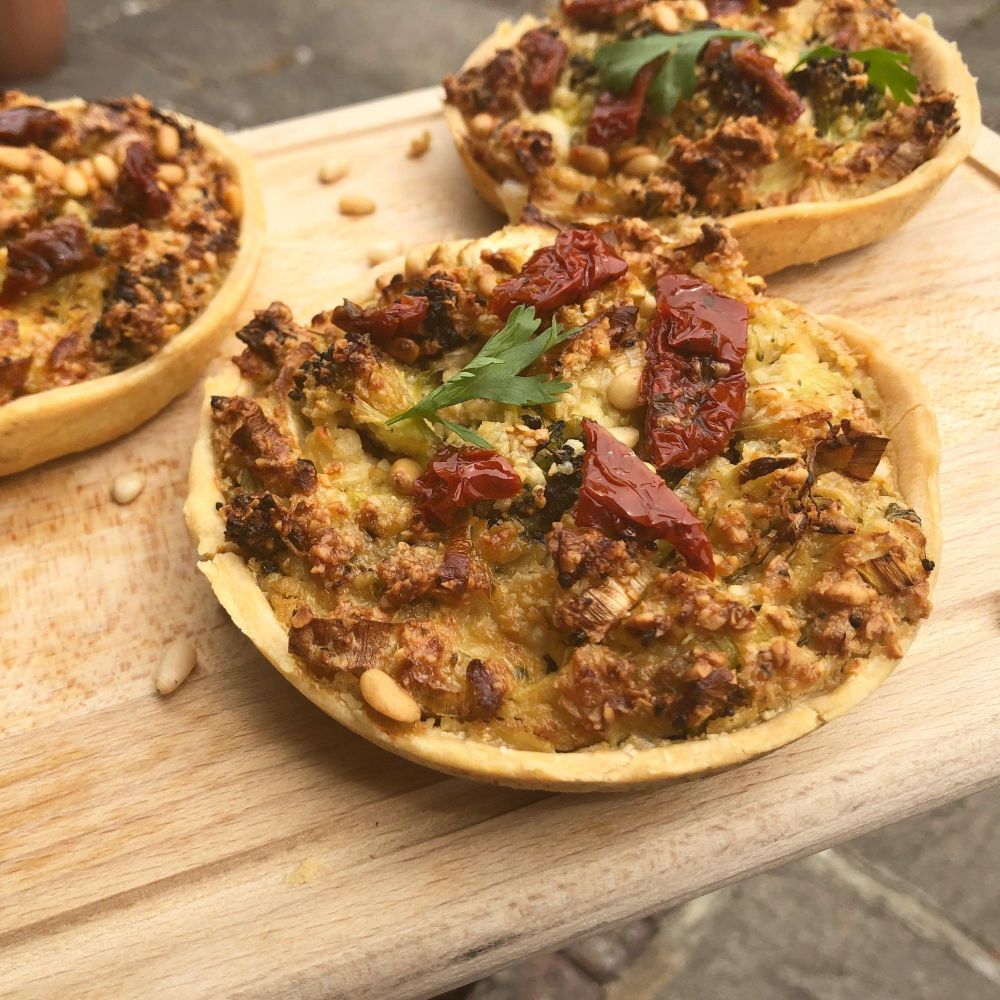 Tarts are so easy to make but never fail to impress, I find they're the perfect starter for a dinner party or a fancy homemade dinner, or simply have two served with salad as a delicious light meal.
When Amy and I used to work at a restaurant together, there weren't very many vegan options available. Except only for tarts - so we both grew quite fond of them.
Naturally, we had been meaning to create our own tartlet recipe. I've been experimenting with all different pastries (filo, shortcrust and puff) and all sorts of fillings - so I'm sure these will just be the start of our recipes of tarts and tartlets. This was a great first choice as we were keen to try out this amazing, new, vegan ricotta recipe in it!
You can either soak your cashews in cold water for an hour or, if you're pushed for time, just cover them with boiling water for 5 minutes. The cashews blend up to produce a great tasting vegan cheese, similar to ricotta, but at just a fraction of the price. One reason I love making my own products as much as possible is so that I know exactly what is going into them.
---
Recipe
Yield: 4 Individual Portion Tarts
Total Time: 30M
Ingredients:
2/3 cup / 100g of cashews

1/2 head of broccoli

1/2 cup / 25g sun dried tomatoes, finely chopped

1 medium leek, chopped into rings

1 tbsp lemon juice

2 tbsp nutritional yeast

1/3 cup / 80ml cold water

1 tsp garlic powder

1 tsp celery salt

pinch of oregano

pinch of basil

pack of shortcrust pastry (Check the label, I used JusRol, or you can make your own here.)

oil

1/4 cup / 35g pine nuts (sunflower seeds, pumpkin seeds, breadcrumbs or soya nuts would also work)


Method:
To make the ricotta - put the cashews in a bowl and cover with boiling water. Leave for 5 minutes to soak.



Drain off the water and put your cashews in a food processor with the lemon juice, nutritional yeast, garlic powder, celery salt, oregano, basil and your cold water and blend until smooth.



Cut the florets off of your broccoli fairly small and place into a small frying pan with your leek and cook off with a small drizzle of olive oil on medium heat for a few minutes until the broccoli is nearly cooked, then turn off the heat and leave to one side until needed.



Lay out your pastry and allow to warm to room tempature, if you're rolling your own, you want it nice and thin. Cut into square large enough to cover your tart cases, then gently press into the cases and then trim any extra.



Mix your broccoli mix, sun dried tomatoes and ricotta in a bowl and spoon the mixture into your tart cases and then top with your chosen nuts of seeds. using a small pastry brush, coat the edges of your pastry with oil to help them brown in the oven.

Bake in the oven for about 20-25 minutes and serve. We served ours with a side salad and red onion chutney.
---
We really enjoyed making these (and eating them!). Obviously, there's lots of room to experiment with this recipe. You could try different fillings and different toppings in any combination. I'm looking forward to trying out a spinach version next.
We'd love to see what you come up with! Remember that you can share your foodie makes with us using the hashtag #HBivore.
Follow us on Facebook and like us on Instagram to keep up to date with our latest recipes, news and content. You can also use the form below to receive all our news straight to your inbox each week.
livepages::jquery(); ?>