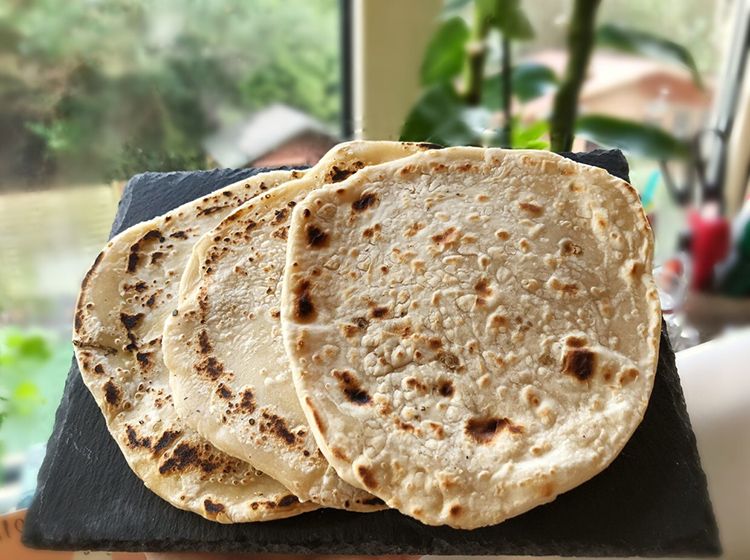 It's a blessing when you find a recipe that's easy, relatively quick to make and makes you look like a know-it-all in the kitchen in front of your friends and family.
Chapatis are one of those recipes.
Chapatis are an Indian, unleavened flatbread making them perfect accompaniment to curries. With so few vegan naan options in the supermarket, these tasty disks of dough are the perfect way to cheat the system. I love adding little extras to mine from time to time such as rasins, but they taste brilliantly without any extras too!
Here's how to make them:
---
Recipe
Yield: 4
Total Time: 30M
Ingredients:
1 cup of plain flour

⅓ cup of water

1 teaspoon salt


Method:
Sieve the flour into a bowl and mix together with the salt. Slowly add your water and combine the mixture. You're aiming for a pliable texture but it shouldn't stick to your fingers. Add more flour or water as required.



Divide your mixture into 4 equal parts and roll them into balls. Evenly press them into a disk shape, no thicker than around 2mm.



Cling film your chapatis and let them prove for at least 15 minutes. If you can, leave them for an hour for best results.



Warm a pan on medium heat and place in one of your chapatis. There is no need for oil.



Cook your chapatis on one side for about 30 seconds, you want brown spots to be forming on the side face down in the pan. When you're happy with it, flip your chapati. Heat the other side for about 30 seconds.



When brown spots have started to form on the second side, your chapati is done. Repeat the process for your other three chapatis.


---

Let us know how you got on! Better still, let us know what you had them with!
We have a couple of curry recipes that you can try on our website. Why not give our Chingri Malai Chickpea Curry or our Tofu Thai Green Curry recipes a go to have your chapatis with?
I've heard other people have actually used these as wraps so you could use them as a quick and easy 'go-to' snack when you're short of wraps!
Share your foodie makes with us on Instagram using #HBivore.
Follow us on Facebook and like us on Instagram to keep up to date with our latest recipes, news and content.
livepages::jquery(); ?>