Kentucky Fried Jackfruit Drumsticks
Posted on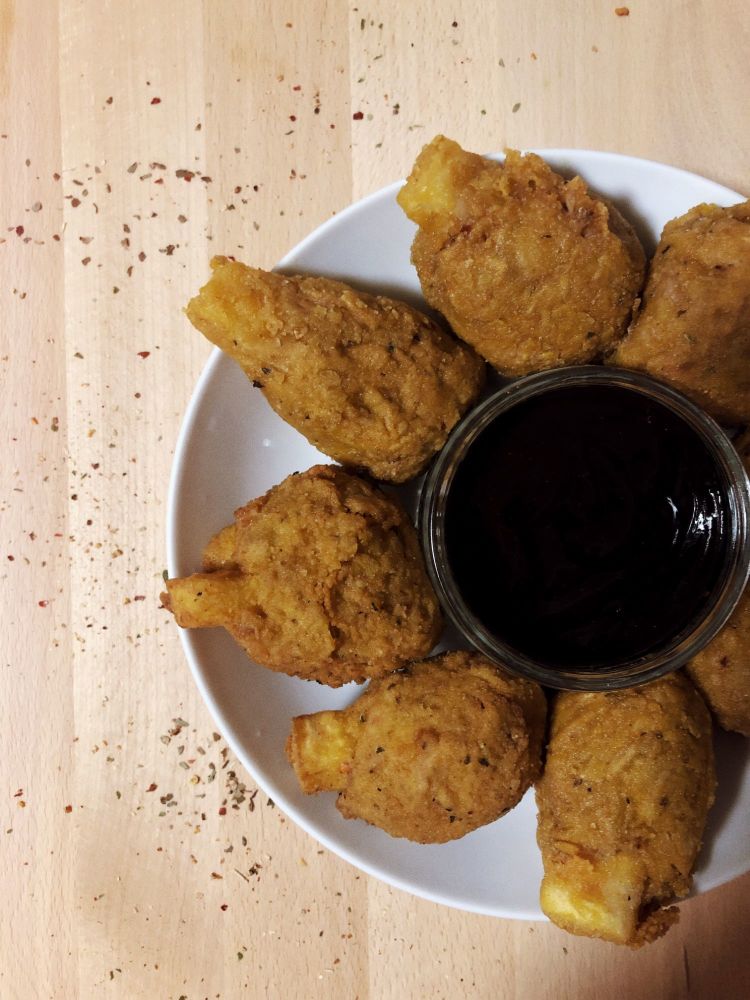 So with the turn of 2019, we've seen Greggs, McDonalds and various other popular food places produce some awesome options for vegans to try out.
You know who hasn't jumped on the bandwagon? KFC...
Granted, Kentucky Fried Chicken doesn't really stand out as a place that caters for vegans, but I don't think some cauliflower coated in the secret herbs and spices is too much to ask for.
Anyway, I've come up with a solution that takes cauliflower drumsticks a step further, and unlike the colonel, I'm not going to keep my herbs and spices a secret from you.
Roll on KFJ – Kentucky Fried Jackfruit...
---
Recipe
Total Time: 1H 30M
Yield: 6-8 Drumsticks
Ingredients:
2 x 400g tins jackfruit
1 large cauliflower
1 ½ cups veg stock
1 + 1 tsp garlic powder
2 tsp nutritional yeast
2 tbsp bbq sauce (I used Jack Daniels)
½ cup plain white flour
1 tsp turmeric
2 tsp celery salt
2 tsp cracked black pepper
2 tsp paprika
2 tsp peri peri flavouring
2 tsp rock salt
Aquafaba from 1 x 400g tin chick peas
Pinch dried oregano
Method:
Drain your jackfruit and then rinse it thoroughly, you want to ensure you've removed all the brine.


Remove any hard core sections or seeds from the jackfruit, so you're only left with the fleshy pieces.


Place your veg stock into a pan with your nutritional yeast, bbq sauce and 1 tsp of garlic powder.


Mix together and place on a high heat to bring to the boil, then add your jackfruit and boil on a medium heat for 10 minutes.


Cover your pan with a lid and then reduce to a low heat and allow to simmer until all the liquid is absorbed.


While you wait, separate the stalk from the cauliflower by cutting off the florets. You then want to cut the stalk into 6-8 drumstick pieces, these will be the 'bones'.


Divide the jackfruit into even amounts, depending on how many stems of cauliflower you made, and then lay out a small piece of cling film and place your jackfruit portion on top. Press the cauliflower stalk into the jackfruit mixture and then use the clingfilm to mold the mixture into a traditional drumstick shape. You only want about a ¼ of your cauliflower drumstick showing.


Repeat for all your drumsticks, and then place in the freezer for about an hour to firm.


In a bowl, mix together your flour, turmeric, celery salt, black pepper, peri peri flavouring, paprika, rock salt and oregano. In a separate bowl you just need your aquafaba.


Once your drumsticks have been in the freezer for an hour, place a pan of oil on the stove on a high heat, you'll need it deep enough to cover the drumsticks.


Once you remove the drumsticks from the freezer, you'll need to work fairly quickly to stop them defrosting and losing their shape. Unwrap them one by one and dip into the aquafaba, and then roll them in the flour mix. You'll want to place each drumstick in the flour mix twice to ensure a nice thick coating.


Check your oil is hot enough by placing a small piece of bread into the pan, it should bubble and start to fry immediately. Place your drumsticks directly into your hot oil and cook for about 4-5 minutes or until golden brown.


Once cooked, remove from the oil and place onto a tray lined with kitchen towel (this will absorb any excess oil).
---
I hope you liked our recipe. We served ours with some fresh lettuce, mushrooms and deep-fried onion rings. What do you plan to serve yours with?
You don't necessarily have to use my blend of herbs and spices either. If there's a combination you are going to try out, we'd love to hear about that too! Let us know in the comments below.
Don't forget to join the discussion. Share your foodie makes with us in instagram using #HBivore.
Follow us on Facebook to keep up to date with our latest recipes, news and content!