Vegan Hot Cross Buns
Posted on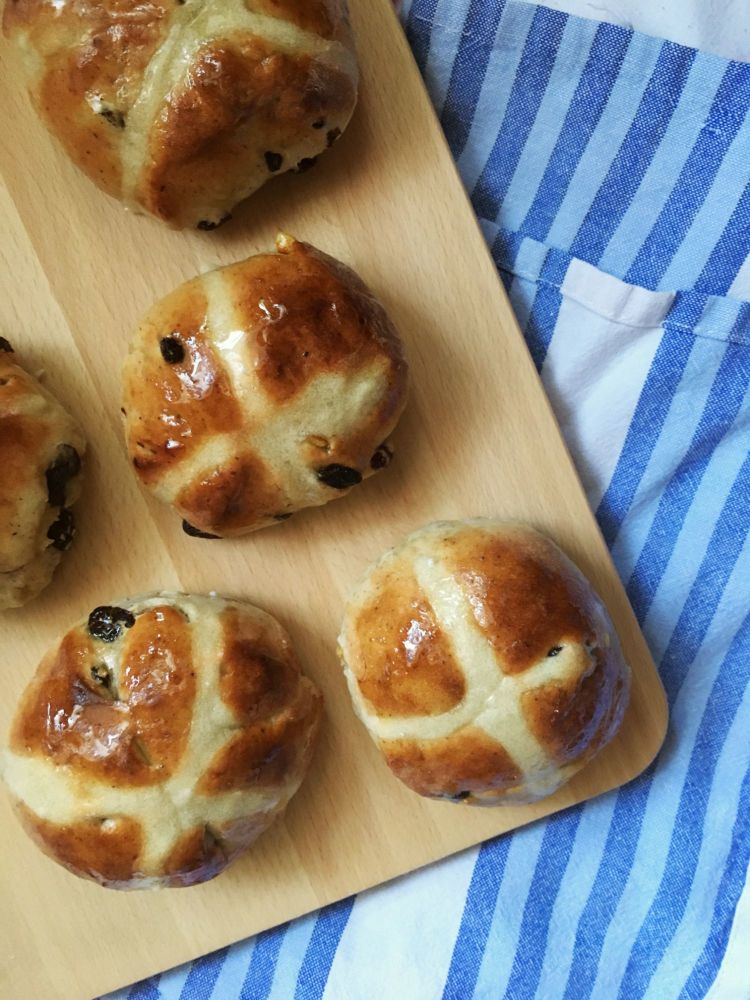 Hot Cross Buns
Make the most of your Easter by filling the house with mouth watering smells of mixed spice, bringing together the homely scents of cinnamon, nutmeg and ginger in this (almost) traditional hot cross bun recipe. I've tried to keep the recipe as traditional as possible, but of course with a few vegan twists.
These sticky glazed classics are sure to be a big hit, so despite being a bit time consuming, they're worth the time and effort to make!
---
Recipe
Total Time: 2 Hours 30 Minutes
Servings: 12
Ingredients:
600g strong white flour
2 tbsp ground mixed spice
45g vegan margarine
150g golden caster sugar
Zest of 1 unwaxed lemon
2 tsp fast acting yeast
275ml almond milk
125g mixed dried fruit
2 tbsp apple sauce
For the crosses:
2 tbsp plain flour
2 tbsp cold water
golden syrup
Method:
Sieve your flour into a large bowl, then add your mixed spice and margarine. Using your hands, rub together until it forms fine breadcrumbs. Add your caster sugar, lemon zest and fast acting yeast. Mix together.


Add your apple sauce and almond milk, then combine until all mixed together. Add the dried mixed fruits into the bowl and work in using your hands.


On a floured surface, knead your dough for about 5 minutes, adding more flour as you need to.


Shape your mix into a ball, and lightly grease a clean mixing bowl with a bit of vegan margarine, then plonk your ball of dough in and cover with a clean tea towel. Leave somewhere warm to prove for 1 hour.


After one hour, remove from the bowl and knock back by kneading for one minute, then place back into the bowl and re-cover with the tea towel. Leave in a warm place to prove for a further 30 minutes.


After this, remove from the bowl and cut your dough in half, then each half into half, then cut each of the 4 sections into three, so you'll have 12 in total. Shape these into balls and then flatten slightly between the palms of your hands. Place onto baking trays, leaving a small gap between each ball. Cling film loosely but ensuring the edges where the cling film meets the tray are sealed so no air can get in or out. Leave these for a final 30 minutes to prove. Preheat your oven to 230c


Remove the clingfilm and mix your topping flour and water together to form a paste, then pipe the crosses onto the buns with it. Place in the middle of the oven and bake for 10-12 minutes.


When you remove them from the oven, you want to use a pastry brush to spread syrup onto each bun as soon as possible.


Leave to cool for 10 minutes, then transfer onto a cool rack!
---
These hot cross buns are perfect to enjoy as they are, or when cooled you can cut in half, grill to toast and spread some vegan margarine on them!
How did it go? Let us know! Share your foodie makes with us in instagram with #HBivore.
Follow us on Facebook and like us on Instagram to keep up to date with our latest recipes, news and content!