Homemade Vegan Creme Eggs
Posted on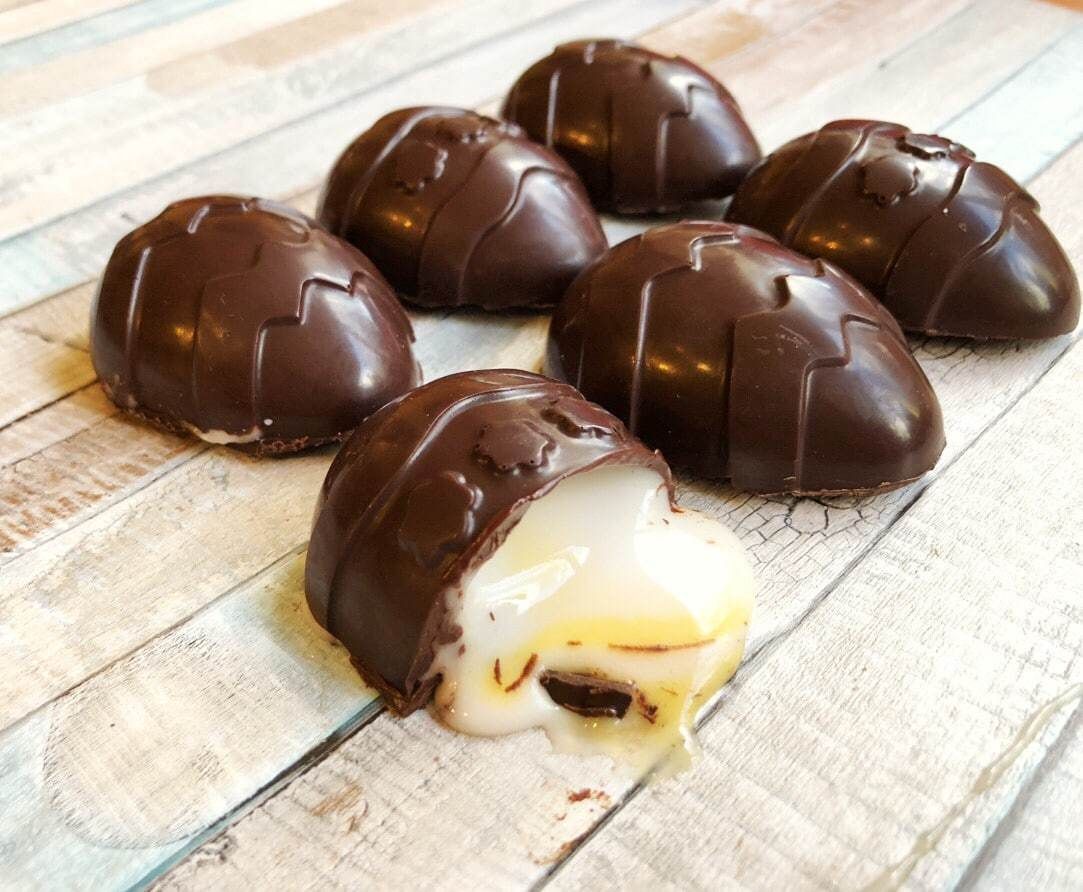 Ah, Easter. A much loved time of year among young and old alike. A reference of new life, spring, the soon to be changing of seasons after what felt like a never ending winter. With the ideas behind Easter being all around new life, there has never been a more appropriate time to be trying out vegan, cruelty free alternatives.
This vegan creme egg recipe is so quick and easy. This makes it a great recipe to make with children, or to make for parties or even as Easter gifts! You'll need a chocolate mould for this recipe, I got mine from Amazon. Aside from that, these should all be ingredients you already have or are easy to pick up from any local shop. I've used ground turmeric to colour the inside of the egg (to create the appearance of the yolk) so there's no nasty colours or numbers in here!
---
Recipe
Servings: 6
Total Time: 35 minutes
Ingredients:
150g Dark Chocolate, In Small Pieces

150g/2 cups Icing Sugar

2 tbsp Corn Syrup or Golden Syrup
1 tsp Vanilla Extract

Water

1/2 tsp Turmeric


Method:
Melt your chocolate on a low heat in a bowl over a pan of hot water. Make sure your bowl isn't touching the water otherwise your chocolate may overheat. (overheating your chocolate may prevent it from setting again, or having a nice shine).


Using a teaspoon of chocolate for each egg, spread a layer of chocolate evenly over the sides and then place your mold in the fridge for 10 minutes or until your chocolate is set.


Place your icing sugar, syrup and vanilla extract into a bowl in a bowl and gently mix in a teaspoon of water. If you're consistancy looks too thick, keep adding water 1 teaspoon at a time until you reach a thick paste.


Remove 3 tbsp of your icing and place in a small bowl, then add your turmeric to the small amount of icing and mix well. This will give it a good yolk colour.


Add a tablespoon of white icing to each of the moulds, and even out.


Add a teaspoon of yellow icing into the center of each mould.


Add another half a teaspoon of white icing on top of the yellow, just to cover it up. Then place in the fridge for 20 minutes to firm up your icing a bit so it doesn't run in the next step.


Finally, cover the top of each egg with a layer of dark chocolate, being careful not to move the icing too much. You want to just evenly drizzle the chocolate with minimal movement once on the egg. Place back in the fridge until fully set, then just pop out of the mould carefully!
---

How did it go? Let us know! Share your foodie makes with us in instagram with #HBivore.
Follow us on Facebook and like us on Instagram to keep up to date with our latest recipes, news and content!