Chocolate Yule Log
Posted on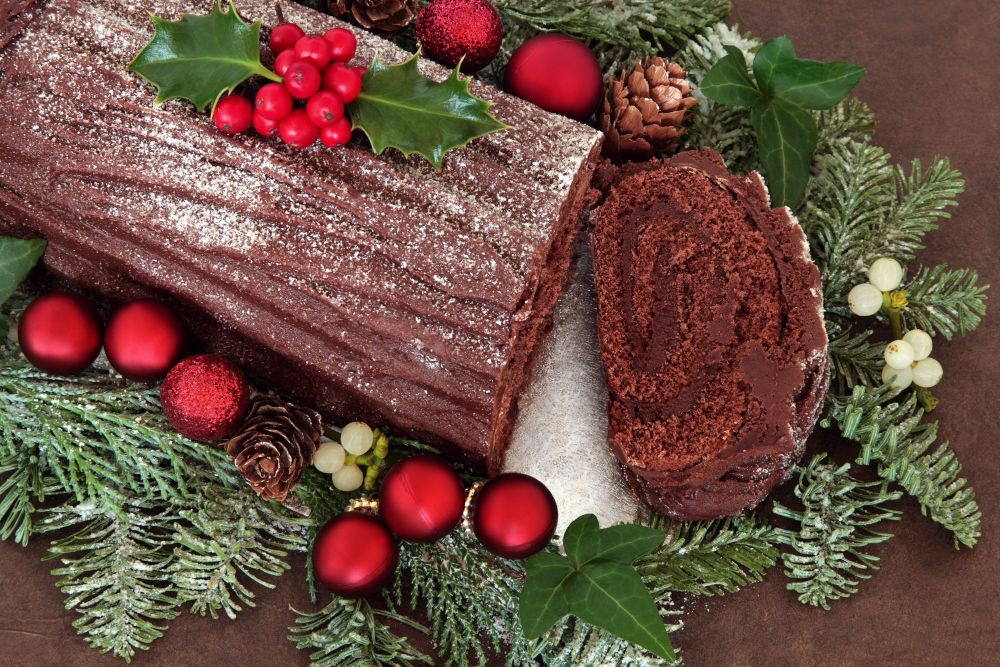 I'm a huge fan of traditional Christmas food, and what kind of festivity would it be without a chocolate yule log?
While a lot of christmas foods seem to revolve around dried fruits and alcohol, this is truly the sweet treat for everyone this year.
The rich crisp chocolate on the outside and the delicious soft sponge on the inside makes for a mouthwatering experience. This is a great recipe to make to take with you to a family gathering, and you don't even need to tell them its vegan.
Ingredients:
For The Sponge
230ml / 1 cup Aquafaba (the lliquid drained from a tin of chickpeas)
1/2 teaspoon Lemon Juice
115g / 1.25 cups Icing Sugar
2 tsp Vanilla Extract
2 Tbsp Coconut or Soy Yoghurt
1 1/2 teaspoons Bicarbonate of Soda
115g / 1/2 cup Self Raising Flour
3 Tbsp Cocoa Powder
1 Tbsp Caster Sugar
Chocolate Buttercream
150g / 2/3 cup Vegan Margarine
200g / 2 cups Icing Sugar
100g / about 1 cup Dark Chocolate, Chopped or Chips
Method:
Preheat Your oven to 180c and line a swiss roll baking tin with parchment. Add your aquafaba and lemon juice to a mixing bowl and whisk on high speed until firm whtie peaks form, this will take a while! If in doubt, leave it for slightly longer, dont worry, aquafaba doesnt overmix.
Add your coconut or soy yoghurt and vanilla extract.
Sift the flour, baking powder and bicarbonate of soda, icing sugar and cocoa powder into the bowl and then gently fold to combine, you want to keep as much as in as possible. Spread your mixture out onto the baking tin evenly and then bake for 10-20 minutes or until the sponge is springy to touch.
Lay out another piece of baking parchment on a clean surface and sprinkle it with caster sugar. When your sponge comes out of the oven, tip it out onto the caster sugar and peel off the origional baking parchment. You then want to roll the sponge up from the short side with the baking parchment inside and leave to cool.
Meanwhile, melt your chocolate in a Baine-Marie and set to once side. In a mixer, beat together your margarine and icing sugar to form buttercream, leave a around 3 tbsp of icing to one side for the inside, then add your chocolate to the rest and mix thoroughly. Once your sponge has cooled, gentle unroll it to remove the paper. Dont worry if it cracks slightly!
Spread a thin layer of buttercream onto your sponge, and then roll it back up the same way you did origionally. Use your chocolatey buttercream to cover the entire log, then use a fork of pallet knife to create textures in the buttercream to represent the bark of the log.
Dust the Yule Log with cocoa powder and leave to set!
How did it go? If you have any requests for vegan recipes you'd like to see let us know!
Looking for a hearty recipe to get you through these cold winter nights? Why not try our Root Vegetable Stew recipe for dinner tonight...