Avocado Pasta Recipe
Posted on

Avocado Pasta
Ah the avocado. The tasty green fruit that most of us could eat straight out the skin, but why limit yourself to just avocado when you could mix two of your favorite things… pasta and avocado!
Pasta is a great versatile food that you can eat fresh, or take with you to work, a picnic, or just about anywhere you can carry a clip-lock container.
This avocado pasta is the creamiest most delicious way to enjoy your avocado. Its quick to make, easy to store and very popular at parties and barbecues.
You can leave it as it is, or you can add any veggies you want! I love sun dried tomatoes, sweetcorn, or just about anything with a fresh taste and a great texture. If you want to use a different style of pasta, that's fine too!
Recipe
Servings: 4
Total Time: 20M
Ingredients:
Dried Pasta
2 Ripe avocados
A Good Sprig of Fresh Basil
2 Garlic Cloves
1 Lemon
Salt and Pepper
Method:
STEP 1:

Lightly salt and oil a large pot of boiling water, and then cook your pasta as per the instructions on the packet. If you're using immediately, just drain. If you're serving cold or storing for later, refresh your pasta by running cold water into the pan until it is cold, and then drain.



STEP 2:

In a food processor, add your peeled and stoned avocados, basil, juice of half your lemon and garlic and blend well. If your mix is too thick, add some olive oil and blend again.



STEP 3:

Combine your avocado sauce with your pasta, add any additional veggies, season to taste and serve!
Easy Peasy Right?
This recipe is great in a hurry. Which is also convenient considering how quick avocados go brown!
What's your favourite avocado recipe? Are there any you want us to cover? We'd love to hear your thoughts!

If you liked this recipe, be sure to check out our Lemon and Vegetable Pasta Recipe. It's a little bit more complicated but just as wholesome!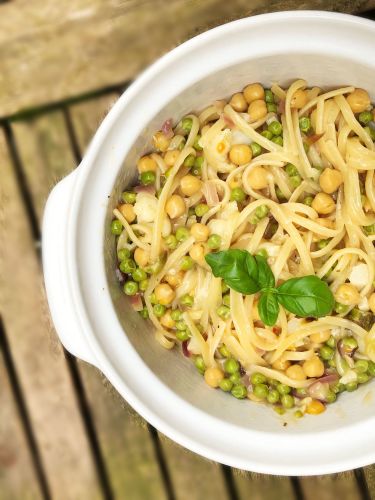 On to Lemon and Vegetable Pasta Recipe >>