Vegan Jam Tarts Recipe
Posted on

Jam Tarts
Jam tarts are such a popular food, I can't recall ever meeting someone who doesn't like them, so of course it makes perfect sense to veganise them.
Finding vegan jam tarts in the supermarkets is one way to get your quick fix, and it might excite you to know that if you're ever in a rush, ASDA own brand jam tarts are labelled vegan!
Of course, you aren't here to find out where to buy your jam tarts from, no. I know your type, you're here for something all together a bit more special. You're here to find out how to make your very own delicate, crumbly pastry cases filled with whatever jam your heart desires.
Aside from the obvious reason that homemade tastes 100x better than anything shop bought, these jam tarts also have so few ingredients compared to the shop bought versions which contain about 10 ingredients you can't even pronounce.
These are one of my go-to for parties and events because they're always so popular, although I always have to check with my mum beforehand because they're so easy to do that she's normally already taken the idea before I can. She always likes to make sure she provides something vegan for me and Jack (Him-Bivore) at family events we attend, and these are popular with vegans and omnis alike. They're so quick and easy, and will last for 4-5 days in an airtight container (although they never last that long in my house).
Whilst the theory of jam tarts might seem simple, it's just a delicious pastry case filled with jam, right?
Wrong. The hardest choice of jam tarts is choosing your jam. If you're one of these people who has 5 different fancy preserves on the go at once that you picked up at a local market, homemade by your great aunt Betty or even made with the fruits fresh from your garden, your choice will be easy. Simply use them all! You can fill as many or as little of each flavour as you like, but my motto is 'the more variety the better'.
If you're like me, who is currently sharing a house with four other students, you probably don't have room for the selection of fine jams you wish you could have, so you and I have to just use one jar at a time (admittedly I've currently got two on the go, a strawberry and a cherry, but I'm not too sure how I got into that situation). Whatever jam you've chosen will work perfectly fine. Sweet jams though please, I can't promise how your savoury tomato jam would turn out in this.
The next jam on my list is pineapple, I wasn't aware it existed till I spotted it from across the room in a friends cupboard, and ever since I've been wanting to try it in this recipe.
Size wise you can either choose to use individual tart tins like I did, or holes in a cupcake tin work too, although they don't turn our quite so pretty! One tip to always remember is DO NOT OVER FILL! The jam bubbles up, so you don't want more than just a small layer of jam otherwise you'll have a jammy mess when you remove them from the oven.
Whichever jam and size you choose, let me know in the comments below how it worked out! As always, tag us in your instagram posts of any of our recipes you make!
Recipe
Servings: 12
Total Time: 45M
Ingredients:
250g/ 2 cups Plain Flour
125g/ 0.5 cups Vegan Margarine
Water
Jam of Your Choice!
Method:
STEP 1:

Preheat your oven to 180c. In a bowl, rub your margarine and flour together until it resembles thick breadcrumbs. Add 2 tablespoons of water and gently knead to bring the ingredients together. If its not staying together, add a little more water, but be careful not to add too much!



STEP 2:

On a lightly floured surface, roll out your dough till its about 1/4 of a centimeter thick, then use a kinife to cut out pastry sections big enough to fit the holes in your tart tin, with a little extra. You don't want to be pulling your pastry to fit, otherwise it'll shrink in the oven.



STEP 3: G

ently press the circles into the tart tins one by one unntil they're all filled



STEP 4: Fill your pastry cases with your jam.

I used 3 inch tins and they needed a heaped tablespoon of jam each, but make sure your tins only have a thin layer of jam on them.



STEP 5:

Bake for about 18 minutes or until golden brown, the filling should be gently bubbling. Remove from the oven and allow to cool for a few minutes before transferring to a cooling rack.
What do you think?
We'd love to know what you filled your pastry cases with! If you wanted to get real fancy with them, you could top them with fresh fruit, making them perfect for dinner parties!
Jack and I have had a bit of a debate over this recipe, however, about the optimum level of jam for each tart. I say 2 teaspoons, Jack seems to think 2 tablespoons, arguing that "you can never have too much jam". Does anyone else want to weigh in on this?
If you love pastry like we do, you should check out our Apple Turnovers recipe! They're also great for taking on a picnic and if you are looking for more of a challenge, these fit the bill!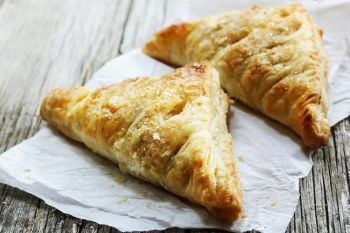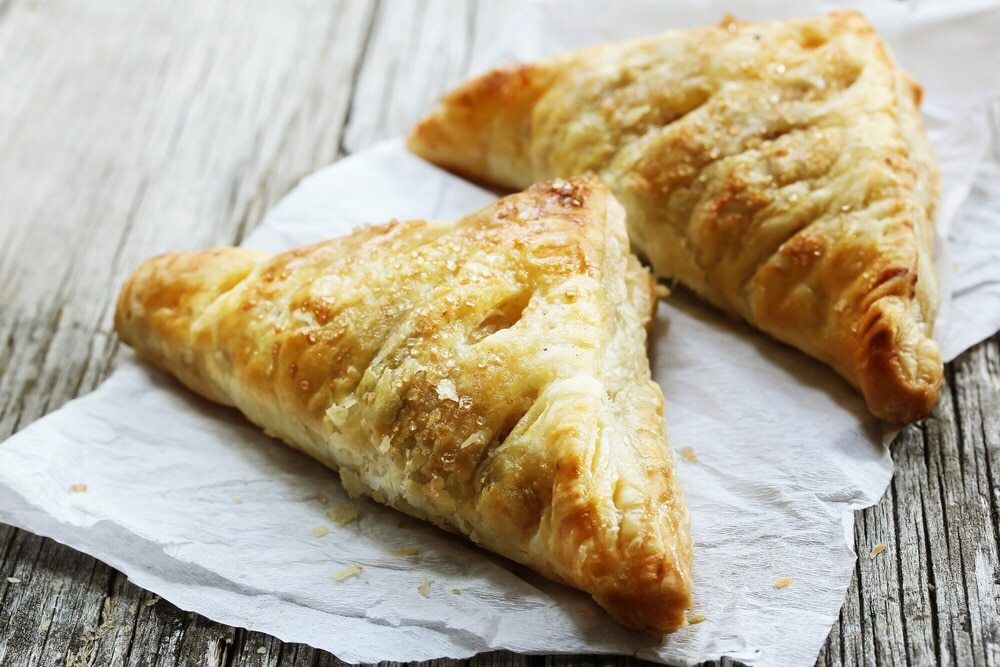 On to Apple Turnovers Recipe >>