Vegan Cookie Dough Cupcakes Recipe
Posted on

I love cake and I love cookie dough. It obviously made sense to bring the two together and make a recipe!
This is a little bit more complicated than a normal cupcake recipe because the cupcakes have actual cookie dough in the centre, as well as cookie dough icing on top. You can skip this bit of the recipe and just have a cookie dough ball on top but that's not the right attitude. Trust me, it will be worth it!
Although the cookie dough obviously doesn't contain any egg, it is also important to ensure the flour has been heated to a tempature at which bateria will be removed as raw flour can be a source of e-coli.
Whether you are making these for a party, a work do, a gathering or just as a go-to snack, you are going to love these cupcakes! Let us know how you get on in the comments below. If you made any changes to the recipe, we'd love to know! (Unless of course you skimped on cookie dough, in which case... well)
Recipe
Servings: 24
Total Time: 1H
Ingredients:
For the Cupcakes (Dry)
2 1/2 cups plain flour
1 1/2 cups caster sugar
2 tsp baking powder
1 teaspoon salt
For the Cupcakes (Wet)
1 1/3 cups almond milk (soy will also work.)
2/3 cup vegetable or canola oil
1/4 cup apple cider vinegar
For the Cookie Dough Center
1/2 cup vegan margarine
1/4 cup light brown sugar
1/2 tsp vanilla extract
2 tbsp almond milk
a pinch of salt
1 1/2 cups plain flour
1/2 cup vegan chocolate chips
For the Icing/Frosting
1 cup vegan margarine
1/2 cup plain flour
2 cups icing sugar
1/2 cup brown sugar
1/2 tsp salt
2 tbsp almond milk
1tsp vanilla extract
a small handful of vegan chocolate (chopped small)
Method:
STEP 1:

Preheat oven to 180c. In a large bowl mix together all your dry ingredients for the cupcakes, and in a separate bowl mix together your wet ingredients for your cupcakes.



STEP 2:

Pour the wet ingredients into the dry ones and whisk together until the mix just comes together, then divide evenly into your 24 cupcake cases.



STEP 3:

Bake for 18-20 minutes until golden brown. To check if they are cooked, insert a cocktail stick into the centre of one of the cakes, if they are ready it will come out clean. Place on a cooling rack to cool.



STEP 4:

In the meantime, place the flour for your cookie dough in a microwave safe bowl and microwave on full power for 45-60 seconds or until the temperature in the centre reaches 72c. Then cream together your margarine and brown sugar for your cookie dough centre. Add your vanilla, almond milk and salt, then your flour. Finally, stir in the chocolate chips and you're good to go!



STEP 5:

Once your cupcakes are slightly cooled, use the large side of an icing nozzle (or something similar) and make a hole in each cupcake by pressing it into the centre. Use a teaspoon to remove the section of cake (but don't eat them! You still need them!)



STEP 6:

Roll your cookie dough centre into small balls and place one into the centre of each cupcake, and then press your removed cake back on to the top.



STEP 7:

Wait until the cupcakes have completely cooled before icing them, but once they are cool cream together the margarine, brown sugar, vanilla and almond milk. Add your icing sugar and then your flour and salt. Stir in your chopped chocolate.



STEP 8:

Pipe on to the cakes using a large nozzle so your chocolate doesn't get stuck. At this point, you can either leave them as they are after this or sprinkle with mini vegan chocolate chips or I used my remaining cookie dough to make little balls to go on top too! if you try any other vegan toppings, let me know (I think crushed Oreo's would also work great!).

How did you get on?
This was probably a fairly tricky recipe but I hope you enjoyed it!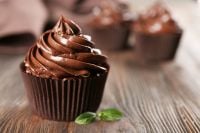 If you liked it, then please do give it a share so other people can give it a go.
If you are looking for a simpler recipe then you should check out my quick and easy vegan chocolate cupcake recipe. It only has two ingredients so it definitely won't be as stressful!
>> To Chocolate Cupcake Recipe