The BEST Christmas Gifts For Vegans (As Voted By Vegans)
Posted on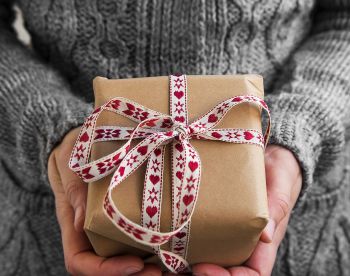 Vegan Christmas Gift Ideas
Christmas is a great time of year for bringing people together, and while we try and keep the focus around spending time together, everyone loves presents.
Some people love giving them, some love receiving them, and some love both! Regardless of which category you fit into, there is sure to be times when you find yourself wondering what to get someone. If you're an omnivore wanting to buy something nice and thoughtful for a vegan this Christmas, I have put together this list with the help of over 100 fellow vegans to work out just what it is we really want!
I've included specific examples where I can, as these are all brands I know and trust, so you can be sure you're getting something 100% vegan that they are sure to love.
Chocolate
This may seem like an obvious one, who doesn't love chocolate? Many of the supermarket options around Christmas time aren't vegan, but if you're pushed for time, many of the dark chocolates in shops are vegan (just make sure you check the back, and don't worry if you see cocoa butter as an ingredient, it is both dairy-free and vegan!). If you've got a bit more time to order online, here are some of the tastiest dairy-free chocolate options this year:
Cocoalibre – They make delicious rice milk alternatives to milk chocolate, and have great options for kids in the form of shaped festive chocolates and adults as specialty flavoured milk and dark chocolates. These are sure to go down well!

Alternatively, if you're looking for the gift that keeps on giving, The Chocolate Shop offer a subscription service where they deliver a variety of vegan chocolates directly to the recipients door every month!

Vegan Makeup
This can be a little bit more of a difficult one, and is only a good idea for someone you know really well. While you'll need to do some detective work to establish their favourite colours and shades, treating a makeup lover to some high-end vegan products could make their Christmas! I've only included FULLY vegan brands in my list, and they are all voted 'most loved' by my vegan audience so you can rest assured you'll be choosing cruelty free great quality products.
Kat Von D is one of the most popular vegan makeup brands, and for good reason! I'm yet to hear of anyone who doesn't love her products.


Milk is another great vegan brand, who pride themselves on being paraben-free, cruelty-free and only using the best ingredients!

Eco-Friendly Gifts
This one may seem a bit vague, but that's because there is no real wrong answer. Anything from notebooks made from 100% recycled materials to bamboo kitchen cooking utensils. Make sure you always read the small print though and be sure that the products are actually eco-friendly! There are a lot of companies out there who will package their goods up in lovely natural looking packaging to make you think you're doing good, but are actually lying to you. There are some great products over at Protect The Planet but double check the product is vegan before you buy!
Vegan Cookbooks
Possibly one of the easier ideas on the list, but nearly half of all the vegans we asked said they would love to receive a cookbook for Christmas. Not all cookbooks are created equal, but lucky for you I've read my fair share. The best include:
Thug Kitchen (This one is also hilarious, but definitly only for adults due to mature lanuage!)
Vegan Toiletries
I know I speak for a vast number of women when I say we LOVE our Christmas smellies! It can be easy to assume that all bath bombs and shower gels are vegan, but the truth is that most are not. Many do contain animal products or are tested on animals. One great brand to trust is LUSH, and while some of their products do contain honey, they clearly mark which products are vegan. If you have a LUSH store near you, I reccomend popping in, the staff are always happy to help and the smells are amazing!
For the men in your life, Bulldog skincare products are all suitable for vegans!
Charitable Donation In Their Name
This option was popular with about 10% of our vegans, but I can't imagine many people would be upset at the idea. Choosing a charity they're passionate about will show that you've put some real thought into the gift, as well as all the good you'll be doing by supporting the charity. You could even set up a monthly donation in their name and get all the info sent to them.
Acceptance Of Veganism
This was one of the most popular options this year, with a staggering 50% of people saying they would like to see their friends and family be more accepting of veganism over the Christmas period.
For many, Christmas is a time where food is at the centre of attention, so it's no wonder that conversation often sways towards veganism. Don't get me wrong, many vegans are happy to (and will encourage) the discussion of veganism this festive period but avoiding being ganged up on or mocked would be top of anyone's Wishlist. Spare us a thought, pass us the sprouts and let's have a good one!
What are you wrapping your presents in?
As a side note, every year we use 50,000 trees worth of wrapping paper at christmas time, to learn more about how you can make your christmas as eco friendly as possily, check out this post from House Beautiful!
Do you have any additional ideas to these that you think people might love? Let us know in the comments below!