Raw Vegan Cookie Dough Bites Recipe
Posted on

Raw Vegan Cookie Dough Bites
I think there's something we can all agree on, vegans and non-vegans alike: raw cookie dough is amazing.
It's better than cookies themselves, so why bother baking it?
We've all heard the rumours that raw cookie dough is not safe to eat, and this is partly due to the eggs. Fortunately, due to this being a vegan cookie dough recipe that's not a concern!
The other possible safety issue falls to the flour though, it is crucial to ensure the flour has been heated to a high enough temperature to remove any possible e-coli that may be present in raw flour, this is why you'll see in the recipe to heat the flour in the microwave to 72c.
Another thing to note if you like in America is that not all American sugar is vegan. You'll need to buy organic. Sugar in Europe is generally fine. You can check out one of my previous posts to make sure you're not buying into any nasty surprises.
This is a great easy recipe to make with kids, especially impatient ones who don't want to have to wait for anything to bake! That said, the same reasoning can be applied to many adults, and if you haven't got the patience to bake cookies, you probably skipped straight past this introduction anyway, so without further ado!
Recipe
Servings: 15-20
Total Time: 15M
Ingredients:
1 1/4 cups (175g) plain flour
1/2 cup (110g) vegan margarine (I used pure)
1/2 cup (110g) light brown sugar
1/3 cup (70g) caster sugar
pinch of salt
2 tbsp almond milk
1 tsp vanilla extract
3/4 cup (130g) vegan dark chocolate chips
1 tbsp vegan sprinkles
Method:
STEP 1: Place your flour in a microwave safe bowl and heat on full power for 45-60 seconds, until the centre of the flour is at least 72c.





STEP 2:

In an electric mixer, combine the vegan margarine, brown sugar, caster sugar and salt. Leave to mix for about 3 minutes until pale and fluffy.



STEP 3:

Stir in your almond milk and vanilla extract. Fold in your flour until combined.



STEP 4:

Stir in your chocolate chips and sprinkles. If you want a more aesthetic look, leave some to one side to push in once you've shaped the balls.



STEP 5:

For rougher edges, you can use an ice cream scoop, but otherwise, use one tablespoon of the mix at a time, and roll in your hands to form balls. Place on baking paper.


STEP 6: Serve immediately, or alternatively store in an airtight container in the fridge. This vegan cookie dough is also suitable for freezing!
What do you reckon?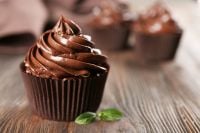 These cookie dough bites didn't stick around long in our house! Did you make any changes to the recipe?

We made them again and put them on top of some of our cupcakes!

Check out the Cupcake Recipe