Crispy Roasted Chickpeas Three Ways
Posted on

Crispy Roasted Chickpeas Three Ways
I thought it was about time that I, myself, ought to write another recipe. I'd been hearing a lot about roasted chickpeas and all the different flavours you can do them with.

Being the Hummus Connoisseur that I am, Chickpeas definitely fall within my spectrum of favourite foods to play around with and so that is the inspiration for this post.
The first batch I tried was alright. However, two of the flavours were quite soggy because of the flavourings I had used. After consulting with the brains of the operation (Amy), she suggested I use her dehydrator to get rid of the rest of the moisture and leave them deliciously crispy.
It worked a treat and the flavours were much more prominent. To do a proper job on this recipe, I highly recommend you invest in one of these. They are great for making dried fruits and crisps as well.
Recipe
Servings: 1 Ramekin of each flavour
Total Time: 1H 15M
Ingredients:
3 Cans of Chickpeas
Soy Sauce
Mixed Spice
Curry Powder
Curry Leaves
Lemon Juice
Ground Ginger
Salt
Olive Oil

*No amounts given for flavours as you're just going to liberally chuck them all over
Method:
STEP 1

.) Drain your chickpeas and spread them across a tray. You may want to keep the liquid for another recipe. (Noted below**)



STEP 2

.) Peel the chickpeas. This can be done quickly by simply pinching the base of the chickpea. This ensures that the skin doesn't carry the flavour and gets crunchy while the chickpea is soft and flavourless.



STEP 3

.) Coat your chickpeas in olive oil and salt and then put them in the oven at 150c / 300f / Gas Mark 3 for 15 minutes. Make sure to shake the tray occasionally to roast them evenly.



STEP 4

.) Coat your chickpeas in their flavours in different trays. For curry flavoured chickpeas, coat them in curry powder and drop a few curry leaves in the tray with them. Japanese chickpeas, marinate in soy sauce and mixed spice and for lemon and ginger chickpeas, marinate in lemon juice and ground ginger.



STEP 5

.) Roast them for another 15 minutes. Again, making sure to shake them occassionally.



STEP 6

.) If you don't have a dehydrator, switch your oven off and leave the chickpeas in while it cools. This won't produce as good results but will still help take some of the moisture out. If you do have a dehydrator, turn it on at 60c and leave for 5 hours.
**AQUAFABA CHOCOLATE MOUSSE RECIPE
What flavours are you going to try?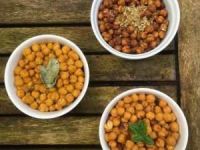 Obviously, you can do whatever flavours you want and if there's one you like, you can do three tins of that instead.
The good thing about this recipe is that you can be as creative as you like and that's what I live for when it comes to cooking. Experimenting and trying new things.
We shared these at a barbecue and it became a talking point. Food brings us all together. What flavours do you think would work well? I'd love to hear your thoughts and see your recipes! Share them with us in the comments below or on our Facebook page.
<<BACK TO SNACKS