Vegan Soya Mince Lasagne Recipe
Posted on

Vegan Soya Mince Lasagne
Lasagne is a dish known worldwide and is a much-loved dinner in my family, so it seemed obvious that sooner or later, I would have to try making it vegan! I've included the steps of how to easily make this dinner gluten-free too. So whether you're vegan, dairy free, gluten free, egg free or nothing-free, you'll love this vegan lasagne!
Working with vegan mince, especially the cheaper own brand frozen versions, means you have to add a lot of flavour yourself, which is why I add soy sauce when frying it off. I find this gives it the salty richness found in traditional lasagne, which I imagine is exactly the craving that's brought you to us, right?
If you're using a fresh chilled vegan mince, such as Naturli or Naked Glory, you can get away without adding the soy sauce however i have found it helps add some brown to the mince, so if i was using it for anything where it wasn't going to be smothered in sauce, I would probably still add it!
Choosing your ingredients for a dish like this is key for the overall outcome at the end. When selecting vegan mince and vegan cheese, brand and preference are massive contributors. The vegan market has come a long way since I first wrote this recipe, so I thought I would come back and update with my new favourite brands to use in my lasagne.
Any fresh vegan mince from the chilled section is usually pretty good, my personal go-to is the Naked Glory meat-free mince, but any brand will do just fine. I find the chilled minces keep their texture better, and give an overall meatier feel when you find the little chunks, just be sure to break it up well in the pan as it cooks to avoid chunks too big for your lasagne!
Cheese choice is another vital factor not to be overlooked. If you're a seasoned veteran of the vegan cheese world you will already be aware that not all vegan cheese is equal. While a lot comes down to personal taste, you also need to consider how you want the cheese to look on your dish. Many vegan cheese options just 'dry out' rather than melting properly, so looking for a cheese that melts well is vital. One great trick for melting vegan cheese is making sure you've put a generous amount on so it can all melt together into one big layer of stringy deliciousness.
My favourite cheese of all time is the Vegan Applewood, it's a vegan version of their popular smoked cheese, it melts beautifully and has a taste I absolutely can't resist. I think in the UK it's only available in ASDA, and is also reasonably priced (compared to most vegan cheese) coming in at around £2.20 per block.
If you're in a rush, you might even be able to find a ready-to-use vegan white sauce in the supermarket (if you'd told me a year ago I would be able to say that, i wouldn't have believed you) so check out your supermarkets in the 'Free From' section to see what they have!
Make sure you let me know which mince + cheese combination you've used in the comments below, and be sure to tag us in your foodie creations on instagram (we might even feature you on ours!).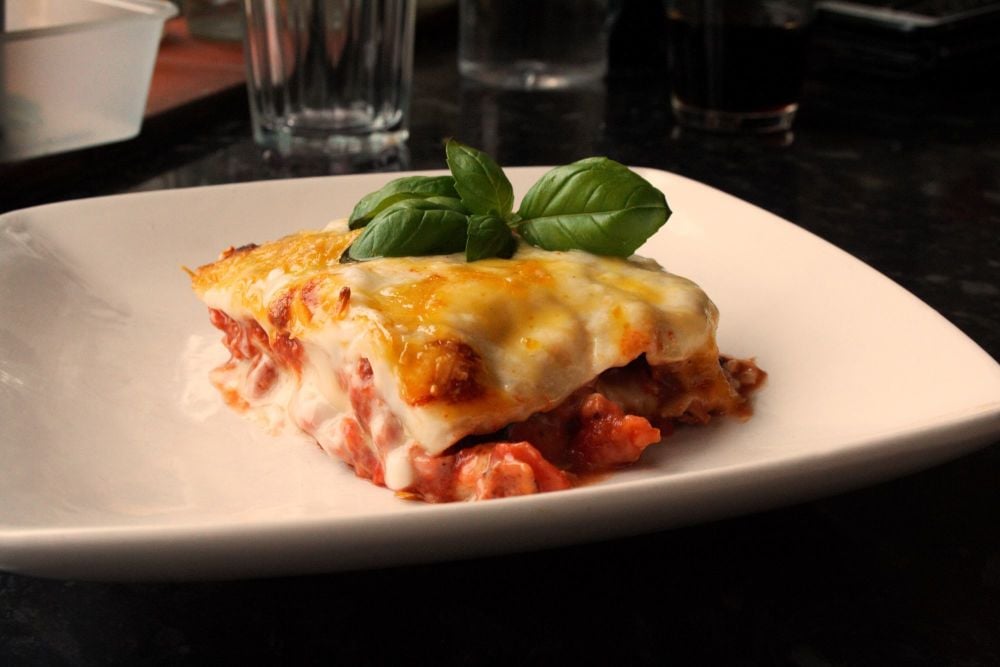 Servings: 4-6

Total Time: 1H 20M

Ingredients:
350g soya mince
1 white onion, finely diced
2 tbsp soy sauce
2 cloves garlic, crushed
550ml / 2.25 cups soya milk
60g / 0.25 cups vegan margarine
75g / 0.5 cups plain flour (or gluten free flour)
2 tbsp nutritional yeast
1 tbsp dried oregano
1 tin chopped tomatoes
115g / 1/2 cup cup tomato paste
vegan lasagna sheets (gluten free versions can be found in the 'free from' section of most supermarkets
grated vegan cheese (to top)
Method:
Fry off your mince with your onion, soy sauce and garlic till browned, then add your oregano, garlic, tomato paste and tinned tomatoes and leave to simmer for 5-10 minutes, stirring occasionally.

In a separate saucepan on a low heat, melt your margarine. Then add your flour and whisk well, let this cook for about a minute. Whisk in your soya milk a bit at a time and turn up to a medium heat. Continue to whisk constantly until it comes to the boil and begins to thicken, don't stop whisking it otherwise your sauce might burn to the bottom of your pan. Once thickened, add some salt and pepper and your nutritional yeast, whisk in and remove from the heat.
In a 8 x 5 inch ceramic dish, place a layer of the mince into the bottom of your dish, then do a layer of lasagna sheets. Then place a layer of your white beschmel sauce on top of that, followed by another layer of lasagna sheets, followed by more of the mince and then a final layer of lasagna sheets. Finally add the rest of your white sauce on top and top with grated cheese.

Bake for 30-40 minutes at 180c until golden brown, allow to sit for a few minutes and serve!
What did you think?
We certainly didn't miss meat and dairy cheese in this recipe. How did you find it compared? Did you do anything different to our recipe? We'd love for you to share your thoughts in the comments below and if you appreciated this post, please do give it a share!
If you liked this Soya Mince Lasagne Recipe, I have a sneaky feeling you might also like our Spaghetti Bolognese Recipe as well! Why not check it out and save the recipe for another time?