Autumn Stuffed Pumpkin with Wild Rice and Mushrooms
Posted on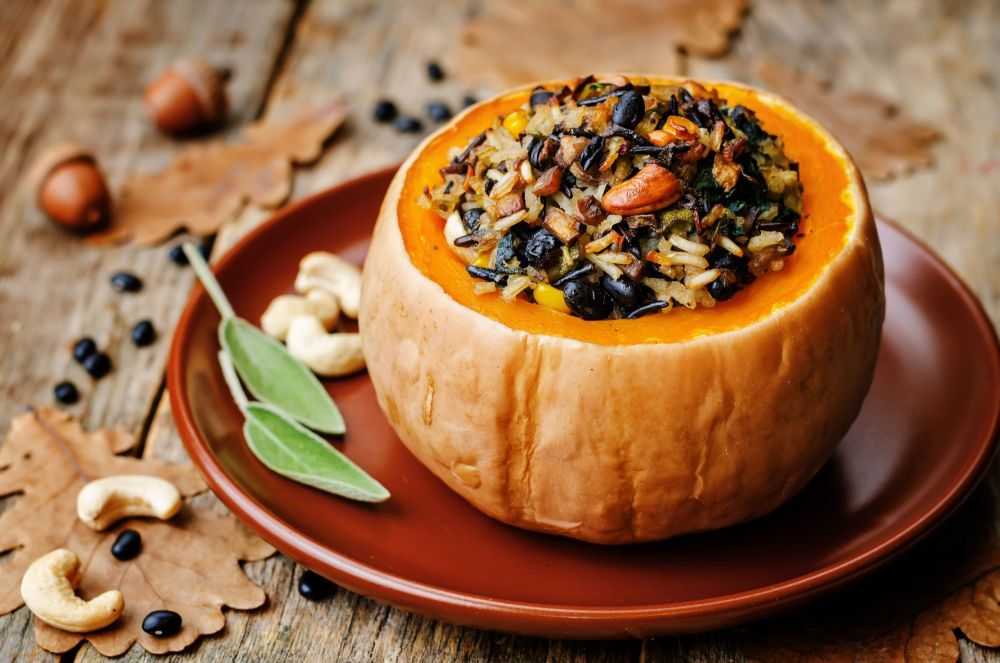 When most people think about autumn, they think of cozy nights in with blankets, big warm jumpers and Halloween, and what would Halloween be without pumpkins?
This tasty vegetable is for more than just carving and throwing in the bin though, you can make anything from soups to cakes, and in this recipe, I'll be showing you how to utilise the WHOLE pumpkin. The 'skin on' approach here leaves a delicious texture to the pumpkin and crisps up with the salt and oil.
Recipe
Yield: 3-4 Portions
Time: 1 Hour 30 Minutes
Ingredients:
1 Medium Sized Pumpkin
130g Wild Rice
1 Tin Black Beans
50g mushrooms, sliced
2 Garlic Cloves, crushed
A few sprigs of Parsley, roughly chopped
15g Pine Nuts or Cashews
1 Bok Choy
1 Vegetable Stock Cube
Juice of ½ Lemon
4 tbsp Olive Oil
Method:
Cut the top off the pumpkin by carefully stabbing in a circle all the way around the top, leaving about 8cm each side of the stalk. Remove all the seeds, you can keep these and roast them separately as a healthy snack.
Use 2 tbsp of oil and coat the pumpkin both inside and out, then season well and bake in the oven at 180c for about 45 minutes until tender. Keep the lid and roast it next to it.
Cook your rice as her instructions on the packet, but add your vegetable stock cube to your boiling rice water, this will give your rice another layer of flavour.
In a frying pan, on high heat, toss your nuts until toasted. Then take off and allow your pan to cool slightly.
Add your remaining oil to the pan, along with your garlic, mushrooms, chopped bok choy, black beans and lemon juice and cook for a couple of minutes.
Mix your rice with your pan ingredients, then stuff into your pumpkin. Return to the oven for about 10 minutes. Pop the lid back on for presentation and serve in the middle of the table!
How was your pumpkin?
I'd like to think you carved a face in your pumpkin regardless!
Did you stick to the recipe or did you try some different ingredients? I'd love to hear what you did!
If you've got an pumpkin left, you should try our pumpkin soup recipe. We hate waste and we love tasty food, so it's the perfect follow up recipe!