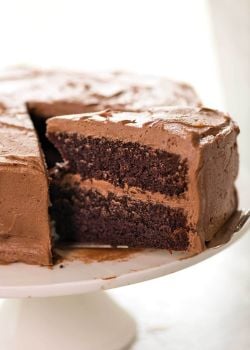 Chocolate cakes are perfect for every occasion, you can dress this one up as a fancy birthday cake, or just keep it simple, it's completely versitile. The sponge is garanteed to be soft a moist every time with this recipe, and it's perfect for vegans and non-vegans alike.
Prep Time: 30 minutes
Total Time: 50 minutes
Ingredients:
170g Self Raising Flour
30g Cocoa Powder
2 Teaspoons Vanilla Extract
1 Heaped Teaspoon Baking Powder
100g Caster Sugar
1 tbsp Golden Syrup
150ml Sunflower Oil
150ml Almond Milk
2 Teaspoons Chia Seeds
Warm Water
For Decorating
100g Vegan Margarine
200g Icing Sugar
1 tbsp Cocoa Powder
Preheat oven to 160c
In a small bowl, mix together your 2 teaspoons of chia seeds with two tablespoons of warm water and leave for a few minutes to form a gel.
Add all your cake ingredients (including your chia seed mix) to a food processor and process for about 10 seconds until combined.
Line and grease 2 x 18cm sandwich cake tins and then split your mix evenly between the two.
Bake for 20-30 minutes or until a cocktail stick inserted into the middle comes out clean.
Leave to cool for 10 mintues nd then turn out onto a cool rack.
In a mixer, add your vegan margarine, cocoa powder and icing sugar and slowly mix together until combined. Turn your mixer to full to beat thoroughly. If your icing is a little runny, you can always add more icing sugar.
Once your cakes are completely cooled, you can use a piping bag or a spatular to ice the middle, then layer the second cake on top, and ice and decorate as you please!
We hope you enjoyed the recipe, weather it's for a birthday, other special occasion, or just because you fancied a slice.
Follow us on Facebook and Instagram to keep up to date with our latest recipes, news and content!
Share all your latest vegan foodie makes with us by using #HBivore.