Vanilla Sponge Cake
Posted on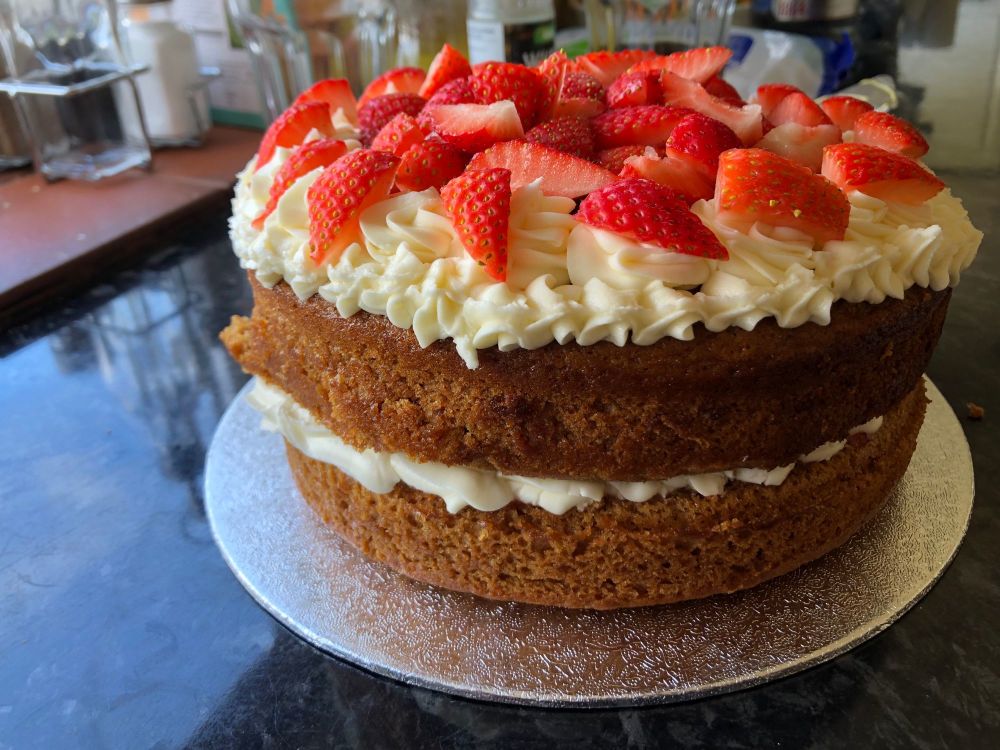 Vanilla Sponge Cake
A vanilla sponge cake is the ultimate option for 'tea and cake'. I'm normally a huge fan of chocolate, but I recently found myself really craving vanilla cake. I put it down to the fact that i didn't have a recipe at hand and that my body was subconsciously trying to force me to write a new one!
This one turned out absolutely perfect, and I just know you'll all love it as much as i did. I used this recipe recently to make my mum's birthday cake, and I simply topped it with LOADS of fresh strawberries and it went down a treat with everyone.
The best part about this cake is how you can really decorate it to suit any occasion, once you've got the basic sponge recipe down, you can fill, ice and decorate as you please. I used seedless strawberry jam for the middle, but that's only because it's my favourite, you really can use any jam you like, or even none at all!
Some vegan cake recipes use flax or chia seeds to replace the eggs, but I found in this style of cake it made it quite grainy in texture, plus I wasn't a big fan of having little back dots throughout my cake. Instead, the plant milk curdles with the lemon juice, and this works to replace the eggs you should find in a traditional non vegan cake recipe.
When it comes to baking vegan butter icing, you have to be so careful not to make it too runny. I always place my cake in the fridge after decorating, as I find vegan icing has a tendency to be softer than other icing, making it susceptible to running a little!
The way I test my icing is thick enough is by gently dabbing it in the bowl with one finger, if you have any icing actually stick to your finger, you probably want it a little thicker.
Let me know how you got on in the comments below, and as always make sure you tag us in all your foodie makes on instagram!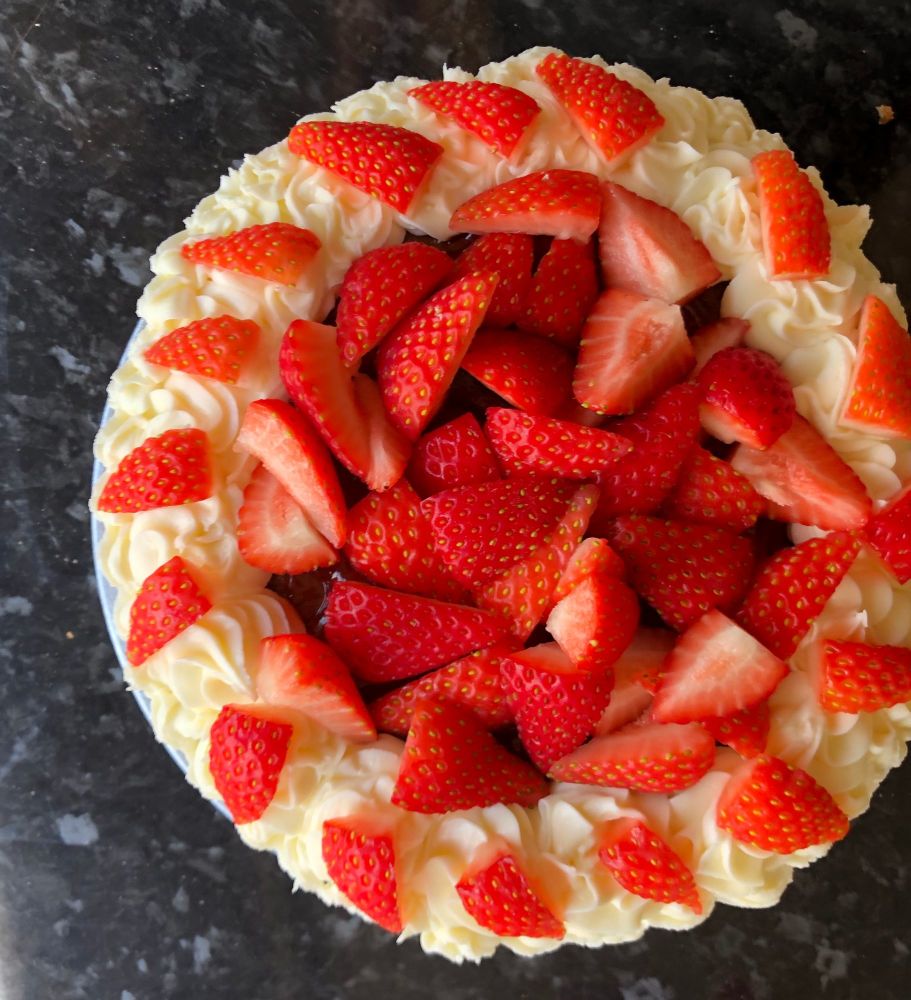 ---
Recipe
Yield: one double layer 8 inch cake (two 8 inch sponges)
Total Time: 2 Hours
Ingredients:
1 1/2 tbsp lemon juice (fresh or bottled is fine)

2 1/4 cups / 540ml plant milk (soy or oat works great)

3 cups / 420g plain flour

1 1/2 cups / 340g granulated sugar

1 tbsp baking powder

1 tsp bicarbonate of soda

1 1/2 tsp salt

3/4 cup / 175ml oil

3 tsp vanilla extract
To Decorate:
Jam

3 ¾ cups / 435g icing sugar

3 tbsp vegan margarine

3 tbsp plant milk

2 tsp vanilla extract


Method:
Preheat the oven to 175c and line the base of two round 8 inch baking tins with parchment.

In a second mixing bowl whisk together the flour, sugar, baking powder, bicarbonate of soda, and salt until fluffy.

Add your oil and vanilla extract into your milk mix and mix to combine, then pour your wet ingredients into your dry and whisk until smooth.

Split your mix between your two cake tins, and then bake in the middle of the oven for about 35-40 minutes, test your cakes by inserting a cocktail stick or skewer into the centre of each one, if it comes out clean they're ready!

Leave to cook for a few minutes before transferring to a wire cooling rack and allowing to cool completely.

To make your icing, beat together all your icing sugar, vegan margarine and vanilla extract.

Then add in your plant milk, one tbsp at a time. If you don't need it all, don't add it all, but if you need a little more, that's fine too! You want your icing nice and thick. Make sure you beat your icing on a high setting of your electric mixer for a good few minutes, this will stop it feeling grainy.

Take your sponge cakes, and decide which you want to be the bottom, then spread a fine layer of jam over it (you want your cakes to be 'bottom to bottom' when you cake is assembled).

Then either using a spectacular or a piping bag, pipe or spread a layer of icing sugar on top of the jam. Carefully place your second cake on the top, and then either leave it as it is, or you can spread butter icing on the top too!

Decorate as you wish, and then place in the fridge for your icing to set.
---
What did you think of this recipe? Did you do anything differently? We'd love to hear from you in the comments below. Don't forget that you can share all your foodie makes with us using the hashtag #HBivore.
Follow us on Facebook and like us on Instagram to keep up to date with our latest recipes, news and content. You can also use the form below to receive all our news straight to your inbox each week.