East Sussex Wildlife Rescue & Ambulance Service - Helping Save Our Wildlife
Posted on

East Sussex Wildlife Rescue and Ambulance Service (WRAS)
If you've stumbled across this page while in a wildlife emergency, the 24 hour contact number for East Sussex Wildlife Rescue & Ambulance Service is 07815078234. For more information about what to do in an emergency, click HERE.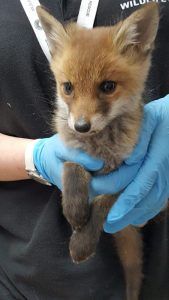 I'm sure I can speak for most of us when I say that we are blessed in East Sussex to be surrounded by such a vast array of beautiful wildlife. Seeing deer on an early morning dog walk, or an owl at dusk can be a special moment for anyone, but who is there for them when something goes wrong?While humans aren't entirely to blame when wildlife gets into a sticky situation, the majority of the time - human population growth, deforestation, road traffic collisions, fences and pets are the leading cause of wildlife injury. With only a small number of wildlife rescue centers across the country, the East Sussex Wildlife Rescue & Ambulance Service have their work cut out for them, covering most of East Sussex and responding to emergency calls 24 hours a day, 365 days a year. East Sussex WRAS take between 2,000-3,000 calls every year from members of the public who are concerned about injured or sick wildlife.
Their History
The award winning rescue was first established in 1996 by Trevor Weeks, who devotes all his time to the rescue and rehabilitation of the East Sussex Wildlife. I recently had the pleasure of meeting him in person, and receiving a copy of his book, The Fields Were My Theatre, which i wholeheartedly recommend to everyone to read, not to mention that the money made from the sales of his book go directly towards helping fund the vital care which East Sussex Wildlife Rescue and Ambulance Service provides.
If you want to read about all the amazing work they are doing, you can find their website here. I also really recommend liking and following their Facebook page to keep to date with all the amazing rescues, rehabilitation's and releases which make all their hard work so worthwhile.
How You Can Help Save Lives Today
Donating
The charity is only able to continue their amazing work if people like you continue to donate. The East Sussex WRAS does NOT charge a penny to members of the public who call them out, which makes the service available to everyone in any situation, but it is estimated that on average each rescue costs a total of £85. This includes vet bills, food, housing, equipment, fuel costs etc, and with this being one of the busiest times of the year for the charity, there is no better time to donate. There is a list of ways in which you can donate (including one off donations or monthly donations) here.
This is one of my favorite ways to donate. If you want to know exactly where your money is going, this is the perfect option for you. The charity has an amazon wish list where they have selected items which they need. This includes things from hand soap to veterinary care equipment, there really is something for every budget. Simply purchase the item from their wish-list and it will be sent directly to them.
Fundraising
Who ever said giving to charity couldn't be fun? Hosting a fundraiser can be as easy as baking a cake, or as difficult as a marathon. Whichever task you choose to set yourself, do something amazing with it by fundraising for East Sussex WRAS. With just £5 being enough to provide a lifesaving injection to an animal, there's no limit to what you can achieve!
Sharing
Even if you yourself aren't in a suitable position to donate (and that's fine, we understand that not everybody can afford to!), you can make a difference by sharing posts like this one, or any from the East Sussex WRAS Facebook page . When you share the post it might mean that someone sees it who CAN donate. Sharing information about the charity will also help make people aware that their is a charity to help wildlife, so when they find an animal in need they know who to call.
Volunteer
One of the most rewarding ways to donate is by donating your spare time. During the busy times the charity is always looking for volunteers both day and night. They need help with cleaning, collection, feeding and caring for the wide variety of wildlife which comes through the doors. From helping feed tiny birds, to working alongside the foxes and badgers. There is a limitless amount of work that needs done. To make a difference by volunteering, check out their volunteer page HERE.