Smokey Paprika Falafels
Posted on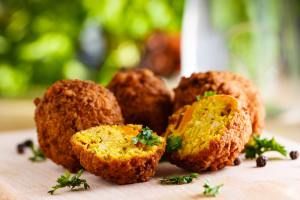 Falafels
One of the main things I love about falafels; aside from their delicious taste and fluffy texture; if that they are just so versatile. I put them with pastas or salads, or eat them on their own or with hummus.
If you're after a spicier falafel instead, simply add a little bit of chilli powder to your mix. Be careful not to cover up those delicious flavours though!
Recipe
Prep Time: 20 minutes

Total Time: 35 minutes
Yield: 15 falafels
Ingredients:
1 Cup / 200g Chickpeas (msut be from a tin, drained.)
1 tbsp Dried Corriander
1/2 Large White Onion, finely diced
1 tbsp Dried Parsley
1 tsp Salt
3 Cloves of Garlic
1 tsp Cumin
1 tsp Tumeric
1 tsp Smoked Paprika
5 tbsp Plain Flour
1 tsp Baking Powder
Vegetable Oil (for frying)
Method:
Place your chickpeas, onion, parsley, garlic, paprika, cumin and tumeric into a food processor and blend until combined but not pureed.


Add your baking powder and flour and pulse until your mix formsa ball and is no longer sticky. You can add a bit more flour if you need to.


Move your mix into a bowl and leave in the fridge for at least 3 hours, but overnight is best.


Form your mix into small falafel-sized balls, and then heat your oil for frying them. You'll need about 3-4 inches of oil depending on how big your falafels are.


Only cook a few at a time, and if they're falling apart, smoosh your uncooked ones back together and add a bit more flour to your mix.


Cook until they're nicely golden brown and then leave to drain on a clean kitchen towel.
Next
So how are you planning to eat your falafels? Are you going to add them to a dish or are you just going to dive straight in with some dips? We'd love to know! Especially if you tweaked the recipe in any way.
If you enjoyed this recipe, you should check out our Roasted Chickpeas Recipe. They also make for a great snack whether for yourself or for a party!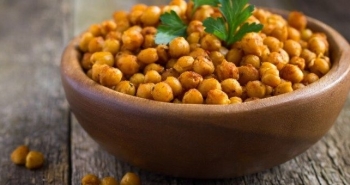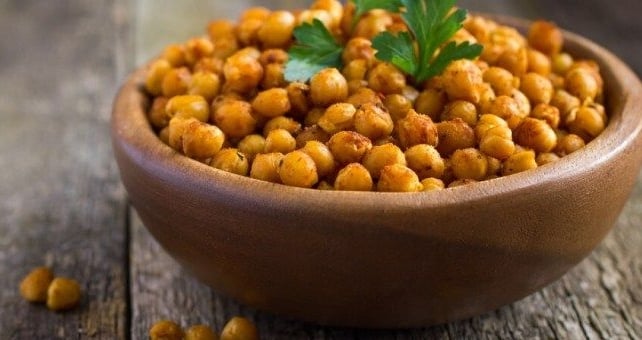 On to Roasted Chickpeas Recipe >>