Spaghetti Bolognese
Posted on

Vegan Spaghetti Bolognese
Bolognese always reminds me of dinners mum would make at home after work. Its quick and easy, but also has that unbeatable wholesome homemade feeling to it. If you're really pushed for time, you can use sauce from a jar instead. I used the Naturli 100% Plant Based Mince from Sainsburys, but you can subsitute that for mushrooms or cooked lentils if you prefer.
Total Time: 1 hour
Ingredients:
1 tbsp Olive Oil
1 Large White Onion, finely diced
2 Carrots, peeled and finely diced
2 Garlic Cloves, finely chopped
400g Pack of Naturli Vegan Mince OR 500g Mushrooms
For the Bolognese sauce
2x400g Tins Chopped Tomatoes
A Few Sprigs of Fresh Basil, finely chopped
1 Veg Stock Cube
125ml Vegan Red Wine
2 tbsp Tomato Paste
Method:
In a large saucepan on a low-medium heat fry off your onion, garlic and carrots with 1 tbsp olive oil for around 5 minutes.
Turn to a high heat and add your mince. Fry for a few minutes until the mince had started to brown, stirring constantly.
Add your tinned tomatoes, chopped basil leaves, tomato puree, veg stock cube and 125ml vegan red wine.
Bring to the boil and then reduce to a simmer. You'll need to let your sauce simmer for about 40 mintues until it is nice and thick.
When your bolognese is nealy finished, cook your spaghetti by following the instructions on the packet.
Drain your spaghetti and either add to the pan of Bolognese, or serve underneath.
Voila!
What did you think of our Spaghetti Bolognese? We really want to try it with "Not Meat"balls next! What did you do differently? Did you serve it with anything else? We'd love to hear from you in the comments below.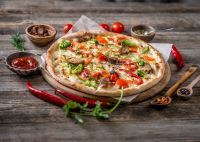 If you're feeling extra creative, why not try out our Vegan Pizza Recipe? You are only limited by your imagination when it comes to toppings and let's be realistic... Who doesn't like pizza!