Hasselback Sweet Potato with Garlic and Herb Butter
Posted on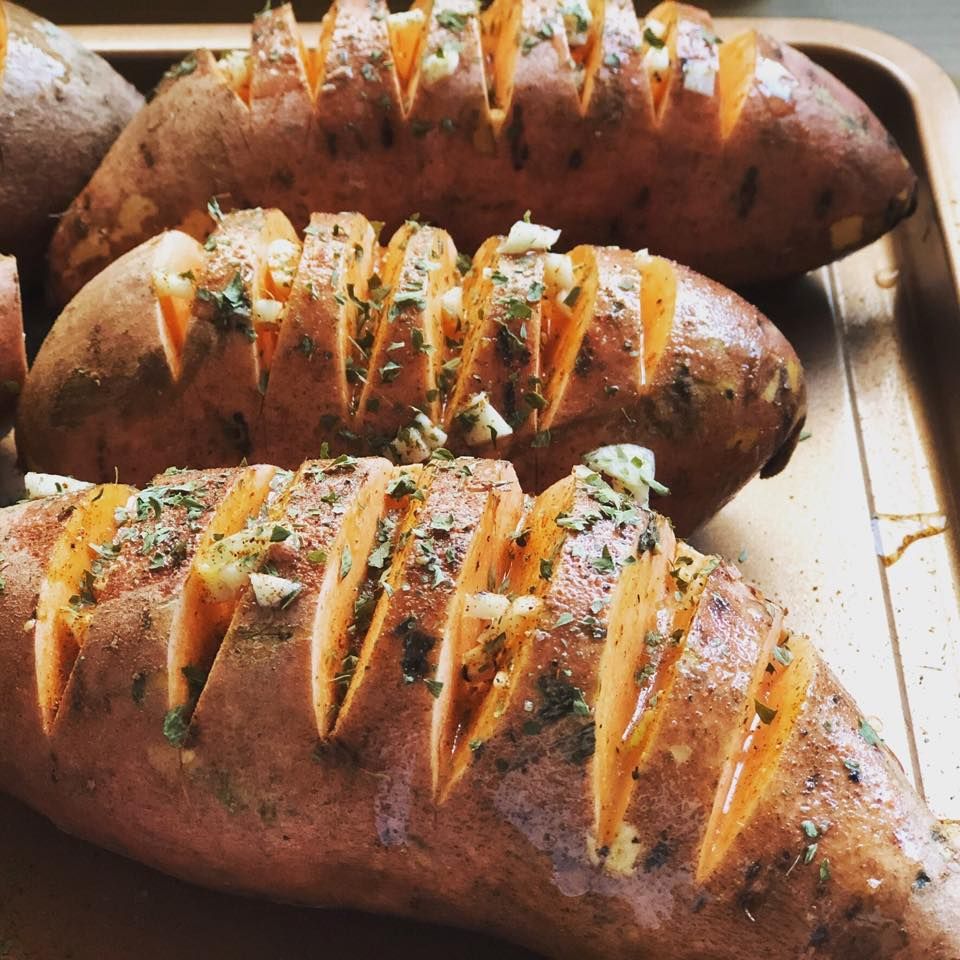 Hasselback Sweet Potato with Garlic and Herb Butter
This baked sweet potato makes a great accompaniment to a dish, and a brilliant alternative to chips or mashed potatoes, as well as being a healthier option too.
These sweet potatoes look fancy, and that's one of the reasons I love them so much. They're actually so easy to create, but when you put the lines across, stuff them with flavours and herbs, it really gives the wow factor.
I know for some people it can be quite daunting deciding on your own ingredients for the recipe (after all, you're here looking for a recipe because you won't want to do that bit!) so I've compiled a list of suitable herbs, you can choose one or two to chop up and they'll work deliciously:
Thyme

Oregano

Basil

Rosemary

Coriander
It's important you use a nice sharp, thin knife for cutting into your sweet potato, a thicker knife stands the risk of getting stuck each time, and a blunt knife is going to need too much force to get it though and will probably head to uneven wonky lines!
When it comes to serving these potatoes, your options really depend on what dish they're being a side to. One great option I love is serving them with some guacamole, vegan cheese, extra garlic butter or even top with some pine nuts.
---
Recipe
Yield: 2 portions
Total Time: 1 hour
Ingredients:
2 medium sweet potatoes

2 cloves fresh garlic

1 tbsp freshly chopped herbs of your choice

1 spring onion, finely chopped

1 tbsp vegan margarine, melted

Salt and pepper
Method:
Preheat the oven to 200c and line a baking tray with foil. Using a sharp knife, slice into each potato, going about ⅔ of the way down with each cut. You want about ½ cm between each slice.

Mix all your other ingredients together, then using a pastry brush or your hands, rub your mix all over the potatoes, making sure you get into all the cuts.

Bake for 50 minutes to an hour depending on your potato size, and half way through run a fork across the potatoes to really open them up as they soften, giving them that signature hasselback look and allowing the flavours to really get through.

Make sure your potatoes are cooked through and then serve with your favourite dishes.
---
What did you think of this recipe? Did you do anything differently? We'd love to hear from you in the comments below. Don't forget that you can share all your foodie makes with us using the hashtag #HBivore.
Follow us on Facebook and like us on Instagram to keep up to date with our latest recipes, news and content. You can also use the form below to receive all our news straight to your inbox each week.